printer friendly version
Pressure sensors for Industry 4.0
Technews Industry Guide: Industrial Internet of Things & Industry 4.0
Pressure Measurement & Control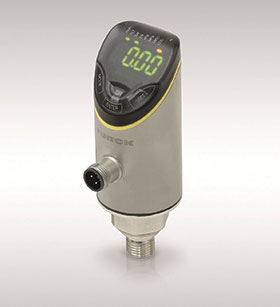 In the industrial environment, functionality justifiably counts more than appearance. All the better then, when products stand out both in terms of performance as well as looks. This is precisely the boast of the new PS+ series pressure sensors, which has been underlined by the winning of the iF Design Award. The plus sign in the name stands for two customer benefits: simplified commissioning and the guarantee of high plant availability.
Problem-free installation and fast familiarisation through the menu structure were key requirements in the development. The specifications also included the suitability for standard process connections and electrical outputs, as well as coverage of pressure ranges up to 600 bar. A large degree of flexibility for installation is provided, as the sensor head can be rotated freely around 340°, and the display can be inverted for overhead installation. The sensors automatically detect whether the controller or bus module expects PNP or NPN signals. This also goes for current and voltage when analog output signals have to be evaluated.
Another feature is a unique compatibility mode within IO-Link systems. The PS+ series not only supports the Turck data profile for integration, but can also emulate other commonly available profiles. This means that any sensor replacement goes unnoticed by the controller.
Operation with smartphone haptic technology
The sensor is operated in the same way as a smartphone. The touch-sensitive keypads can also be operated wearing various types of gloves without any force or even cumbersome gadgets, and guide the user intuitively through the plain text menu. The menu structure can be set up according to either the Turck or the VDMA standard. The absence of any mechanical operating elements is another benefit.
The design of sensor takes the reality of different application environments into account. This includes the ability to be commissioned quickly and the prevention of operating errors. The locking mechanism of the PS+ series therefore prevents unwanted actuation: the device can be enabled with a swipe and also a password if required. LEDs provide continuous indication of operating states and faults, and a programmable colour change from green to red (and vice versa) on the display makes it possible to indicate whether defined switch points have been overshot.
Heavy duty metal pressure cells
The operating concept illustrates how design and functionality are mutually interdependent. A high level of availability, however, has even greater importance than user friendliness, since pressure sensors are expected to perform measuring and monitoring functions over several years. The sealing concept of the PS+ series makes it robust to fully meet the requirements of IP6K6K, IP6K7 and IP6K9K. The materials used are also resistant to UV radiation and salt spray, enabling these devices to be used for outdoors applications.
With their communication concept, the PS+ sensors are another addition to Turck's set of building blocks for Industry 4.0. As specialists in the acquisition, transfer and conditioning of data, the consistency and transparency of sensor data are central requirements for Turck. This is why the company supports open standards like IO-Link, via which the devices can implement bidirectional communication with the controller. This enables the sensor to not only send digital process values, but also receive parameters such as switch points. The pressure sensors also offer different IO-Link process data profiles, which allow the flexible integration of a sensor into existing system landscapes with a 1:1 replacement of existing devices – even from third party manufacturers. This eliminates the need for complex adaptions to the controller setup.
For more information contact Brandon Topham, Turck Banner, +27 11 453 2468, brandon.topham@turckbanner.co.za, www.turckbanner.co.za
Credit(s)
Further reading:
Robust safety light curtains
April 2021, Turck Banner , IS & Ex
Ez-Screen LS light curtains are intuitive, easy-to-use safety devices designed by Turck Banner for machine safeguarding.
Read more...
---
Compact radar sensor
April 2021, Turck Banner , Sensors & Transducers
Turck Banner's T30R offers more robust detection capabilities and longer range than ultrasonic solutions in a similar package size.
Read more...
---
Pick-to-Light Solutions Kit
April 2021, Turck Banner , Sensors & Transducers
Turck Banner's Pick-to-Light Solutions Kit is an integrated solution that consists of an enclosure, a DXM controller, an HMI, plus direct connections for PTL110 devices and power.
Read more...
---
Diaphragm seal systems with Tri-Clamp
April 2021, WIKA Instruments , Pressure Measurement & Control
In sanitary applications, diaphragm seal systems ensure a safe and precise monitoring of the process pressure. WIKA therefore also offers welded units of diaphragm seal and measuring instrument with Tri-Clamp 
...
Read more...
---
Wireless controller for smarter factories
March 2021, Turck Banner , PLCs, DCSs & Controllers
Turck Banner's DXM wireless controllers are designed to facilitate Ethernet connectivity as well as enabling IIoT applications.
Read more...
---
Precise leading-edge detection
March 2021, Turck Banner , Sensors & Transducers
The Q76E retroreflective sensor from Turck Banner has a unique design that enables consistent detection of a broad range of targets that typically challenge other sensors.
Read more...
---
Handheld manometers with precision
March 2021, GHM Messtechnik SA , Pressure Measurement & Control
Greisinger recently launched its new handheld and fine handheld manometers, namely the G 1107 (fine) and G 1113 series, both of which offer fast performance and high accuracy.
Read more...
---
Illuminated E-stops with diagnostics
March 2021, Turck Banner , IS & Ex
In-Series Diagnostics runs through up to 32 devices on a single 4-pin cable to the control panel, with only two wires running to the controller and two others for power.
Read more...
---
Pressure sensors for complete systems
March 2021, Instrotech , Pressure Measurement & Control
There are often great benefits to optimising pressure sensors specifically for use and integration into higher-level complete systems.
Read more...
---
Precision pressure transmitter
April 2021, ASSTech Process Electronics + Instrumentation , Pressure Measurement & Control
The Jumo Taros S47 P is used for acquiring relative and absolute pressures in liquid and gaseous media.
Read more...
---