printer friendly version
Rittal invests in new global smart factory
Technews Industry Guide: Industrial Internet of Things & Industry 4.0
Enclosures, Cabling & Connectors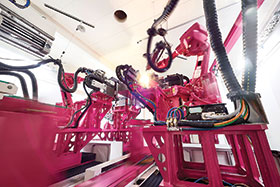 Investing in the future, Rittal's new plant in Haiger embraces the principles of Industry 4.0. The company has made its largest single investment, totalling €250 million, to establish an advanced facility for its new compact and small enclosures. The highly automated manufacturing processes, in conjunction with the neighbouring distribution centre, enable seamless order fulfilment, guaranteeing rapid availability of standard products and accessories.
This bold investment ensures that all subsidiaries, including Africa, benefit, with managing director for South Africa, Adrian Buddingh, saying that by putting Industry 4.0 into practice globally, the company looks to advance smart manufacturing locally as well. "As the world's leading provider of solutions for enclosures, power distribution, climate control and IT infrastructure, as well as corresponding software and services, we are creating a smart factory – the world's most advanced production plant for compact and small enclosures," he adds.
Owner and CEO of the Friedhelm Loh Group, Professor Friedhelm Loh elaborates: "The plant is to be fully aligned with highly efficient Industry 4.0 principles. The new manufacturing site will also safeguard future competitiveness for our customers and our own business. The investment is a positive statement in terms of the regional economy and the 290 jobs at our Haiger plant. We have quite consciously decided to shape the future with the people who made us what we are today."
The new factory halls, with 24 000 square metres of floor space, will soon house more than 100 high-tech machines. Together they will manufacture some 9000 AX compact and KX small enclosures daily, processing approximately 35 000 metric tons of steel annually.
Manufacturing in a smart factory
The equipment in Haiger will be highly automated, producing individual work pieces and assemblies with exceptional efficiency. In the past, individual steps such as cutting to size, edging, welding and painting were transactional, sequential and independent of one another. In the new era, all workers, machines and materials will be integrated into the manufacturing execution system. At the end of the process, the individual assemblies are automatically merged and a QR code is applied. This enables identification as well as the further processing by the customer.
The machines and handling systems communicate with each other and also with higher-level control systems via modern industry 4.0-capable communication networks. Materials and components will be moved by means of 20 AGVs. Packaging, marking and transfer to the distribution
centre iw also performed automatically. Knowledge-based 'learning' systems will enable predictive maintenance, preventing faults from occurring and minimising downtime.
Automated order management and fulfilment will guarantee ongoing availability of standard products and accessories in the nearby global distribution centre, creating an end-to-end digital process chain, from configuration and engineering to final shipment of the end-product.
Digital value creation
Rittal will be manufacturing the new AX compact and KX small enclosures at the new plant. Digital transformation has created new challenges in terms of the products themselves, the operating environment, and its availability. The company has therefore rethought and redesigned this offering in line within the imperatives of Industry 4.0. Rittal provides effective support for the entire value chain for the production of panels and switchgear, from engineering to ordering to automation. Its digital product twin delivers high-quality data for the entire design, configuration and manufacturing process. Following the successful launch of Blue e+ cooling units and VX25 large enclosures, the AX and KX products are now an integral part of this approach.
The Haiger facility is a showcase for the real-world implementation of Industry 4.0 and will act as a role model for Rittal's international operations. It will also be a pioneer and reference for Rittal's own products and services in terms of the IIoT.
Blue e+ cooling units enhance the increase of energy efficiency and are integrated into the monitoring and energy management systems via the IIoT interface. The entire machine park permanently provides data from the control system and the current operating states. Production systems in the new factory are an ongoing source of actionable data on their operational status.
In future, this information will be collected in an onsite edge data centre and analysed using powerful applications developed by sister company Innovo.
Credit(s)
Further reading:
New range of compact enclosures
April 2020, Rittal , Enclosures, Cabling & Connectors
After more than 50 years and 35 million enclosures sold, Rittal has introduced its small and compact enclosures in the form of the AX and KX series respectively. According to managing director of Rittal 
...
Read more...
---
SMC offers services as well as components
April 2020, SMC Corporation South Africa , Enclosures, Cabling & Connectors
Besides being a leading supplier of industrial automation components, SMC South Africa also offers value-added services. One of these is in-house control panel design and construction. This takes a labour 
...
Read more...
---
Enclosures with modular design
April 2020, Vepac Electronics , Enclosures, Cabling & Connectors
CamdenBoss CNMB DIN rail enclosures, feature a modular design. Terminal guards and top covers can be snap-fitted for a quick and simple assembly. PCBs can be placed into the DIN rail enclosure in five 
...
Read more...
---
Self-venting compressed air safety couplers
April 2020, Parker Hannifin Sales Company South , Enclosures, Cabling & Connectors
Motion control technologies specialist, Parker Hannifin, has introduced a new series of safety couplings for compressed air systems. The new KP series is an ergonomic push-button, self-venting coupler 
...
Read more...
---
Pick-to-light solutions kit
April 2020, Turck Banner , Enclosures, Cabling & Connectors
The Pick-to-Light Solutions kit is an integrated solution that consists of an enclosure, an DXM controller, a HMI, plus direct connections for PTL110 devices and power. The integrated device and power 
...
Read more...
---
What's the difference between round and flat cables?
Technews Industry Guide: Maintenance, Reliability & Asset Optimisation 2020, Helukabel , Enclosures, Cabling & Connectors
Understanding how to make reliable connections to an application starts with proper cable selection.
Read more...
---
Connectors for automotive applications
April 2020, RS Components SA , Enclosures, Cabling & Connectors
RS Components has launched the A Series of high-specification automotive connectors from Amphenol, one of the world's leading makers of interconnection devices suitable for a huge diversity of markets 
...
Read more...
---
2020 IT trends by Rittal South Africa
March 2020, Rittal , IT in Manufacturing
Rapid upgrades to data centres and rising energy consumption are key factors to consider.
Read more...
---
How cable categories relate to data transmission speeds
December 2019, Helukabel , Enclosures, Cabling & Connectors
Customers often ask about data cable categories and what they mean. For many end-users, engineers and purchasing agents, who do not work with these types of cables on a daily basis, the different categories can seem complicated and overwhelming.
Read more...
---
Rittal's new innovative adaptor
November 2019, Rittal , Enclosures, Cabling & Connectors
Answering to the call by Industry 4.0, Rittal's Blue e cooling units can now integrate into existing condition monitoring and IIoT systems thanks to a special adaptor that retrofits comprehensive communications 
...
Read more...
---