printer friendly version
Weidmüller's u-mation embraces the digitally connected world
Technews Industry Guide: Industrial Internet of Things & Industry 4.0
Enclosures, Cabling & Connectors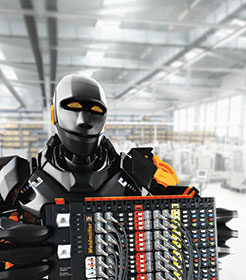 Weidmüller's u-mation system is more than just automation, it's a connected digital solution for a diverse range of businesses. That is because u-mation is a hardware and software solution that embraces the IIoT philosophy in an increasingly digitally connected world.
In South Africa, Phambili Interface is the distributor of Weidmüller's quality connectivity and interface products. The u-mation system is one of the available cutting-edge automation solutions designed to make the leap to the Smart Factory by intelligently networking hardware, software and data.
According to Weidmüller, the digital trans-formation of industrial manufacturing is making great strides. Already, many production processes are no longer just automated, but connected to each other via a digital infrastructure, thus becoming a cyber-physical system.
Digitally savvy solutions
With the rise in complexity of machines and systems, there are increasing demands being placed on modern automation technology. Consequently, branched subsystems need to be precisely integrated into complex topologies. A rapid and reliable transmission of signals and data is critical for smooth operation, however, small and adaptable components that can be integrated in an application-specific manner are needed. Weidmüller's remote I/O systems for protection degrees IP20 and IP67 offer flexibility in the design and cabling of systems, reliability in the transmission of signals and data, and compact offerings in an array of digitally savvy solutions.
"You need an I/O system that allows you to work quickly and flexibly," notes Phambili Interface's Peter Mc Donald, "a system that won't leave you in the lurch as facilities become increasingly decentralised. The compact u-remote system consisting of IP20 and IP67 components offers maximum benefits and flexible use in automation."
The overall u-mation system can be adaptable and flexible according to a business' needs. Components of the system include u-control, u-view and u-remote units, and there is a helpful u-remote news section, where one can discover the latest innovations in Weidmüller's automation portfolio.
"The u-mation system combines high-end hardware with innovative engineering and visualisation tools for future orientated services," adds Mc Donald. "It also offers maximum freedom for the individual design of scalable automation solutions and corresponding services."
The key components of the u-mation system are explained below:
• u-control – platform independent system programming via a browser or conventional Windows-based.
• u-view – visualisation for the monitoring and control of systems.
• u-remote – modular I/O system for lean planning, simple installation and quick commissioning.
In addition to the open and scalable u-control system, u-mation's complementing u-view and u-remote products cater for businesses of different sizes and diverse operations. For instance, the u-view multi-touch panels that resemble an iPad/tablet come in basic, advanced and IPC/ panel PC lines.
The u-mation system also has an array of safety features, which include:
• u-remote safe power-feed modules.
• Scalability of safety circuits.
• Safe switch-off of standard output modules.
• Profisafe modules for the Profibus-DP and Profinet fieldbuses.
• Fail safe over EtherCAT (FSoE).
In addition to the hardware side, the u-mation system has a software bouquet that includes u-create web, u-create studio and u-create visu that bring the system to life visually on screen.
• u-create web – platform-independent PLC and IoT system-programming.
• u-create studio – all-in-one engineering tool.
• u-create visu – visualisation for monitoring and control of the system.
Phambili Interface exhibited a coordinated IoT u-mation portfolio at the recent Africa Automation Fair. The combination of modular automation hardware, innovative engineering tools, sophisticated digitalisation solutions and intelligent machine learning modes demonstrated the connection of all levels of a process – from the sensors to the cloud.
For more information contact Peter Mc Donald, Phambili Interface, +27 11 452 1930, pmcdonald@weidmuller.co.za, www.weidmuller.co.za
Credit(s)
Further reading:
New range of compact enclosures
April 2020, Rittal , Enclosures, Cabling & Connectors
After more than 50 years and 35 million enclosures sold, Rittal has introduced its small and compact enclosures in the form of the AX and KX series respectively. According to managing director of Rittal 
...
Read more...
---
SMC offers services as well as components
April 2020, SMC Corporation South Africa , Enclosures, Cabling & Connectors
Besides being a leading supplier of industrial automation components, SMC South Africa also offers value-added services. One of these is in-house control panel design and construction. This takes a labour 
...
Read more...
---
Enclosures with modular design
April 2020, Vepac Electronics , Enclosures, Cabling & Connectors
CamdenBoss CNMB DIN rail enclosures, feature a modular design. Terminal guards and top covers can be snap-fitted for a quick and simple assembly. PCBs can be placed into the DIN rail enclosure in five 
...
Read more...
---
Self-venting compressed air safety couplers
April 2020, Parker Hannifin Sales Company South , Enclosures, Cabling & Connectors
Motion control technologies specialist, Parker Hannifin, has introduced a new series of safety couplings for compressed air systems. The new KP series is an ergonomic push-button, self-venting coupler 
...
Read more...
---
Pick-to-light solutions kit
April 2020, Turck Banner , Enclosures, Cabling & Connectors
The Pick-to-Light Solutions kit is an integrated solution that consists of an enclosure, an DXM controller, a HMI, plus direct connections for PTL110 devices and power. The integrated device and power 
...
Read more...
---
What's the difference between round and flat cables?
Technews Industry Guide: Maintenance, Reliability & Asset Optimisation 2020, Helukabel , Enclosures, Cabling & Connectors
Understanding how to make reliable connections to an application starts with proper cable selection.
Read more...
---
Connectors for automotive applications
April 2020, RS Components SA , Enclosures, Cabling & Connectors
RS Components has launched the A Series of high-specification automotive connectors from Amphenol, one of the world's leading makers of interconnection devices suitable for a huge diversity of markets 
...
Read more...
---
How cable categories relate to data transmission speeds
December 2019, Helukabel , Enclosures, Cabling & Connectors
Customers often ask about data cable categories and what they mean. For many end-users, engineers and purchasing agents, who do not work with these types of cables on a daily basis, the different categories can seem complicated and overwhelming.
Read more...
---
Rittal's new innovative adaptor
November 2019, Rittal , Enclosures, Cabling & Connectors
Answering to the call by Industry 4.0, Rittal's Blue e cooling units can now integrate into existing condition monitoring and IIoT systems thanks to a special adaptor that retrofits comprehensive communications 
...
Read more...
---
Crimp and cleave solution for fibre optic terminations
October 2019, KVMTech , Enclosures, Cabling & Connectors
This product was launched by KVMTech at Africa Automation Fair 2019.
Read more...
---