printer friendly version
Robotics meets artificial intelligence
June 2019
Pneumatics & Hydraulics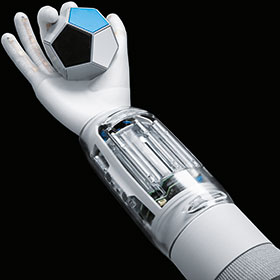 Whether its grabbing, holding or turning, touching, typing or pressing – in everyday life, we use our hands as a matter of course for the most diverse tasks. In that regard, the human hand, with its unique combination of power, dexterity and fine motor skills, is a true miracle tool of nature. What could be more natural than equipping robots in collaborative workspaces with a gripper modelled after this 'miracle of nature', which solves a variety of tasks by learning through artificial intelligence? Festo's pneumatic robot hand – BionicSoftHand – combined with the BionicSoftArm, a pneumatic lightweight robot, shows how such futuristic concepts are suitable for human-robot collaboration.
The BionicSoftHand is pneumatically operated so that it can interact safely and directly with people. Unlike the human hand, the BionicSoftHand has no bones. Its fingers consist of flexible bellows structures with air chambers. The bellows are enclosed in the fingers by a special 3D textile coat knitted from both elastic and high-strength threads. With the help of the textile, it is possible to determine exactly where the structure expands and generates power, and where it is prevented from expanding. This makes it light, flexible, adaptable and sensitive, yet capable of exerting strong forces.
Artificial intelligence
The learning methods of machines are comparable to those of humans. Either in a positive or a negative way, they require feedback following their actions in order to classify and learn from them. BionicSoftHand uses the method of reinforcement learning. This means that instead of imitating a specific action, the hand is merely given a goal. It uses the trial and error method to achieve it. Based on feedback, it gradually optimises its actions until the task is finally solved successfully.
Specifically, the BionicSoftHand should rotate a 12-sided cube so that a previously defined side points upwards at the end. The necessary movement strategy is taught in a virtual environment with the aid of a digital twin, which is created with the help of data from a depth-sensing camera via computer vision and the algorithms of artificial intelligence.
Proportional piezo valves for precise control
In order to keep the effort of tubing the BionicSoftHand as low as possible, the developers have specially designed a small, digitally controlled valve terminal, which is mounted directly on the hand. This means that the tubes for controlling the gripper fingers do not have to be pulled through the entire robot arm. The BionicSoftHand can be quickly and easily connected and operated with only one tube each for supply air and exhaust air. With the proportional piezo valves used, the movements of the fingers can be precisely controlled.
BionicSoftArm: one robot arm, many possible variations
The strict separation between the manual work of the factory worker and the automated actions of the robot is increasingly being set aside. Their work ranges are overlapping and merging into a collaborative working space. In this way, human and machine will be able to work together simultaneously on the same workpiece or component in the future, without having to be shielded from each other for safety reasons.
The BionicSoftArm is a compact further development of Festo's BionicMotionRobot, whose range of applications has been significantly expanded. This is made possible by its modular design. It can be combined with up to seven pneumatic bellows segments and rotary drives. This guarantees maximum flexibility in terms of reach and mobility, thus enables it to work around obstacles even in the tightest of spaces if necessary. At the same time, it is completely flexible and can work safely with people. Direct human-robot collaboration is possible with the BionicSoftArm, as well as its use in classic applications, such as pick-and-place tasks.
Flexible application possibilities
The modular robot arm can be used for a wide variety of applications, depending on the design and mounted gripper. Thanks to its flexible kinematics, the BionicSoftArm can interact directly and safely with humans. At the same time, kinematics makes it easier for it to adapt to different tasks at various locations in a production environment. The elimination of costly safety devices such as cages and light barriers shortens conversion times and thus enables flexible use, completely in accordance with adaptive and economical production
For more information contact Kershia Beharie, Festo, +27 11 971 5509, kershia.beharie@festo.com, www.festo.co.za
Credit(s)
Further reading:
The powerful Festo modular control system CPX-E
Technews Industry Guide: Industrial Internet of Things & Industry 4.0, Festo , PLCs, DCSs & Controllers
Designed as an EtherCAT master and motion controller with protection to IP20, the powerful automation system CPX-E for factory and process automation with NE21-specific certifications is becoming the 
...
Read more...
---
Festo to go digital at Automation Expo
June 2019, Festo , News
The world is currently undergoing radical digital transformation, which is viewed as an implementation of digital technologies in all sectors, including the automation industry. As a company that continuously 
...
Read more...
---
Flow sensor for liquid media
June 2019, Festo , Flow Measurement & Control
The new flow sensor SFAW from Festo is ideal for monitoring cooling circuits, for example in welding guns in the automotive industry as well as in front-end applications in the semiconductor and electronics 
...
Read more...
---
Parker Hannifin introduces couplings for quick and easy installation
May 2019, Parker Hannifin Sales Company South , Pneumatics & Hydraulics
Parker Hannifin now offers quick connection couplings for its NSA series, notable for features including their low weight. NSA couplings are available in nickel-plated brass or stainless steel, while 
...
Read more...
---
Festo Automation Suite
Technews Industry Guide: Maintenance, Reliability & Asset Optimisation 2019, Festo , IT in Manufacturing
Software for quick and reliable commissioning.
Read more...
---
VUVS-LT Poppet Valve
Technews Industry Guide: Maintenance, Reliability & Asset Optimisation 2019, Festo , Pneumatics & Hydraulics
Frequently used in different locations and exposed places, the VUVS-LT Poppet Valve can take a lot – all without losing its good looks. Simple on the outside, sturdy on the inside, it is the ideal combination 
...
Read more...
---
Optimum hydraulic performance through cost effective filtration solutions
Technews Industry Guide: Maintenance, Reliability & Asset Optimisation 2019, Hydrasales , Pneumatics & Hydraulics
Maintenance personnel have to facilitate optimum hydraulic system performance through their programmes, hence the incorporation of oil cleanliness checks, or oil contamination monitoring should not be 
...
Read more...
---
The advantages of rolled vs. cut threads for fluid system instrumentation fittings
March 2019, Fluid Systems Africa , Pneumatics & Hydraulics
A new level in leak tightness from Fluid Systems Africa.
Read more...
---
The automated chameleon tongue
March 2019, Festo , Motion Control & Drives
Festo's adaptive gripper can pick up anything.
Read more...
---
Ready for smart manufacturing
March 2019, Metal Work Pneumatic South Africa , Pneumatics & Hydraulics
Metal Work's new EB80 is an electro-pneumatic system consisting of a solenoid valve assembly with fieldbus or multi-pin control, and modules to manage analog or digital input/output signals. It can accommodate 
...
Read more...
---