printer friendly version
Robotics meets artificial intelligence
June 2019
Pneumatics & Hydraulics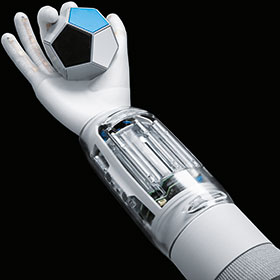 Whether its grabbing, holding or turning, touching, typing or pressing – in everyday life, we use our hands as a matter of course for the most diverse tasks. In that regard, the human hand, with its unique combination of power, dexterity and fine motor skills, is a true miracle tool of nature. What could be more natural than equipping robots in collaborative workspaces with a gripper modelled after this 'miracle of nature', which solves a variety of tasks by learning through artificial intelligence? Festo's pneumatic robot hand – BionicSoftHand – combined with the BionicSoftArm, a pneumatic lightweight robot, shows how such futuristic concepts are suitable for human-robot collaboration.
The BionicSoftHand is pneumatically operated so that it can interact safely and directly with people. Unlike the human hand, the BionicSoftHand has no bones. Its fingers consist of flexible bellows structures with air chambers. The bellows are enclosed in the fingers by a special 3D textile coat knitted from both elastic and high-strength threads. With the help of the textile, it is possible to determine exactly where the structure expands and generates power, and where it is prevented from expanding. This makes it light, flexible, adaptable and sensitive, yet capable of exerting strong forces.
Artificial intelligence
The learning methods of machines are comparable to those of humans. Either in a positive or a negative way, they require feedback following their actions in order to classify and learn from them. BionicSoftHand uses the method of reinforcement learning. This means that instead of imitating a specific action, the hand is merely given a goal. It uses the trial and error method to achieve it. Based on feedback, it gradually optimises its actions until the task is finally solved successfully.
Specifically, the BionicSoftHand should rotate a 12-sided cube so that a previously defined side points upwards at the end. The necessary movement strategy is taught in a virtual environment with the aid of a digital twin, which is created with the help of data from a depth-sensing camera via computer vision and the algorithms of artificial intelligence.
Proportional piezo valves for precise control
In order to keep the effort of tubing the BionicSoftHand as low as possible, the developers have specially designed a small, digitally controlled valve terminal, which is mounted directly on the hand. This means that the tubes for controlling the gripper fingers do not have to be pulled through the entire robot arm. The BionicSoftHand can be quickly and easily connected and operated with only one tube each for supply air and exhaust air. With the proportional piezo valves used, the movements of the fingers can be precisely controlled.
BionicSoftArm: one robot arm, many possible variations
The strict separation between the manual work of the factory worker and the automated actions of the robot is increasingly being set aside. Their work ranges are overlapping and merging into a collaborative working space. In this way, human and machine will be able to work together simultaneously on the same workpiece or component in the future, without having to be shielded from each other for safety reasons.
The BionicSoftArm is a compact further development of Festo's BionicMotionRobot, whose range of applications has been significantly expanded. This is made possible by its modular design. It can be combined with up to seven pneumatic bellows segments and rotary drives. This guarantees maximum flexibility in terms of reach and mobility, thus enables it to work around obstacles even in the tightest of spaces if necessary. At the same time, it is completely flexible and can work safely with people. Direct human-robot collaboration is possible with the BionicSoftArm, as well as its use in classic applications, such as pick-and-place tasks.
Flexible application possibilities
The modular robot arm can be used for a wide variety of applications, depending on the design and mounted gripper. Thanks to its flexible kinematics, the BionicSoftArm can interact directly and safely with humans. At the same time, kinematics makes it easier for it to adapt to different tasks at various locations in a production environment. The elimination of costly safety devices such as cages and light barriers shortens conversion times and thus enables flexible use, completely in accordance with adaptive and economical production
For more information contact Kershia Beharie, Festo, +27 11 971 5509, kershia.beharie@festo.com, www.festo.co.za
Credit(s)
Further reading:
BMG's Hydraforce valves and solutions
April 2021, Bearing Man Group t/a BMG , Pneumatics & Hydraulics
BMG, distributors of the Hydraforce range of proportional valves in southern Africa, works closely with Hydraforce engineers and customers in diverse industries to design and manufacture customised hydraulic 
...
Read more...
---
Tailored technology meets responsive design with the new Festo website
April 2021, Festo South Africa , Editor's Choice
Festo South Africa recently launched its new website to demonstrate the company's continuing commitment to simplifying its customer's lives through innovative service delivery.
Read more...
---
Highly flexible pick and place with digitised pneumatics from Festo
February 2021, Festo South Africa , Pneumatics & Hydraulics
Motion Apps are revolutionising pneumatics by increasing flexibility, energy efficiency and accelerating production processes.
Read more...
---
An easier way to connect
February 2021, Hydrasales , Pneumatics & Hydraulics
Quick-release hydraulic couplings on agricultural equipment have enabled Faster Couplings to provide innovative solutions to meet this sector's needs.
Read more...
---
Protect machines with soft-start valves
February 2021, SMC Corporation South Africa , Pneumatics & Hydraulics
A slow increase in air pressure into a machine at startup helps facilitate a soft start of all downstream components.
Read more...
---
Gimatic expands product range with launch of vacuum product offering
January 2021 , Pneumatics & Hydraulics
New offering gives customers greater flexibility in designing optimal automation systems that aim to increase efficiency & productivity.
Read more...
---
Fibertex offers advanced solutions in filtration for a cleaner environment
November 2020 , Pneumatics & Hydraulics
Fibertex Nonwovens, a leading manufacturer of a comprehensive range of nonwovens and performance-based materials used in diverse industries, has developed advanced filtration solutions that contribute to a cleaner environment.
Read more...
---
Monitoring oil with the power of connectivity
November 2020, Hydrasales , Pneumatics & Hydraulics
The latest innovation in the MP Filtri range of condition monitoring products helps system engineers with the digitalisation of their monitoring processes. It identifies contaminants early in the service 
...
Read more...
---
Advanced new Festo valve portfolio gains immense popularity in industrial automation
November 2020, Festo South Africa , Editor's Choice
Kershia Beharie talks to SA Instrumentation and Control about choosing the right valves for machine applications from the popular Festo range.
Read more...
---
Parker launches the icount LaserCM30
November 2020, Parker Hannifin - Sales Company South Africa , Pneumatics & Hydraulics
Next generation particle contamination monitor with test procedure in less than 90 seconds.
Read more...
---