printer friendly version
Zest helps farmers find good 'ground'
June 2019
Electrical Power & Protection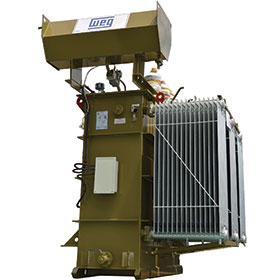 According to Zest WEG Group, there are misconceptions around what constitutes 'earth' and 'neutral' connections, and not understanding the differences can create serious problems when connections are made from onsite transformers or other sources. This more often than not leads to earth leakage systems underperforming and compromising the safety of the equipment and operators.
Johan Breytenbach, transformer sales specialist at Zest WEG Group, says that the neutral connection in an electrical installation is designed to carry current all the time, while the earth connection is only supposed to carry current for a short period to trip the protection switch.
Experience has shown that many farmers use the neutral connection as the earth when they do an electrical installation, which is not correct. Current carried on a grounding conductor can result in significant or even dangerous voltages on equipment enclosures. For this reason, the installation of grounding conductors and neutral conductors is carefully defined in electrical regulations.
In alternating current (AC) electrical wiring, the earth is a conductor that provides a low impedance path to earth so that hazardous voltages do not find their way to the equipment. Under normal conditions, the earth connection does not carry any current. Neutral, on the other hand, is a circuit conductor that normally carries current back to the source.
Neutral is usually connected to earth at the main electrical panel or meter, and also at the final step-down transformer of the supply. Neutral is also the connection point in a three-phase power supply to connect cable termination in order to gain single phase power. In a three-phase circuit, neutral is usually shared between all three phases, with the system neutral being connected to the star point on the feeding transformer.
Earthing is therefore a vital part of electrical installations to ensure that circuit breakers will trip under fault conditions. Safe and legal installation needs to start with the selection of the right transformer, with a star configuration to allow the connection to the neutral point. Installation by a qualified and experienced technician is then ideal, to ensure optimal performance.
The correct earthing or grounding of electrical currents has a number of important benefits apart from the main concern around safety. It protects equipment and appliances from surges in electricity – commonly from lightning strikes or power surges – which bring dangerously high voltages of electricity into the system. Good earthing will ensure that excess electricity will go into the earth, rather than damaging equipment.
Credit(s)
Further reading:
Simple acquisition of energy consumption values
November 2020, Phoenix Contact , Electrical Power & Protection
By developing the new components of the EMpro product family, Phoenix Contact has found a solution that satisfies most energy data gathering applications.
Read more...
---
Siemens Energy turbines generate low-emission power
November 2020 , Electrical Power & Protection
Siemens Energy helps Total achieve low-emission goals for largest LNG project in Africa.
Read more...
---
Maintaining battery backup systems
November 2020, Comtest , Electrical Power & Protection
Standby battery backup systems play a critical role in keeping essential operations functional in the event of a utility outage.
Read more...
---
Electrical loggers for energy savings
October 2020, Comtest , Electrical Power & Protection
Fluke energy loggers deliver a complete picture to reduce energy costs and improve the bottom line.
Read more...
---
Power supply components and services for marine applications
October 2020 , Electrical Power & Protection
Vert Energy works closely with the marine and offshore sector offering the supply of quality branded components and the support of a comprehensive repair and maintenance service.
Read more...
---
Mines reduce fire hazards
August 2020 , Electrical Power & Protection
Underground mines in southern, central, and west Africa have been seeing the safety benefits of dry-type transformers from Johannesburg-based Trafo Power Solutions. According to managing director 
...
Read more...
---
RS Components stocks Eaton contactors
August 2020, RS Components SA , Electrical Power & Protection
RS Components now stocks Eaton's complete Moeller series of compact DILMT contactors. Easy to integrate in a variety of industrial machines and systems, the contactors enable space savings of up to 40%, 
...
Read more...
---
Zest WEG partners with Panaco Katanga
August 2020, Zest WEG Group , News
As part of strengthening its African footprint, Zest WEG has appointed established local firm Panaco as its value-added reseller (VAR) in the Katanga region of the Democratic Republic of Congo (DRC). 
...
Read more...
---
Power supplies for building automation
June 2020, Phoenix Contact , Electrical Power & Protection
The new Step Power power supplies from Phoenix Contact are specifically tailored to the needs of modern building automation. With their comprehensive approval package, which includes the standard 
...
Read more...
---
Skid-mounted dry-type transformer
June 2020 , Electrical Power & Protection
In a specialised application on a coal mine, Trafo Power Solutions recently supplied a dry-type transformer mounted on a mobile skid. "The harsh environment of a coal mine required us to specially 
...
Read more...
---