printer friendly version
Zest helps farmers find good 'ground'
June 2019
Electrical Power & Protection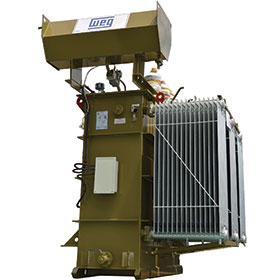 According to Zest WEG Group, there are misconceptions around what constitutes 'earth' and 'neutral' connections, and not understanding the differences can create serious problems when connections are made from onsite transformers or other sources. This more often than not leads to earth leakage systems underperforming and compromising the safety of the equipment and operators.
Johan Breytenbach, transformer sales specialist at Zest WEG Group, says that the neutral connection in an electrical installation is designed to carry current all the time, while the earth connection is only supposed to carry current for a short period to trip the protection switch.
Experience has shown that many farmers use the neutral connection as the earth when they do an electrical installation, which is not correct. Current carried on a grounding conductor can result in significant or even dangerous voltages on equipment enclosures. For this reason, the installation of grounding conductors and neutral conductors is carefully defined in electrical regulations.
In alternating current (AC) electrical wiring, the earth is a conductor that provides a low impedance path to earth so that hazardous voltages do not find their way to the equipment. Under normal conditions, the earth connection does not carry any current. Neutral, on the other hand, is a circuit conductor that normally carries current back to the source.
Neutral is usually connected to earth at the main electrical panel or meter, and also at the final step-down transformer of the supply. Neutral is also the connection point in a three-phase power supply to connect cable termination in order to gain single phase power. In a three-phase circuit, neutral is usually shared between all three phases, with the system neutral being connected to the star point on the feeding transformer.
Earthing is therefore a vital part of electrical installations to ensure that circuit breakers will trip under fault conditions. Safe and legal installation needs to start with the selection of the right transformer, with a star configuration to allow the connection to the neutral point. Installation by a qualified and experienced technician is then ideal, to ensure optimal performance.
The correct earthing or grounding of electrical currents has a number of important benefits apart from the main concern around safety. It protects equipment and appliances from surges in electricity – commonly from lightning strikes or power surges – which bring dangerously high voltages of electricity into the system. Good earthing will ensure that excess electricity will go into the earth, rather than damaging equipment.
Credit(s)
Further reading:
Enabling IIoT connectivity for virtual power plants
December 2019, RJ Connect , Electrical Power & Protection
The power grid has seen many changes that have enabled the integration of power from distributed energy sources (DERs).
Read more...
---
DIN rail power supply for demanding applications
December 2019, ElectroMechanica , Electrical Power & Protection
Automated production systems require power supplies with high stability and safety protection. DIN rail power supply series for such demanding applications are available from Delta Electronics, distributed 
...
Read more...
---
Dry-type transformers go mainstream
December 2019 , Electrical Power & Protection
The uptake of dry-type transformers in South Africa is now well beyond 'niche' applications, with local specialist Trafo Power Solutions installing a range of sizes across various sectors. "In recent 
...
Read more...
---
Robust embedded power supply series
December 2019, RS Components SA , Electrical Power & Protection
RS Components (RS) has announced the availability of a new series of AC-DC embedded switch-mode power supplies (SMPS) from TDK-Lambda. The cost-effective RWS-B series of AC-DC industrial power supplies 
...
Read more...
---
Ultra-compact soft starter with protection
December 2019, Vepac Electronics , Electrical Power & Protection
The Tele Christian P4.0/RL/TP/IC electronic soft starter is, with all of its integrated functionality, designed for ultra-compact installation. It helps to reduce wiring material, installation time and 
...
Read more...
---
Local panel manufacturer stays at the cutting edge of technology innovation
December 2019, Zest WEG Group , News
As a leading electrical control panel manufacturer, WEG Automation Africa stays at the cutting edge of innovation through its research and development driven approach which sees continuous product improvement- 
...
Read more...
---
Latest power monitoring device
November 2019, ElectroMechanica , Electrical Power & Protection
A new panel-mounted power monitoring device (PMD) from Socomec has been launched locally by ElectroMechanica (EM). The Socomec DIRIS A-40 has been designed for measuring, monitoring, and reporting electrical 
...
Read more...
---
Improved design tips balance toward HV motor replacement
October 2019, Zest WEG Group , Maintenance, Test & Measurement, Calibration
The applications knowledge of Zest WEG Group, coupled with the design capability of parent company WEG, now make it easier than ever for old high voltage (HV) motors to be replaced with new improved machines, 
...
Read more...
---
WEG IE3 compliant motor control and protection
October 2019, Zest WEG Group , Electrical Power & Protection
The increased move towards the use of IE3 electric motors has made it increasingly important that the most appropriate starting method be selected to ensure optimum performance. With this move it is essential 
...
Read more...
---
Electronic monitoring devices from EM
October 2019, ElectroMechanica , Electrical Power & Protection
A comprehensive range of electronic monitoring and timing devices in different formats for ease of use and retrofit purposes is available from ElectroMechanica (EM). The ElectroDev units are suited to 
...
Read more...
---