printer friendly version
Zest helps farmers find good 'ground'
June 2019
Electrical Power & Protection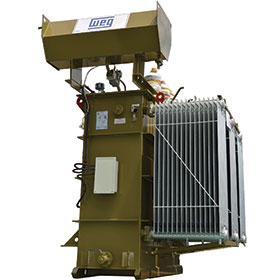 According to Zest WEG Group, there are misconceptions around what constitutes 'earth' and 'neutral' connections, and not understanding the differences can create serious problems when connections are made from onsite transformers or other sources. This more often than not leads to earth leakage systems underperforming and compromising the safety of the equipment and operators.
Johan Breytenbach, transformer sales specialist at Zest WEG Group, says that the neutral connection in an electrical installation is designed to carry current all the time, while the earth connection is only supposed to carry current for a short period to trip the protection switch.
Experience has shown that many farmers use the neutral connection as the earth when they do an electrical installation, which is not correct. Current carried on a grounding conductor can result in significant or even dangerous voltages on equipment enclosures. For this reason, the installation of grounding conductors and neutral conductors is carefully defined in electrical regulations.
In alternating current (AC) electrical wiring, the earth is a conductor that provides a low impedance path to earth so that hazardous voltages do not find their way to the equipment. Under normal conditions, the earth connection does not carry any current. Neutral, on the other hand, is a circuit conductor that normally carries current back to the source.
Neutral is usually connected to earth at the main electrical panel or meter, and also at the final step-down transformer of the supply. Neutral is also the connection point in a three-phase power supply to connect cable termination in order to gain single phase power. In a three-phase circuit, neutral is usually shared between all three phases, with the system neutral being connected to the star point on the feeding transformer.
Earthing is therefore a vital part of electrical installations to ensure that circuit breakers will trip under fault conditions. Safe and legal installation needs to start with the selection of the right transformer, with a star configuration to allow the connection to the neutral point. Installation by a qualified and experienced technician is then ideal, to ensure optimal performance.
The correct earthing or grounding of electrical currents has a number of important benefits apart from the main concern around safety. It protects equipment and appliances from surges in electricity – commonly from lightning strikes or power surges – which bring dangerously high voltages of electricity into the system. Good earthing will ensure that excess electricity will go into the earth, rather than damaging equipment.
Credit(s)
Further reading:
Guaranteed power protection
July 2019, Schneider Electric South Africa , Electrical Power & Protection
During energy month, it may be time to assess what equipment in your office or data centre is critical to keep online. Adopting smart uninterruptible power supply (UPS) technology has become the preferred 
...
Read more...
---
Quick transformer turnaround for KZN mine
July 2019 , Electrical Power & Protection
When a mining company in KwaZulu-Natal experienced a transformer failure recently, it was hoping for a quick solution. The mine got one from dry-type transformer specialist Trafo Power Solutions. It took 
...
Read more...
---
UPS for industrial networks
July 2019, Phoenix Contact , Electrical Power & Protection
The new Quint DC UPS uninterruptible power supply can be integrated into established networks, and continues to supply systems without interruption even in the event of a mains failure. It can be integrated 
...
Read more...
---
Smart Grid solutions enhance utility revenue collection
July 2019, Schneider Electric South Africa , Electrical Power & Protection
At African Utility Week in Cape Town, Johan Pretorius, business development manager, Schneider Electric South Africa, presented a paper on 'The Impact of Revenue Collection on Non-Technical Losses'. "The 
...
Read more...
---
Leonardo fitted with backup power by Zest WEG Group
July 2019, Zest WEG Group , Electrical Power & Protection
As Sandton anticipates the completion this year of the Leonardo, the top end mixed-use skyscraper being constructed by Aveng-Grinaker LTA, Level 1 BBBEE-rated Zest WEG Group has supplied generator sets 
...
Read more...
---
UPS with integrated power supply and USB interface
June 2019, Phoenix Contact , Electrical Power & Protection
Supplying critical DC loads safely, increased system availability, confined spaces, and tough ambient conditions present system designers and operators with a variety of challenges.
Read more...
---
Power analysis and energy saving evolved
June 2019, HellermannTyton , Electrical Power & Protection
Advanced power and energy consumption analysis is now available using a smartphone or tablet. The TPQA820 is a true RMS, self-powered 3-phase power quality analyser used to analyse and record the most 
...
Read more...
---
BMG enhances efficiency of solar tracking system
June 2019, Bearing Man Group t/a BMG , Electrical Power & Protection
BMG has extended the supply of Varvel gearboxes for small and medium power applications to include customised worm gearboxes for installation in photovoltaic solar tracking systems. "As part of BMG's 
...
Read more...
---
RS Components introduces new Power over Ethernet injectors
June 2019, RS Components SA , Electrical Power & Protection
RS Components has announced availability of a new selection of Power over Ethernet (PoE) single-port mid-span power injectors manufactured by Phihong, a leader in advanced power solutions and a specialist 
...
Read more...
---
Residual circuit breaker with overcurrent protection
Africa Automation Fair 2019 Preview , Electrical Power & Protection
Entek Electric's RCBO models KBL-6 and KBL-10 are used to protect electrical circuits with a high level of reliability in industrial machines or residential buildings. Both models are widely in demand 
...
Read more...
---