printer friendly version
Power analysis and energy saving evolved
June 2019
Electrical Power & Protection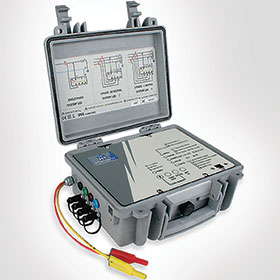 Advanced power and energy consumption analysis is now available using a smartphone or tablet. The TPQA820 is a true RMS, self-powered 3-phase power quality analyser used to analyse and record the most significant parameters of electrical systems. All parameters required are recorded simultaneously, which ensures potential failures are avoided with the built-in 8 MB memory allowing the instrument to log up to 383 parameters, with recordings lasting more than one month with an integration period of 10 minutes.
Through the free-to-download analysis app it is possible to interface wirelessly with the TPQA820 to display recordings of voltage, current, power, harmonics, THD%, cosphi and frequency. The electrical parameters are displayed instantly in both numerical and graphical mode, by way of waveforms, histograms and phasors. The vector diagram shows the phase angle between any voltage and the related current, revealing the inductive or capacitive nature of the loads connected.
The analyser enables users to store all recordings into the cloud database and share them through mail as well. The instrument is powered by an internal rechargeable lithium-ion battery and has a built-in user selectable L-N or L-L power supply. It can interface to smartphones, tablets and PCs via the WiFi or USB connections. The IP65 waterproof hard carry case allows work outdoors under extreme environmental conditions. In addition there are CATIV 300 V (ground) and CATIII 415 V (between inputs) safety ratings. Additional feature include:
• DC and AC active, reactive, apparent power.
• Voltage anomalies (sag, swell) with 10 ms resolution.
• Voltage unbalance.
• LED indication of phase sequence.
• Frequency.
• Parameter data table, graphs, harmonic histograms, voltage and current phasors with PC or mobile device connection.
For more information contact Ryan Burger, HellermannTyton, +27 11 879 6600, jhb.sales@hellermann.co.za, www.hellermanntyton.co.za
Credit(s)
Further reading:
Enabling IIoT connectivity for virtual power plants
December 2019, RJ Connect , Electrical Power & Protection
The power grid has seen many changes that have enabled the integration of power from distributed energy sources (DERs).
Read more...
---
DIN rail power supply for demanding applications
December 2019, ElectroMechanica , Electrical Power & Protection
Automated production systems require power supplies with high stability and safety protection. DIN rail power supply series for such demanding applications are available from Delta Electronics, distributed 
...
Read more...
---
Dry-type transformers go mainstream
December 2019 , Electrical Power & Protection
The uptake of dry-type transformers in South Africa is now well beyond 'niche' applications, with local specialist Trafo Power Solutions installing a range of sizes across various sectors. "In recent 
...
Read more...
---
Robust embedded power supply series
December 2019, RS Components SA , Electrical Power & Protection
RS Components (RS) has announced the availability of a new series of AC-DC embedded switch-mode power supplies (SMPS) from TDK-Lambda. The cost-effective RWS-B series of AC-DC industrial power supplies 
...
Read more...
---
Ultra-compact soft starter with protection
December 2019, Vepac Electronics , Electrical Power & Protection
The Tele Christian P4.0/RL/TP/IC electronic soft starter is, with all of its integrated functionality, designed for ultra-compact installation. It helps to reduce wiring material, installation time and 
...
Read more...
---
Latest power monitoring device
November 2019, ElectroMechanica , Electrical Power & Protection
A new panel-mounted power monitoring device (PMD) from Socomec has been launched locally by ElectroMechanica (EM). The Socomec DIRIS A-40 has been designed for measuring, monitoring, and reporting electrical 
...
Read more...
---
WEG IE3 compliant motor control and protection
October 2019, Zest WEG Group , Electrical Power & Protection
The increased move towards the use of IE3 electric motors has made it increasingly important that the most appropriate starting method be selected to ensure optimum performance. With this move it is essential 
...
Read more...
---
Electronic monitoring devices from EM
October 2019, ElectroMechanica , Electrical Power & Protection
A comprehensive range of electronic monitoring and timing devices in different formats for ease of use and retrofit purposes is available from ElectroMechanica (EM). The ElectroDev units are suited to 
...
Read more...
---
Integrated earth leakage protection
October 2019, Schneider Electric South Africa , Electrical Power & Protection
Schneider Electric has announced the introduction of integrated earth leakage protection for its Compact NSX and NSXm moulded circuit breaker ranges. "The award-winning Compact NSX moulded case circuit 
...
Read more...
---
Batteries in motive power applications
October 2019, Comtest , Electrical Power & Protection
When discussing motive power applications, the initial thought is that their batteries must be similar to transportation batteries. After all, this equipment is 'motive' just like a car or truck. However, 
...
Read more...
---