printer friendly version
Power analysis and energy saving evolved
June 2019
Electrical Power & Protection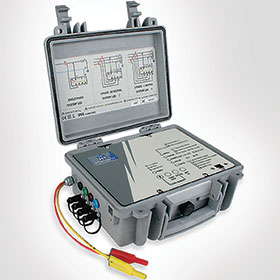 Advanced power and energy consumption analysis is now available using a smartphone or tablet. The TPQA820 is a true RMS, self-powered 3-phase power quality analyser used to analyse and record the most significant parameters of electrical systems. All parameters required are recorded simultaneously, which ensures potential failures are avoided with the built-in 8 MB memory allowing the instrument to log up to 383 parameters, with recordings lasting more than one month with an integration period of 10 minutes.
Through the free-to-download analysis app it is possible to interface wirelessly with the TPQA820 to display recordings of voltage, current, power, harmonics, THD%, cosphi and frequency. The electrical parameters are displayed instantly in both numerical and graphical mode, by way of waveforms, histograms and phasors. The vector diagram shows the phase angle between any voltage and the related current, revealing the inductive or capacitive nature of the loads connected.
The analyser enables users to store all recordings into the cloud database and share them through mail as well. The instrument is powered by an internal rechargeable lithium-ion battery and has a built-in user selectable L-N or L-L power supply. It can interface to smartphones, tablets and PCs via the WiFi or USB connections. The IP65 waterproof hard carry case allows work outdoors under extreme environmental conditions. In addition there are CATIV 300 V (ground) and CATIII 415 V (between inputs) safety ratings. Additional feature include:
• DC and AC active, reactive, apparent power.
• Voltage anomalies (sag, swell) with 10 ms resolution.
• Voltage unbalance.
• LED indication of phase sequence.
• Frequency.
• Parameter data table, graphs, harmonic histograms, voltage and current phasors with PC or mobile device connection.
For more information contact Ryan Burger, HellermannTyton, +27 11 879 6600, jhb.sales@hellermann.co.za, www.hellermanntyton.co.za
Credit(s)
Further reading:
Simple acquisition of energy consumption values
November 2020, Phoenix Contact , Electrical Power & Protection
By developing the new components of the EMpro product family, Phoenix Contact has found a solution that satisfies most energy data gathering applications.
Read more...
---
Siemens Energy turbines generate low-emission power
November 2020 , Electrical Power & Protection
Siemens Energy helps Total achieve low-emission goals for largest LNG project in Africa.
Read more...
---
Maintaining battery backup systems
November 2020, Comtest , Electrical Power & Protection
Standby battery backup systems play a critical role in keeping essential operations functional in the event of a utility outage.
Read more...
---
Electrical loggers for energy savings
October 2020, Comtest , Electrical Power & Protection
Fluke energy loggers deliver a complete picture to reduce energy costs and improve the bottom line.
Read more...
---
Power supply components and services for marine applications
October 2020 , Electrical Power & Protection
Vert Energy works closely with the marine and offshore sector offering the supply of quality branded components and the support of a comprehensive repair and maintenance service.
Read more...
---
Mines reduce fire hazards
August 2020 , Electrical Power & Protection
Underground mines in southern, central, and west Africa have been seeing the safety benefits of dry-type transformers from Johannesburg-based Trafo Power Solutions. According to managing director 
...
Read more...
---
RS Components stocks Eaton contactors
August 2020, RS Components SA , Electrical Power & Protection
RS Components now stocks Eaton's complete Moeller series of compact DILMT contactors. Easy to integrate in a variety of industrial machines and systems, the contactors enable space savings of up to 40%, 
...
Read more...
---
Power supplies for building automation
June 2020, Phoenix Contact , Electrical Power & Protection
The new Step Power power supplies from Phoenix Contact are specifically tailored to the needs of modern building automation. With their comprehensive approval package, which includes the standard 
...
Read more...
---
Skid-mounted dry-type transformer
June 2020 , Electrical Power & Protection
In a specialised application on a coal mine, Trafo Power Solutions recently supplied a dry-type transformer mounted on a mobile skid. "The harsh environment of a coal mine required us to specially 
...
Read more...
---
Customised transformers for renewables and beyond
June 2020 , Electrical Power & Protection
A focus on application engineering allows Trafo Power Solutions to supply customised dry-type transformers for a range of sectors including renewable energy. "We begin at the proposal stage by engaging 
...
Read more...
---