printer friendly version
Parker Hannifin introduces couplings for quick and easy installation
May 2019
Pneumatics & Hydraulics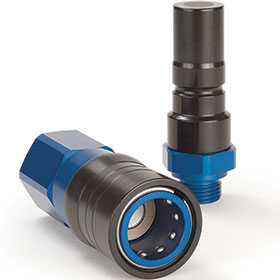 Parker Hannifin now offers quick connection couplings for its NSA series, notable for features including their low weight. NSA couplings are available in nickel-plated brass or stainless steel, while couplings manufactured from anodised aluminium are used in applications such as thermal management – a technology that plays a role in cooling mainframe computers or in aggregates used in mining and in railway and commercial vehicles. These applications require even cooling to prevent equipment from overheating, which can lead to malfunction or failure. In such applications, cooling with water or other liquids is more efficient than regulating temperatures via airflow, and is associated with significantly lower noise emissions, and requires much less installation space.
NSA couplings are used to connect cooling elements and lines in thermal management applications and installation requires no additional or special tools. Thanks to the low pressure drop offered by NSA coupling systems, they save energy while also ensuring optimal equipment performance. Their greatly reduced size versus competing technologies allows them to be used in very small areas and restricted spaces, expanding design options for OEMs and installers.
The flat sealing valve design is a common feature across the complete series. This prevents cooling fluid from leaking during coupling and uncoupling before the start of maintenance work on the electronic components or batteries. In addition, quick coupling and uncoupling significantly reduces maintenance work. All NSA couplings are designed to provide long service life and also exhibit resistance to vibration and rotational movements – an important requirement for applications in the transportation and other sectors. A wide range of available sizes comprising 3, 6, 9, 12 and 19 mm couplings enables the selection for a specific cooling circuit application to be optimised.
For more information contact Lisa de Beer, Parker Hannifin SA, +27 11 961 0700, lisa.debeer@parker.com, www.parker.com/za
Credit(s)
Further reading:
Combining the best of hydraulics with the advantages of electric
Parker Hannifin - Sales Company South Africa Editor's Choice
While battery technologies continue to evolve and overcome challenges that have previously restricted more rapid electrification adoption rates, hybrid electric systems are well positioned as an ideal interim solution.
Read more...
---
How do you audit a compressed air system?
Artic Driers International Pneumatics & Hydraulics
The British and American governments estimate that as much as 10% of all electricity generated is consumed by air compressors, and that some 50% of this energy is wasted. Air leaks alone can account for 
...
Read more...
---
The shortest distance between concept and solution
Pneumatics & Hydraulics
QuickDesign is the only free, browser-based integrated package design program in the hydraulics industry. And now it includes a new SmartConnect browser-based schematic tool that allows you to take 
...
Read more...
---
Wireless communication and control of electro-pneumatic manifolds and IO
SMC Corporation South Africa Pneumatics & Hydraulics
Pneumatic solenoid valves, for many decades,were controlled through discrete wiring,with each solenoid individually wired and connected to a common cable, such as a 25-pin D-sub connector. Technology 
...
Read more...
---
Streamlined production with Festo Core Range
Festo South Africa Pneumatics & Hydraulics
Festo has developed an innovative product portfolio that contains a selection of over 2500 attractively priced quality products that have been designed with the optimised functionality necessary to fulfil numerous standard automation tasks.
Read more...
---
Destructive cavitation in hydraulic systems
Hydrasales Pneumatics & Hydraulics
Cavitation results from excessive vacuum conditions at the inlet to a pump. High vacuum creates vapour bubbles within the oil, which are carried to the discharge (pressure) side. These bubbles then collapse, 
...
Read more...
---
Optimising hydraulic controls
Parker Hannifin - Sales Company South Africa Pneumatics & Hydraulics
Parker Hannifin has launched two components − the Parker Automation Controller PAC120 and the electro-hydraulic controller module PACHC − that together offer an innovative solution for the automation 
...
Read more...
---
High performance hydraulic hose
Pneumatics & Hydraulics
Gates has launched a new line of professional grade hydraulic hoses offering high performance in hydraulic applications across a wide range of end-markets.
Read more...
---
Impact of innovative technologies on the mining industry
Parker Hannifin - Sales Company South Africa Editor's Choice IT in Manufacturing
Mining operations must identify creative ways to handle the increased demand for minerals and resources as global economies become even more reliant on mineral sales. As a result, mine operators must 
...
Read more...
---
Breathing life into your machines through leading Pneumatic Automation solutions
Festo South Africa Pneumatics & Hydraulics
The pneumatics stage of Festo's three-part 'Absolute Automation 2.0' campaign takes customers on a journey to higher productivity.
Read more...
---