printer friendly version
Drone-based gas leak detection
May 2019
IS & Ex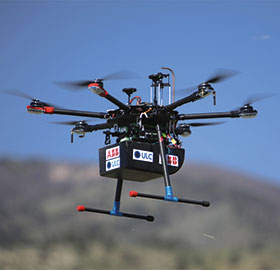 Leaks in gas distribution and transmission pipelines present serious safety risks and result in lost revenue and profits to producers. The ABB Ability mobile gas leak detection system is a digital solution, which, for the first time, enables drone deployment in the identification of gas leakages. The new solution was recently launched at an ABB customer event in Houston to complement the existing range of ABB mobile gas leak detection systems suitable for all facilities.
The new leak detection system benefits from drone deployment to enable faster identification of leaks, requires less man hours to implement and costs less to operate as it covers wide, hard to reach areas. To avoid false readings, it can distinguish between biogenic methane – the source of which is ruminant animals, manure and shallow coal and oil deposits – and thermogenic methane from natural gas.
The solution uses patented cavity-enhanced absorption spectroscopy to detect methane and ethane with a sensitivity more than 1000 times higher than conventional leak detection tools. Particularly robust yet simple, the Off-Axis Integrated Cavity Output Spectroscopy (OA-ICOS) has extreme sensitivity that allows ABB to quickly identify potential methane emissions at a greater distance while flying, which is not possible with other sensors.
ABB's analysis software automatically processes the collected methane, ethane, GPS and wind data to create a simple, easy to use report in either GIS compatible or PDF formats. These reports can be used to identify areas in the pipeline network that potentially have leaks.
Additionally, software features, such as the ABB Ability cloud storage tools, allow quick and efficient distribution of data and reports to all stakeholders anywhere in the world. Authorised users can view the progress of flights in real time as well as review and act on processed leak reports.
In March 2018, ABB was one of six companies invited by the Environmental Defence Fund (EDF) and Stanford University to represent the drone sector in the controlled testing phase of the Mobile Monitoring Challenge (MMC), a competition to advance mobile methane monitoring technologies at oil and natural gas facilities.
As well as being used for drones, the ABB Ability mobile gas leak detection system is used in urban distribution vehicles and hand-held inspection devices, meaning that all three methods of gas detection can be deployed in conjunction with one another to provide optimal safeguarding of both people and the environment.
Credit(s)
Further reading:
Safety laser scanner for outdoor ­applications
July 2019, SICK Automation Southern Africa , IS & Ex
SICK Automation has launched another global innovation: the first safety laser scanner certified to IEC 62998 for use in outdoor applications. The outdoorScan3 allows automated guided vehicle systems 
...
Read more...
---
Control and report in hazardous areas
July 2019, Pepperl+Fuchs , IS & Ex
Installers expect quick and on-demand delivery from their electrical equipment suppliers, even for apparatus for hazardous areas. The carefully considered ability to configure many housing and control 
...
Read more...
---
Mobile application for barcode scanning
Africa Automation Fair 2019 Preview, Extech Safety Systems , IS & Ex
Extech is exhibiting the mobXscan app for use in hazardous areas, which adds the capability of barcode scanning to any Windows 10 tablet or Android device. It can be seen at Stand E03. It uses the built-in 
...
Read more...
---
Safety on the pistes
May 2019, Siemens Digital Industries , IS & Ex
Inauen Schätti, a construction company whose areas of specialism include ropeways, is working to improve piste safety for skiers. As part of a pilot test project on the Parpaner Rothorn mountain, the 
...
Read more...
---
Safety technology to improve ­flexibility
May 2019, AC/DC Dynamics , IS & Ex
The new Datalogic concept for robot evolution expects to overtake the competition. Following demanding safety regulations, outdated isolated robotic cells are now replaced with robot-like parts of industrial 
...
Read more...
---
Conveyor system fire prevention
May 2019, R&C Instrumentation , IS & Ex
The transport of materials is a key activity for most industries. For many of these tasks, conveyor belt systems offer a cost effective and efficient solution. However, with such a system comes a high 
...
Read more...
---
LSIS achieves Ex rating for HMI range
Africa Automation Fair 2019 Preview, Ana-Digi Systems , IS & Ex
LSIS is rolling out Ex certification for its entire range of HMIs. These products now carry a rating which allows for a maximum pollution degree 2 level. Mounting the HMIs into an IP54 enclosure ensures 
...
Read more...
---
Equipment for hazardous areas
Africa Automation Fair 2019 Preview, Extech Safety Systems , IS & Ex
Extech Safety Systems is showcasing Sensear digital communication and active listening headsets and earplugs at Stand E03. These are for use in high noise and hazardous environments. Sensear's patented 
...
Read more...
---
Control costs with ABB drives
Africa Automation Fair 2019 Preview, ABB South Africa , Motion Control & Drives
ABB is showcasing the ACS580 and ACS480 drives, which offer ready-made solutions for a wide range of applications. Along with energy savings, these drives contain enough functionality to replace various 
...
Read more...
---
Solutions for the Ex automation industry
Africa Automation Fair 2019 Preview, Stahl Esaco , IS & Ex
Stahl Esaco is presenting leading R. Stahl solutions and products for the Ex automation industry. These include remote I/O systems, HMIs and cameras, which can be viewed at Stand F12. The I/O systems 
...
Read more...
---