printer friendly version
Adroit chooses Sigfox for smart water project
May 2019
IT in Manufacturing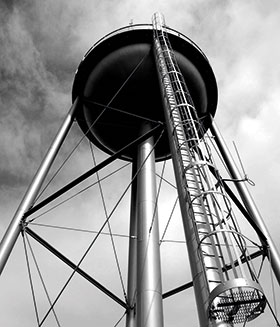 Adroit Technologies has chosen the Sigfox IoT network for a large municipal Smart Water IoT project. Managing director, Dave Wibberley, states that the company is excited about being involved in this proof of concept pilot project. "We chose the Sigfox network, run in South Africa by Sqwidnet, for its reliability, cost-effectiveness and ease of use," he adds, "believing that this network and partner ecosystem would allow us to fully test the viability of large scale IoT projects.
"We have done a number of proof concepts, but believe that having a real world project where we are integrating sensors onto our Adroit Enterprise IoT platform will allow us to test the concept of large scale IoT solutions within a municipal water environment. The Sigfox technology is well proven; it is the value against cost that needs to be tested. This progressive water utility that delivers potable water to over 5 million people in South Africa really wants to understand the IoT, and separate the talk from the value. This is a good project in that we have identified real-world problems and used IoT technology to solve them."
The project focuses on the following aspects of a smart utility, and, whilst it is by no means a comprehensive list of where the IoT can deliver value, it is varied enough as a starting point:
• Metering (energy and water).
• Security: partnered with Moduteq for security of sensors.
• Pressure monitoring: built a local sensor suitable for municipal use, partnered with UK-based Wavetrend for an additional sensor.
• Asset management: monitoring movable assets.
• Manhole monitoring: security and risk management.
• Vibration sensors: monitor fences.
• Temperature sensors (from Nerospec): server room temperature monitoring.
An example of where the IoT is set to assist this municipality is ensuring that physical samples are taken from water towers on a regular basis. For operational reliability purposes, a 'tip' sensor, which measures angular displacement, is installed under the access lids to ensure that a physical opening takes place within the prescribed timeframe.
The solution is being integrated into the Adroit Scada platform, incorporating a GIS interface. The complete system, which will test run for a calendar year, went live during March.
The Adroit Technologies Sigfox certified IoT Platform is extremely well suited to enterprise IoT solutions.
For more information contact Dave Wibberley, Adroit Technologies, +27 11 658 8100, info@adroit.co.za, www.adroit.co.za
Credit(s)
Further reading:
Siemens' software for digital transformation of automotive design
September 2021, Siemens Digital Industries , IT in Manufacturing
Model-based development process and systems are used in Japan and globally to adapt to the biggest automotive transformation in 100 years.
Read more...
---
Is track and trace through the factory a waste of time?
September 2021, Iritron , IT in Manufacturing
Modern track and trace solutions are purpose-built to introduce as little disruption to the existing production process as possible, while also being flexible enough to cater for plants that range from fully manual to fully automated.
Read more...
---
Modularity for scalability
September 2021, RJ Connect , IT in Manufacturing
Businesses are looking for versatile solutions that are easy to maintain to ensure smooth operations while keeping costs down.
Read more...
---
Saryx launches TMP
September 2021 , IT in Manufacturing
The digital transformation that has swept the world in the past few years has fundamentally altered most people's approach to technology, with an increasing number seeking the ability to manage their 
...
Read more...
---
Secure boundaries enhance industrial cybersecurity
September 2021, RJ Connect , IT in Manufacturing
When enhancing cybersecurity, it is important to understand how industrial systems are exchanging data and how they connect to IT-level systems.
Read more...
---
Siemens drives digital transformation at virtual Smart Mining forum
September 2021, Siemens Digital Industries , IT in Manufacturing
With its motto: 'On the road to the digital future', Siemens hosted its virtual Smart Mining forum from 3-5 August.
Read more...
---
Deep-learning AI made accessible
September 2021, SICK Automation Southern Africa , IT in Manufacturing
SICK Automation has launched a set of deep-learning software and services called dStudio, making artificial intelligence (AI) more accessible to the southern African market. This software works with machine 
...
Read more...
---
How safe are our factories? Part 1: Cybersecurity for operational technology.
August 2021, Wolfpack Information Risk , IT in Manufacturing
If companies are regularly being subjected to cyber hacks overseas, isn't it only a matter of time before someone with enough motivation, skill and resources targets us?
Read more...
---
HSEC Online simplifies health and safety compliance for companies
Technews Industry Guide: Sustainable Manufacturing 2021 , IT in Manufacturing
This automated, cloud-based solution provides a transparent, collaborative workflow platform which eliminates most of the manual complexities of health and safety document management compliance.
Read more...
---
Creating factories of the future
Technews Industry Guide: Sustainable Manufacturing 2021, SEW-Eurodrive , IT in Manufacturing
Raymond Obermeyer, managing director of SEW-Eurodrive South Africa, explains that Industry 4.0 includes all the opportunities for digitally networked production.
Read more...
---