printer friendly version
Setting standards for monitoring and safety in the radiation detection industry
Technews Industry Guide: Maintenance, Reliability & Asset Optimisation 2019
Sensors & Transducers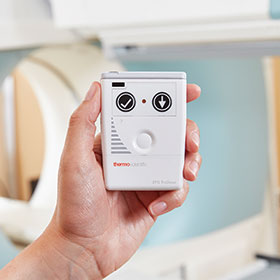 Exposure to harmful levels of radiation can easily be prevented with a new generation of ultra-small, wearable dosimeters. Less expensive, simpler to use, and portable, Thermo Scientific's EPDs (electronic personal dosimeters) set a standard for trusted performance in electronic personal dosimetry. The recently introduced Thermo Scientific EPD Trudose delivers performance and reliability with all the modern features expected from a portable radiation detection monitoring instrument.
The Trudose delivers real-time readings that improve safety by providing ultra-precise dosage information. This EPD offers new benefits that allow the user to measure 'Pulse Field Radiation' as well. The innovative multi detector technology allows measurement of Alpha, Beta, Gamma and Neutron radiation, and the improved dose-rate range accuracy, which measure as low as 0,05 micro-sieverts per hour, provides assurance in the accuracy of measurement to anyone at risk of exposure to a radiation source. Via the newly added warning thresholds, personnel are empowered to respond to alarms, or even react before they occur, due to the enlarged easy to read graphical display. The instrument also enables real-time monitoring of multiple personnel through its networking functionality.
"Recent innovations in lightweight, wearable devices have dramatically reduced the cost of radiation detection, bringing devices within reach of new users," notes Raymond Naidu, CEO of OEN Enterprises, the exclusive licence partner for Thermo Scientific field and safety instruments in southern Africa. "Due to the EPD Trudose's small dimensions, and with a weight of only 100 grams, this futuristic dosimeter easily attaches to the belt through a new improved clip design."
In the fight against radiation exposure and contamination, smaller devices are perhaps the industry's biggest advancement in recent years, with their capability to sound different types of alarms depending on the threat level, and keeping an accurate account of detected radiation.
Naidu explains that it is essential to select the right device for a specific requirement. For example, while the lightweight Thermo Scientific Trudose may be useful for many industry applications, the RadEye PRD would be required for a customs officer looking for hidden sources of radiation. At 160 grams, the more specialised RadEye PRD is up to 100 000 times more sensitive than typical electronic dosimeters.
In addition, these new dosimeters capitalise on the power of big data. With their recording and archiving features, exposure can be closely tracked over periods of time ensuring that exposure remains within safe thresholds, pegged by South Africa's National Nuclear Regulator at 20 millisieverts per year, averaged over the past five consecutive years.
"Above all," concludes Naidu, "radiation detection equipment must be 100% reliable. As with any equipment relating to personal safety, we advocate high quality instruments that give users the peace of mind that they are fully protected."
For more information contact Herman Welman, OEN Enterprises, +27 11 675 4447, radiation@oen.co.za, www.oen.co.za
Credit(s)
Further reading:
Shock-proof linear position sensors
April 2019, Turck Banner , Sensors & Transducers
Turck's enhanced Li linear position sensors measure position values at a frequency of 5 kHz at measuring lengths of up to 2 metres. Turck has updated its contactless Li Q25 positioning systems and has 
...
Read more...
---
Inductive sensors with Teflon coating
April 2019, ASSTech Process Electronics + Instrumentation , Sensors & Transducers
With switching distances of up to 50 mm and magnetic field resistance of 200 mT, Wenglor's inductive sensors with correction factor 1 come in a total of eight new welding-field resistant models, with 
...
Read more...
---
2D barcode reader increases traceability
April 2019, SICK Automation Southern Africa , Sensors & Transducers
SICK Automation South Africa, one of the country's leading sensor solution suppliers for industrial applications, recently installed 120 image-based 2D barcode readers across multiple scanning stations 
...
Read more...
---
Innovative ignition technology and analysis for the combustion environment
Technews Industry Guide: Maintenance, Reliability & Asset Optimisation 2019, OEN Enterprises , Analytical Instrumentation & Environmental Monitoring
Ignition systems
Firing up large industrial combustion plants with many burners is a complex process requiring equipment such as igniters that require gas or oil to establish the combustion process. 
...
Read more...
---
Advanced monitoring for process variables
Technews Industry Guide: Maintenance, Reliability & Asset Optimisation 2019, Loadtech Loadcells , Sensors & Transducers
The LT1200 panel mount process indicator is a precision digital indicator for interfacing to and measuring most process variables. The instrument is capable of measuring and processing variables such 
...
Read more...
---
Manoeuvring agricultural robots with 2D laser scanners
March 2019, SICK Automation Southern Africa , Sensors & Transducers
The problem: how do you navigate agricultural robots through a field? The challenge of this application can be found not only in the wide variety of crops out there, but also in the fact that crop rows 
...
Read more...
---
Sensors for motion control
March 2019, ifm - South Africa , Sensors & Transducers
The range of stainless steel housed incremental encoders from ifm electronic is ideal for applications such as conveyor belt synchronisation because of the long maintenance intervals, even when deployed 
...
Read more...
---
Background suppression laser sensor
March 2019, Turck Banner , Sensors & Transducers
Turck's Q5X laser sensor solves the most difficult distance-based applications, even at acute angles. The high-power laser sensor features excess gain, which enables the sensor to detect dark objects 
...
Read more...
---
Leuze camera looks around the corner
March 2019, Countapulse Controls , Sensors & Transducers
Manufacturing plants, packaging facilities and warehouse operations often have areas where visibility is not what it should be, and not only can these prove hazardous to both vehicles and pedestrians 
...
Read more...
---
Relative humidity probe hands control to the user
March 2019, Instrotech , Sensors & Transducers
The Michell HygroSmart HS3 advanced interchangeable relative humidity and temperature probe is 100% configurable to give users maximum flexibility. It also allows for alterations to RH measurements, to 
...
Read more...
---