printer friendly version
VUVS-LT Poppet Valve
Technews Industry Guide: Maintenance, Reliability & Asset Optimisation 2019
Pneumatics & Hydraulics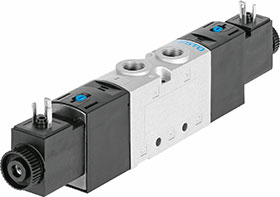 Frequently used in different locations and exposed places, the VUVS-LT Poppet Valve can take a lot – all without losing its good looks. Simple on the outside, sturdy on the inside, it is the ideal combination to meet a multitude of requirements, even for challenging environmental conditions. The plug type poppet seal variant is particularly suitable for these types of applications.
Reliability
The valve stands out thanks to its robust, sturdy poppet design, constant switching time and great sealing. It combines features required for operation in harsh environments such as impact resistance, mounting options and ease of handling. An extensive range of mounting accessories provides various options for integrating the poppet valves into any machine concept.
This cost-effective design pulls out all the stops by allowing a 2x 3/2-way valve setup in one body. This allows for space and cost saving on an individually wired valve. Also, inside the 5/2 way bi-stable valve there is a locking circlip that holds the poppet in position, even after a power failure or loss of air pressure. This increases process safety as it ensures the valve maintains its position during unexpected failures. Other features include:
• Available on a manifold and with fittings assembled.
• Best tightness (very low leakage).
• Constant switching time.
• Quick switching time due to poppet design.
• Fulfils safety requirements.
• Fits to standard spool type accessories.
For more information contact Kershia Beharie, Festo, 086 003 3786, kershia.beharie@festo.com, www.festo.co.za
Credit(s)
Further reading:
Festo online configurator tool simplifies sizing of process valves
April 2020, Festo South Africa , Valves, Actuators & Pump Control
From manually operated to automated process valves, the new configurator tool for process valves from Festo makes selecting the right solution easy and less time-consuming.
Read more...
---
Seamless integrated connectivity for electric automation from Festo
April 2020, Festo South Africa , Fieldbus & Industrial Networking
The cloud is everywhere. We save data on the cloud and access it on our phones and computers from anywhere at our convenience. The same applies to seamless connectivity in industrial automation from your 
...
Read more...
---
RS adds self-adjusting double-acting air cylinders
December 2019, RS Components SA , Pneumatics & Hydraulics
RS Components has expanded its offering from factory automation manufacturer Festo to include new double-acting pneumatic cylinders in the DSBC product range. Aimed at both machine builders and maintenance 
...
Read more...
---
Festo's digitalised product world
January 2020, Festo South Africa , System Integration & Control Systems Design
HoloLens, mobile phones, 3D printing and smart glasses – the gadgets that captured the public imagination in the blockbuster movie 'Back to the Future' over 30 years ago have now become a reality, all thanks to digitalisation.
Read more...
---
Refrigeration compressed air dryers
January 2020, Artic Driers , Pneumatics & Hydraulics
The R Class range of compressed air refrigeration dryers and RSXW chemical adsorption dryers have consistently low dew points, with an attractive entry price and a low cost of ownership once in operation. 
...
Read more...
---
World record for Festo's BionicOpter
December 2019, Festo South Africa , News
The Festo BionicOpter will be included in the 2020 Guinness World Records. The chapter 'Robots' presents the most amazing records from the world of super robots and artificial intelligence. The Festo 
...
Read more...
---
Festo inspires with smart digital solutions at the Automation Expo
September 2019, Festo South Africa , News
Festo hosted the first leg of the Automation Expo in Johannesburg at the Sandton Convention Centre, while the second took place in Port Elizabeth at the Boardwalk Convention Centre. Both ended on a high 
...
Read more...
---
Productivity Master points the way to digitalisation
September 2019, Festo South Africa , System Integration & Control Systems Design
Seamless connectivity of handling and software solutions developed by Festo.
Read more...
---
Parker enhances H Series ISO valve portfolio
September 2019, Parker Hannifin Sales Company South , Pneumatics & Hydraulics
Parker Hannifin has added an expanded range of features and capabilities to its H Series ISO valve platform as part of its global focus on factory automation. Designed with a new universal manifold, the 
...
Read more...
---
SMC is here to stay
August 2019, SMC Corporation South Africa , Pneumatics & Hydraulics
Kim Roberts [KR]: How does SMC SA fit into SMC's global vision and strategy?
Peter Findlay [PF]:
SMC entered the South African market directly in 2015 as a subsidiary of SMC UK, and in turn as a subsidiary 
...
Read more...
---