printer friendly version
VUVS-LT Poppet Valve
Technews Industry Guide: Maintenance, Reliability & Asset Optimisation 2019
Pneumatics & Hydraulics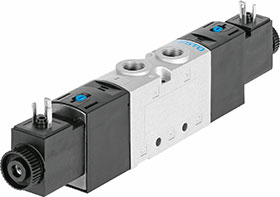 Frequently used in different locations and exposed places, the VUVS-LT Poppet Valve can take a lot – all without losing its good looks. Simple on the outside, sturdy on the inside, it is the ideal combination to meet a multitude of requirements, even for challenging environmental conditions. The plug type poppet seal variant is particularly suitable for these types of applications.
Reliability
The valve stands out thanks to its robust, sturdy poppet design, constant switching time and great sealing. It combines features required for operation in harsh environments such as impact resistance, mounting options and ease of handling. An extensive range of mounting accessories provides various options for integrating the poppet valves into any machine concept.
This cost-effective design pulls out all the stops by allowing a 2x 3/2-way valve setup in one body. This allows for space and cost saving on an individually wired valve. Also, inside the 5/2 way bi-stable valve there is a locking circlip that holds the poppet in position, even after a power failure or loss of air pressure. This increases process safety as it ensures the valve maintains its position during unexpected failures. Other features include:
• Available on a manifold and with fittings assembled.
• Best tightness (very low leakage).
• Constant switching time.
• Quick switching time due to poppet design.
• Fulfils safety requirements.
• Fits to standard spool type accessories.
For more information contact Kershia Beharie, Festo, 086 003 3786, kershia.beharie@festo.com, www.festo.co.za
Credit(s)
Further reading:
Festo to go digital at Automation Expo
June 2019, Festo , News
The world is currently undergoing radical digital transformation, which is viewed as an implementation of digital technologies in all sectors, including the automation industry. As a company that continuously 
...
Read more...
---
Flow sensor for liquid media
June 2019, Festo , Flow Measurement & Control
The new flow sensor SFAW from Festo is ideal for monitoring cooling circuits, for example in welding guns in the automotive industry as well as in front-end applications in the semiconductor and electronics 
...
Read more...
---
Robotics meets artificial intelligence
June 2019, Festo , Pneumatics & Hydraulics
Whether its grabbing, holding or turning, touching, typing or pressing – in everyday life, we use our hands as a matter of course for the most diverse tasks. In that regard, the human hand, with its unique 
...
Read more...
---
Parker Hannifin introduces couplings for quick and easy installation
May 2019, Parker Hannifin Sales Company South , Pneumatics & Hydraulics
Parker Hannifin now offers quick connection couplings for its NSA series, notable for features including their low weight. NSA couplings are available in nickel-plated brass or stainless steel, while 
...
Read more...
---
Festo Automation Suite
Technews Industry Guide: Maintenance, Reliability & Asset Optimisation 2019, Festo , IT in Manufacturing
Software for quick and reliable commissioning.
Read more...
---
Optimum hydraulic performance through cost effective filtration solutions
Technews Industry Guide: Maintenance, Reliability & Asset Optimisation 2019, Hydrasales , Pneumatics & Hydraulics
Maintenance personnel have to facilitate optimum hydraulic system performance through their programmes, hence the incorporation of oil cleanliness checks, or oil contamination monitoring should not be 
...
Read more...
---
The advantages of rolled vs. cut threads for fluid system instrumentation fittings
March 2019, Fluid Systems Africa , Pneumatics & Hydraulics
A new level in leak tightness from Fluid Systems Africa.
Read more...
---
The automated chameleon tongue
March 2019, Festo , Motion Control & Drives
Festo's adaptive gripper can pick up anything.
Read more...
---
Ready for smart manufacturing
March 2019, Metal Work Pneumatic South Africa , Pneumatics & Hydraulics
Metal Work's new EB80 is an electro-pneumatic system consisting of a solenoid valve assembly with fieldbus or multi-pin control, and modules to manage analog or digital input/output signals. It can accommodate 
...
Read more...
---
Flexible drive control
March 2019, Festo , Motion Control & Drives
Servo drive and servo motor as a complete system.
Read more...
---