printer friendly version
Pump monitoring in hazardous areas
Technews Industry Guide: Maintenance, Reliability & Asset Optimisation 2019
IS & Ex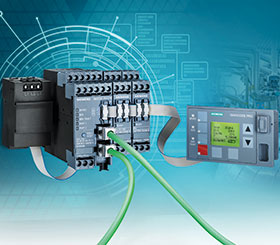 Safety has top priority wherever flammable media are used in industry. This applies in particular to the chemical industry, where flammable liquids are produced, processed and transported by pumps in hazardous areas. If the pumps start to run dry, hazardous conditions may arise inside and outside the pumps, such as air-gas mixtures, sparking and high temperatures caused by friction. The power consumption of electrically driven centrifugal pumps falls in the event of dry running, so Simocode pro switches the pumps off when consumption falls below a minimum value. This eliminates the installation of conventional monitoring devices, such as level sensors. The Simocode pro motor management system offers comprehensive protection, monitoring and control functions for the safe disconnection of motors, integration in process control systems such as Simatic PCS 7, and a large number of interfaces for system-wide communication. Simocode pro makes detailed operating, service and diagnostic data as well as process and measured values available to higher-level systems and cloud solutions.
Extended to hazardous areas
A new type of detection technology was recently introduced by Siemens to protect centrifugal pumps in hazardous areas from dry running. For this purpose, the company developed special current/voltage detection modules for its Simocode pro motor management system. The principles and practical applicability of this technology have been investigated within the scope of a research cooperation project with the Physikalisch-Technische Bundesanstalt (National Metrology Institute of Germany) in order for it to be certified as an ignition source monitoring device corresponding to a type b1 ignition protection system according to ATEX and IEC Ex.
Simocode pro uses measuring modules to monitor the active electric power consumption of the pump motor to detect a diminishing flow rate and shut off the pump in good time at defined limit values to prevent impending dry running. Additional sensor technology otherwise required to monitor the pump for dry running can be eliminated. A menu-guided teach-in procedure in the engineering software helps the user to set the limit values. The advantages of the new type of active power-based dry running protection from Siemens are not only less hardware, early detection of faults and the avoidance of damage to the pump but also safe, reliable explosion protection, savings in time and money spent on maintenance, as well as higher system availability and economic efficiency.
For more information contact David Moela, Siemens Digital Factory and Process Industries and Drives, +27 11 652 2000, david.moela@siemens.com, www.siemens.co.za
Credit(s)
Further reading:
Calibration in hazardous areas
April 2019, QTEK Instrumentation & Calibration Solutions , IS & Ex
This article is an edited version of a Beamex calibration white paper, the original unedited document can be downloaded at
https://instrumentation.co.za/papers/J4324.pdf
Read more...
---
Siemens infrastructure technology day
April 2019, Siemens Digital Industries , News
Siemens recently held an infrastructure technology day at its Midrand premises. The highlight was the launch of the new Sinamics G120X frequency converter range, which has been specially optimised for 
...
Read more...
---
Faster results with a digital twin
April 2019, Siemens Digital Industries , IT in Manufacturing
High tech company Grenzebach's portfolio includes the simulation of material flow in complex plants in the glass industry. To achieve this, Grenzebach uses Siemens' simulation solutions. Together, the 
...
Read more...
---
A clean solution
April 2019, Siemens Digital Industries , Analytical Instrumentation & Environmental Monitoring
Biological wastewater treatment using regenerated activated carbon saves disposal costs.
Read more...
---
Safety meets security
March 2019, Phoenix Contact , IS & Ex
A common strategy required for the future.
Read more...
---
Siemens launches Digital Mining Incubator with Wits University
March 2019, Siemens Digital Industries , News
Mining remains a critical player in the macro-economic landscape of South Africa. But government, business, labour and civil society need to ask how they can align a 'here-and-now' emphasis on job creation, 
...
Read more...
---
Is your building safe from fire?
March 2019, Alien Systems & Technologies , IS & Ex
Correct selection of detectors is vital.
Read more...
---
Converters for building technology
March 2019, Siemens Digital Industries , Electrical Power & Protection
Siemens presented a new converter series at last year's SPS IPC Drives. The converters of the new Sinamics G120X series are especially suited for use in pump and fan applications in industries such as 
...
Read more...
---
Safety exhaust valve for emergency stop
March 2019, Parker Hannifin Sales Company South , IS & Ex
Parker Hannifin has introduced a new safety exhaust valve that rapidly exhausts compressed air in the event of a fault condition or when a machine has an emergency stop. The P33 is designed for two-channel 
...
Read more...
---
Ex-rated instruments for explosive atmospheres
March 2019, R&C Instrumentation , IS & Ex
In many industries, there are certain areas that are classified as hazardous or Ex areas. This is an area that contains, or may contain, combustible substances such as gas, vapour or dust. Typical hazardous 
...
Read more...
---