printer friendly version
Asset management and compliance
March 2019
IT in Manufacturing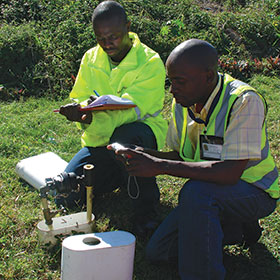 Bosch Munitech, a member of the Bosch Holdings group of multi-disciplinary consulting engineering companies, offers municipalities a smart solution for infrastructure management through assessing assets in the field and transferring the information to a desktop platform.
Engineers, field technicians and geographical information system (GIS) specialists in the Bosch Munitech team, have developed an efficient spatial system to represent fixed assets, in an accessible desktop format.
"The on-line asset registry system includes spatial, technical and financial information, which are used to establish refurbishment costs, routine service and maintenance costs, as well as the costs associated with capital replacement of aged infrastructure," says Sean Nel, project manager, Bosch Munitech. "The asset register is not only used as a planning and management tool, but also provides accurate data for annual reporting to the Auditor General of South Africa.
"To date, all municipalities we have assisted have received clean audits. Our team's extensive experience enables us to compile asset registers that are invaluable to our clients, both as an infrastructure management tool and for ensuring audit compliance."
For more information contact Sean Nel, Bosch Munitech, +27 43 721 3368, nels@boschmunitech.co.za, www.boschmunitech.co.za
Further reading:
SA company launches AI-based risk screening mobile app
October 2020 , IT in Manufacturing
The Instant Vitals app converts a mobile phone into a key vital signs medical device that could save lives when screening for Covid-19 symptoms.
Read more...
---
Danfoss debuts Alsense
November 2020, Danfoss , IT in Manufacturing
Danfoss has updated and enhanced its service offering to create a more sustainable, scalable and secure cloud-based portal for managing food retail operations.
Read more...
---
Digitalising mineral processing operations
November 2020 , IT in Manufacturing
Mining's accelerated move toward digital solutions is being supported by FLSmidth's decades of research and development. The company has over 80 projects underway to improve its mining-related offerings.
Read more...
---
Schneider Electric provides digital technologies to the mining industry
November 2020, Schneider Electric South Africa , IT in Manufacturing
"The organisation has invested significantly to develop a specialised competence in mining applications," explains Marc Ramsay, vice president industry business unit at Schneider Electric South Africa. 
...
Read more...
---
Smart manufacturing and the new normal
November 2020, Absolute Perspectives , IT in Manufacturing
In manufacturing, it is likely that billions of dollars have been lost in 2020, while a high percentage of manufacturing jobs have been negatively impacted.
Read more...
---
Will OT take over MES?
October 2020 , IT in Manufacturing
Industry 4.0 forces the convergence where IT needs to knock on the door of a manufacturing plant and sell OT, not IT or MES.
Read more...
---
Get full value from data science
October 2020, Omron Electronics , IT in Manufacturing
As huge amounts of data become available from the factory floor, information must be extracted and presented to the right audience, at the right time, and in the right way.
Read more...
---
Predictive analytics for artificial lifts
October 2020, Emerson Automation Solutions , IT in Manufacturing
Machine learning and artificial intelligence applications in artificial lift systems have seen a growth in importance recently and are no longer a nice to have, but essential tools for well optimisation.
Read more...
---
How can manufacturers survive under the new normal to 2021 and beyond?
October 2020, RJ Connect , IT in Manufacturing
Thanks to COVID-19, the manufacturing industry is entering the era of unmanned operations. How best can companies adapt to the new normal and maintain efficient operations?
Read more...
---
Artificial intelligence in manufacturing
October 2020 , IT in Manufacturing
This article summarises the case studies presented at ARC's recent virtual European Industry Forum and shows potential usage of AI in today's smart factories.
Read more...
---