printer friendly version
New benchmark scada software platform
March 2019
SCADA/HMI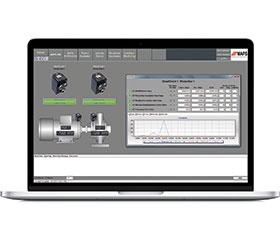 MAPS 4, the latest scada solution for control and visualisation from Adroit Technologies, extends connectivity options, adds user tools and increases the scope of its built-in functionality. The result is a software suite that can reduce the time taken for project development and integration, while also enabling users to realise Smart Factory objectives.
Built on a strong Service Oriented Architecture (SOA), the full MAPS 4 process suite delivers flexibility in automating, controlling, verifying and auditing processes. It provides a full life-cycle planning, management and integration platform for applications from manufacturing to infrastructure. There is also a dedicated HMI version available for machine builders and customers that require a more lightweight scada solution for localised control and visualisation tasks.
Features
The scada software suite has useful everyday features such as an MS Excel bulk-configuration tool, which, for example, enables Excel users to create a large part of a scada project – for instance Tag databases, logging and alarm definitions – in an intuitive and easy to use environment. The user also benefits from the many copy/paste and mass-configuration functionalities in Excel.
In addition, there are extensive libraries for Mitsubishi Electric factory automation hardware and more than 100 other PLC and RTU drivers to make routine configuration quicker and more efficient. Use of pre-configured Object Template models, as well as easy creation of new, individual models, also support a fast, optimised integration process.
Project changes can be deployed centrally providing a single point of engineering that reduces costs and increases usability. Secure data sharing and cross platform connectivity are both high priorities for many process management applications. Therefore, the scada solution can be hosted locally, in the cloud, or privately. It can also be connected seamlessly to other third-party cloud-hosted environments.
IIoT ready
Developed around popular industry standards such as OPC DA and UA, MQTT and BACNet, the entire software suite is effectively Industry 4.0 and IIoT ready. It combines the compatibility advantages of built-in OPC UA and DA support, with the openness of an HTML5 web client. Secure web connections provide easy browser-based monitoring and operation for PCs and mobile devices.
The scope and scalability of the product mean that project engineering and development costs for both large and small applications can be significantly reduced. The amount of physical programming required is kept low, even when the complexity of the application increases. This has benefits for the end user and the system integrators as both can become more competitive as a result. The investment is also better secured because the solution remains flexible for updates and new projects.
For more information contact Adroit Technologies, +27 11 658 8100, samanthab@adroit.co.za, www.adroit.co.za
Credit(s)
Further reading:
Operator guided solutions
December 2018, Adroit Technologies , IT in Manufacturing
At parts assembly production sites, where parts are picked from stock, it is almost inevitable that picking mistakes will occur. As parts become more complex and their component types increase, the problem 
...
Read more...
---
Inductive Automation's I­gnition technology offers potential to ­disrupt the market
July 2018, Mzukulu Technologies , SCADA/HMI
'Ignition by Inductive Automation' is an industrial software platform with a variety of modules that can be combined to create custom HMI, scada and MES solutions.
Read more...
---
New platforms for HTML5 visualisation
Technews Industry Guide: Industrial Internet of Things & Industry 4.0, Phoenix Contact , SCADA/HMI
Easy and flexible implementation of current and future demands.
Read more...
---
Latest generation compact inverters from Mitsubishi Electric
June 2018, Adroit Technologies , Electrical Power & Protection
Mitsubishi Electric has now introduced its latest generation of compact inverters, the FREQROL-CS80 series.
Read more...
---
Yokogawa's open scada solution
June 2018, Yokogawa South Africa , SCADA/HMI
Scada systems are typically used for supervisory monitoring and control of remote and geographically distributed assets through a more open platform for interfacing with several makes and types of equipment 
...
Read more...
---
Schneider gets smart with new HMI solution
June 2018, Schneider Electric South Africa , SCADA/HMI
In a world where quick access to data has become the key to efficiency, Schneider Electric South Africa's latest innovation in the Magelis range of HMI solutions, Magelis GTU, allows users to create the 
...
Read more...
---
Scada Review 2018
June 2018, Technews Publishing (SA Instrumentation & Control) , SCADA/HMI
The subject projects of this year's Scada Review are a worthy reflection of the effort put in by the respondent end-users, SIs and vendors. It is encouraging to see that even in these times of economic 
...
Read more...
---
Scada review 2018: Adroit Technologies
June 2018, Adroit Technologies , SCADA/HMI
End-user details
Name:
Raymond Bosch   
Designation:
Electrical foreman cold stores   
Company:
Two a Day Group   
Phone:
+27 (0)21 859 7666   
E-mail:
raymondb@tad.co.za
SI details
Name:
Willie Cameron
...
Read more...
---
Scada Review 2018: Wonderware
June 2018, IS³ - Industry Software, Solutions & Support , SCADA/HMI
End-user details
Name:
Jaco van Heerden   
Designation:
Project C&I Engineer   
Company:
African Rainbow Minerals Limited   
Phone:
+27 (0)11 518 4199   
email:
jaco.vanheerden@arm.co.za
SI details
Name:
...
Read more...
---
Adroit Scada validated as an IoT platform
May 2018, Adroit Technologies , SCADA/HMI
Last year, Adroit Technologies expanded its offerings through its partnership with Sqwidnet, the licensed Sigfox Internet of Things (IoT) network operator in South Africa. From the mid-March, Adroit has 
...
Read more...
---