printer friendly version
Ready for smart manufacturing
March 2019
Pneumatics & Hydraulics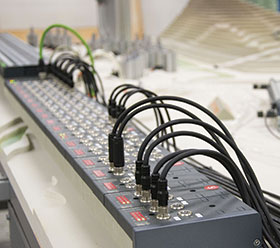 Metal Work's new EB80 is an electro-pneumatic system consisting of a solenoid valve assembly with fieldbus or multi-pin control, and modules to manage analog or digital input/output signals. It can accommodate solenoid valves with varying functions (2/2 NC, 3/2 NC and NO, 5/2 monostable and bistable, 5/3), with electric and manual controls, inlet connections with fittings up to 12 mm and output connections from 4 to 8 mm, with 10 mm to be introduced recently. Flow rate reaches 800 Nl/min in the 8 mm pipe version and 1200 Nl/min for the high flow version, which supports pipes of 10 mm.
Maintenance and diagnostics
The EB 80 was designed to be powered electrically with a large voltage range from 10,8 to 31,2 V DC in order to prevent surge or low voltage issues that can affect system behaviour. Powerful diagnostic functions for troubleshooting and replacing damaged parts are also included.
All multi-pin or fieldbus-controlled versions have an error LED for the electrical connection modules in addition to warning LEDs for each individual valve. The LED system shows solenoid valve status when there is a short circuit or a valve is missing or malfunctioning. It also shows surges, insufficient voltage and interruptions to electrical signal transmission. The presence of a fault is transmitted to the island control system, and in the case of a fieldbus connection the type of fault is also shown.
The user interface is particularly convenient. All information to be viewed and elements to be worked on are on one side of the island. Faulty parts can be replaced without dismantling the island, as can fieldbus and input/output modules.
Smart components
The diagnostic functions of the EB 80 and its ability to store large amounts of data and interface with various fieldbuses make it ideal for use in Industry 4.0 environments. Some typical applications that can be achieved with EB 80 functionality are outlined below.
The first application is the collection of self-diagnostic data, i.e. the behaviour of solenoid pilots fitted to the valves themselves. The EB 80 processor collects data, stores it in the internal memory, and sends it to the external controller via the fieldbus. It can then be processed in the field or sent to suitable storage systems in the company or a cloud server. This function enables systems to be monitored locally or from a company maintenance centre in another physical location, or even remotely by Metal Work.
The second smart function is the control of cylinder response times. A typical use of island valves is to operate pneumatic cylinders, which normally have limit sensors that read the position of the piston. The digital signals sent from the sensors are read by the EB 80 input modules, completing a control ring on the cylinder itself. The island controls the movement of the cylinder and reads the signal linked to the movement itself. This is done locally without going via the PLC. As a result, the island can assess potential delays in cylinder operation, due for example to faults, pipe interruptions, seized parts or anything else. In the event of changes, an error message is generated, which can be managed locally or remotely.
The third application is the control of cylinder speed. The EB 80 can control the motion of the cylinder in both directions, and read the signals generated by the two limit switches. By doing so it can detect and monitor the average speed of the cylinder and the number of strokes completed. The island can therefore log the distance travelled and monitor speed variations, which could be due to adjustments, an increase in friction, or changes to loads applied. An unexpected reduction in speed can cause a fall in productivity, whereas a sudden increase can break the actuators or mechanical machine parts.
A standard value can be inserted for the speed and a range of tolerance. In the event of unexpected changes an error message is generated, which can be managed by the user. Verification is local, in real time and directly in the field, without the need for developing additional applications on the control system. This makes the EB 80 a very powerful and flexible smart component with no need for additional modules.
The potential applications for smart manufacturing do not end here. Use is limited only by the imagination of developers, and this is the challenge of Industry 4.0.
For more information contact Johan Bester, Metal Work Pneumatic South Africa, +27 31 569 1584, johanb@metalworkpneumatic.co.za, www.metalworkpneumatic.co.za
Credit(s)
Further reading:
RS adds self-adjusting double-acting air cylinders
December 2019, RS Components SA , Pneumatics & Hydraulics
RS Components has expanded its offering from factory automation manufacturer Festo to include new double-acting pneumatic cylinders in the DSBC product range. Aimed at both machine builders and maintenance 
...
Read more...
---
Refrigeration compressed air dryers
January 2020, Artic Driers , Pneumatics & Hydraulics
The R Class range of compressed air refrigeration dryers and RSXW chemical adsorption dryers have consistently low dew points, with an attractive entry price and a low cost of ownership once in operation. 
...
Read more...
---
Parker enhances H Series ISO valve portfolio
September 2019, Parker Hannifin Sales Company South , Pneumatics & Hydraulics
Parker Hannifin has added an expanded range of features and capabilities to its H Series ISO valve platform as part of its global focus on factory automation. Designed with a new universal manifold, the 
...
Read more...
---
SMC is here to stay
August 2019, SMC Corporation South Africa , Pneumatics & Hydraulics
Kim Roberts [KR]: How does SMC SA fit into SMC's global vision and strategy?
Peter Findlay [PF]:
SMC entered the South African market directly in 2015 as a subsidiary of SMC UK, and in turn as a subsidiary 
...
Read more...
---
How the latest pneumatics can reduce plant costs
August 2019, Parker Hannifin Sales Company South , Pneumatics & Hydraulics
The implementation of predictive maintenance has become a high-held ambition for many modern plants, a strategy that avoids the costs of both reactive and scheduled preventative maintenance by only deploying maintenance routines exactly when needed; namely, shortly before a pneumatic component is predicted to fail.
Read more...
---
Boltight hydraulic bolt tightening from BMG
August 2019, Bearing Man Group t/a BMG , Pneumatics & Hydraulics
BMG's Nord-Lock bolting solutions now include Boltight hydraulic bolt tensioning tools, which are used to tighten bolts simultaneously, ensuring even preload in industrial applications and extreme environments, 
...
Read more...
---
Robotics meets artificial intelligence
June 2019, Festo South Africa , Pneumatics & Hydraulics
Whether its grabbing, holding or turning, touching, typing or pressing – in everyday life, we use our hands as a matter of course for the most diverse tasks. In that regard, the human hand, with its unique 
...
Read more...
---
Parker Hannifin introduces couplings for quick and easy installation
May 2019, Parker Hannifin Sales Company South , Pneumatics & Hydraulics
Parker Hannifin now offers quick connection couplings for its NSA series, notable for features including their low weight. NSA couplings are available in nickel-plated brass or stainless steel, while 
...
Read more...
---
VUVS-LT Poppet Valve
Technews Industry Guide: Maintenance, Reliability & Asset Optimisation 2019, Festo South Africa , Pneumatics & Hydraulics
Frequently used in different locations and exposed places, the VUVS-LT Poppet Valve can take a lot – all without losing its good looks. Simple on the outside, sturdy on the inside, it is the ideal combination 
...
Read more...
---
Optimum hydraulic performance through cost effective filtration solutions
Technews Industry Guide: Maintenance, Reliability & Asset Optimisation 2019, Hydrasales , Pneumatics & Hydraulics
Maintenance personnel have to facilitate optimum hydraulic system performance through their programmes, hence the incorporation of oil cleanliness checks, or oil contamination monitoring should not be 
...
Read more...
---