printer friendly version
New Schneider Electric pressure transmitters with FoxCal Technology
March 2019
Pressure Measurement & Control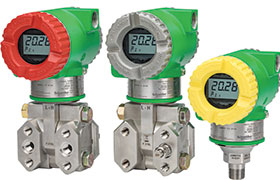 Through its Foxboro brand, Schneider Electric continues to provide high-quality instrumentation to customers through the introduction of a multi-tiered pressure transmitter line. The new transmitters are designed to make processes more profitable by providing the opportunity to select a transmitter offering at the best price/performance ratio for the application, with the added value offered by Foxcal technology. In addition, these transmitters have TÜV Safety SIL2 certification standard.
Features and benefits
This new Schneider Electric pressure transmitter family gives users the opportunity to select the best pressure transmitter to meet for any application requirement. These low power instruments are offered with a wide variety of features, communication protocols (4-20 mA HART, Foundation Fieldbus and 1-5 VDC), materials, certificates, accessories, and services, which all add to the performance capabilities and versatility of the range.
Premium performance
For the most demanding applications, the best accuracy available is required. For these choose Premium Transmitters with accuracy up to 0,025% reading and stability better than 0,015% (upper range limit) per year for 10 years, with FoxCal technology embedded and SIL2 certification standard.
Advanced performance
One transmitter that covers most applications: with FoxCal dynamic technology, users benefit from wide rangeability, keeping accuracy at the highest level. With an accuracy of 0,05% of reading and SIL2 safety certification as standard, these advanced pressure transmitters cover most plant pressure sensors requirements with only a few models to capture the phrase – one transmitter does it all.
Value performance
Here, Schneider Electric provides an economical pressure transmitter without compromising on quality. It has been designed for applications requiring accuracy of 0,075% span, where customers benefit from a robust construction. It complies with industry standards, including SIL2 safety certification as standard.
FoxCal Technology explained
Where traditional transmitter suppliers have a 2-point static calibration selected according to the sensor limits 'zero and span', Schneider Electric implement the patented FoxCal dynamic technology that includes 11 calibration curves all in 1 transmitter. This is 10 times more data stored permanently in sensor memory. FoxCal technology allows the pressure transmitter to transition automatically and selects the best calibration curve based on the sensor's input. Accuracy is thus always improved to the best level expressed as a percentage of reading.
With FoxCal technology and TÜV SIL2 safety certification, coupled with high accuracy and reliability, the multi-tiered pressure transmitter family is an ideal solution to optimise investments and realise savings. The same transmitter can now be deployed for standard and safety applications.
Communication and maintenance
To guarantee easy integration of the pressure transmitters, Schneider Electric pressure transmitters and associated configuration files have all been tested in dedicated interoperability laboratories. In addition, all devices are compatible with Field Device Interface technology.
For ease of maintenance and plant start-up, embedded diagnostics have been improved with the latest communication protocol versions. A feature of the new transmitters is the inclusion of two real-time clocks that have been integrated to keep track of the number of days the transmitter has been in service in the field. This is a key parameter for predictive maintenance available on Hart and Foundation Fieldbus.
For more information contact Johan van Jaarsveldt, EOH, +27 87 803 9783, johan.vanjaarsveldt@eoh-pas.co.za, www.eoh-pas.co.za
Credit(s)
Further reading:
Pressure transmitters for mobile machines
ifm - South Africa Pressure Measurement & Control
ifm electronic's PT/PU-type sensors offer high vibration and shock resistance, a high degree of protection, and very good EMC resistance.
Read more...
---
Process Automation Solutions appointed as main contractor
EOH Process Automation Solutions News
Process Automation Solutions has been appointed as the Main Automation Contractor by South Africa's liquids pipeline operator to upgrade the control system, metering and leak detection system for inland bound crude oil pipeline.
Read more...
---
Small flush-mount pressure sensor
ifm - South Africa Pressure Measurement & Control
Performance figures include high measuring accuracy to within ±0,5% and precise repeatability with ±0,05% tolerance.
Read more...
---
Digital manometer in standard and ATEX-approved models
Instrotech Pressure Measurement & Control
The instrument is available with two practice-based measuring ranges of -1 to 30 bar and 0 to 300 bar in the compensated temperature range from 0°C to 50°C.
Read more...
---
Pressure measuring cells
ASSTech Process Electronics + Instrumentation Pressure Measurement & Control
The Jumo Ceros measuring cells can be used in such devices as pressure transmitters, level probes, data loggers or digital manometers.
Read more...
---
Hydraulic deadweight tester for pressure instrument calibration
Instrotech Pressure Measurement & Control Maintenance, Test & Measurement, Calibration
The high-quality piston/cylinder units are manufactured from tungsten carbide, which is known for its low thermal coefficient of expansion.
Read more...
---
Monitoring the safe ventilation of mines
EOH Process Automation Solutions Flow Measurement & Control
By accurately monitoring air quality and airflow volumes, mining companies will improve working conditions, maintain full staff complements and enhance their energy management.
Read more...
---
Digital pressure gauge for refrigeration performance monitoring
Instrotech Pressure Measurement & Control
Two versions of the digital pressure gauge are available: for absolute pressures within the ranges of -1 bar to 40 bar, and -1 bar to 80 bar, respectively.
Read more...
---
Pressure sensor for industrial applications
WIKA Instruments Pressure Measurement & Control
WIKA's model MTF-1 pressure sensor module is a simple and flexible option for integrating pressure measurement into a wide variety of applications.
Read more...
---
Differential pressure transmitter with scalable measuring range
Vepac Electronics Pressure Measurement & Control
The Halstrup Walcher P 26 differential pressure transmitter is designed for pressure monitoring applications in cleanrooms, laboratories, pharmaceutical plants and operating theatres, as well as for special uses in machine and plant construction.
Read more...
---