printer friendly version
New Schneider Electric pressure transmitters with FoxCal Technology
March 2019
Pressure Measurement & Control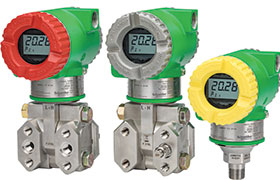 Through its Foxboro brand, Schneider Electric continues to provide high-quality instrumentation to customers through the introduction of a multi-tiered pressure transmitter line. The new transmitters are designed to make processes more profitable by providing the opportunity to select a transmitter offering at the best price/performance ratio for the application, with the added value offered by Foxcal technology. In addition, these transmitters have TÜV Safety SIL2 certification standard.
Features and benefits
This new Schneider Electric pressure transmitter family gives users the opportunity to select the best pressure transmitter to meet for any application requirement. These low power instruments are offered with a wide variety of features, communication protocols (4-20 mA HART, Foundation Fieldbus and 1-5 VDC), materials, certificates, accessories, and services, which all add to the performance capabilities and versatility of the range.
Premium performance
For the most demanding applications, the best accuracy available is required. For these choose Premium Transmitters with accuracy up to 0,025% reading and stability better than 0,015% (upper range limit) per year for 10 years, with FoxCal technology embedded and SIL2 certification standard.
Advanced performance
One transmitter that covers most applications: with FoxCal dynamic technology, users benefit from wide rangeability, keeping accuracy at the highest level. With an accuracy of 0,05% of reading and SIL2 safety certification as standard, these advanced pressure transmitters cover most plant pressure sensors requirements with only a few models to capture the phrase – one transmitter does it all.
Value performance
Here, Schneider Electric provides an economical pressure transmitter without compromising on quality. It has been designed for applications requiring accuracy of 0,075% span, where customers benefit from a robust construction. It complies with industry standards, including SIL2 safety certification as standard.
FoxCal Technology explained
Where traditional transmitter suppliers have a 2-point static calibration selected according to the sensor limits 'zero and span', Schneider Electric implement the patented FoxCal dynamic technology that includes 11 calibration curves all in 1 transmitter. This is 10 times more data stored permanently in sensor memory. FoxCal technology allows the pressure transmitter to transition automatically and selects the best calibration curve based on the sensor's input. Accuracy is thus always improved to the best level expressed as a percentage of reading.
With FoxCal technology and TÜV SIL2 safety certification, coupled with high accuracy and reliability, the multi-tiered pressure transmitter family is an ideal solution to optimise investments and realise savings. The same transmitter can now be deployed for standard and safety applications.
Communication and maintenance
To guarantee easy integration of the pressure transmitters, Schneider Electric pressure transmitters and associated configuration files have all been tested in dedicated interoperability laboratories. In addition, all devices are compatible with Field Device Interface technology.
For ease of maintenance and plant start-up, embedded diagnostics have been improved with the latest communication protocol versions. A feature of the new transmitters is the inclusion of two real-time clocks that have been integrated to keep track of the number of days the transmitter has been in service in the field. This is a key parameter for predictive maintenance available on Hart and Foundation Fieldbus.
For more information contact Johan van Jaarsveldt, EOH, +27 87 803 9783, johan.vanjaarsveldt@eoh-pas.co.za, www.eoh-pas.co.za
Credit(s)
Further reading:
Pressure sensors with touchpads
December 2019, Turck Banner , Pressure Measurement & Control
Turck has launched its new PS+ series pressure sensors, a modular range that enables access to reliable measuring instruments with intuitive operation. The sensors are easily commissioned and overhead 
...
Read more...
---
Pressure measurement converter for harsh conditions
December 2019, Instrotech , Pressure Measurement & Control
Kobold's PNK pressure measurement converter is used for the remote electrical transmission of pressure signals. For use in heavy machinery, engines, shipbuilding and automotive engineering, this robustly 
...
Read more...
---
Why does water hammer affect pressure gauges and transmitters?
October 2019, SA Gauge , Pressure Measurement & Control
Water hammer is a high pressure surge or wave created by the kinetic energy of moving fluid when it is rapidly forced to stop or change direction, altering the liquid's velocity. Rapid stopping or starting 
...
Read more...
---
Tough OEM pressure switch from WIKA
October 2019, WIKA Instruments , Pressure Measurement & Control
The PSD-4-ECO pressure switch from WIKA is designed for harsh ambient conditions, and is optimised for OEM integration. With a diameter of 29 mm, the model is very slim and through the arrangement of 
...
Read more...
---
Hygienic pressure transmitter
September 2019, ASSTech Process Electronics + Instrumentation , Pressure Measurement & Control
The pressure transmitter Jumo Taros S46 H – available locally from ASSTech – is designed according to the hygienic requirements for precision measurement and longevity. The high-level protection type 
...
Read more...
---
Electronic pressure gauges for Ex areas
September 2019, Instrotech , Pressure Measurement & Control
Instrotech now offers Keller's range of intrinsically safe electronic pressure gauges for use in areas subject to gas explosion risks. The type approvals are compliant with the ATEX Explosion Protection 
...
Read more...
---
PS17 differential pressure ­transmitter
August 2019, Vepac Electronics , Pressure Measurement & Control
Differential pressure transmitters are used for regulating HVAC systems and for monitoring filters. The devices can also monitor under and overpressures in cleanrooms or mini-environments. halstrup-walcher, 
...
Read more...
---
Foxboro buoyancy level transmitter
August 2019, I-PAS (Industrial Process Automation Solutions) , Level Measurement & Control
Principle of operation
When an element a (displacer rod) is immersed into a liquid, according to Archimedes' Principle, the displacer will 'lose' some of its weight proportional to the level of the liquid 
...
Read more...
---
The dream team for heat and condensate
August 2019, VEGA Controls SA , Pressure Measurement & Control
An innovative duo of ceramic and metallic measuring cells from VEGA optimises pressure measurement in a distillation process at BASF.
Read more...
---
Pressure sensors for Industry 4.0
Technews Industry Guide: Industrial Internet of Things & Industry 4.0, Turck Banner , Pressure Measurement & Control
Turck's new pressure sensors of the PS+ series offer complete access to sensor parameters via IO-Link.
Read more...
---