printer friendly version
The automated chameleon tongue
March 2019
Motion Control & Drives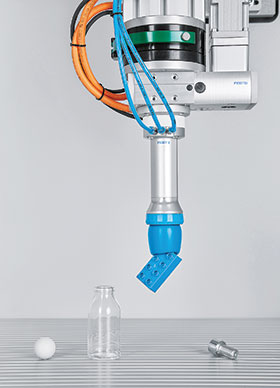 The unique combination of force and form fitting of the chameleon's tongue can be observed when it is on the hunt for insects. Once the chameleon has its prey in its sights, its tongue shoots out like a rubber band. Just before the tip of the tongue reaches the insect, it retracts in the middle whilst the edges continue to move forward. This allows the tongue to adapt to the shape and size of the prey and firmly enclose it. The prey sticks to the tongue and is pulled in as though caught on a fishing line. The Festo Bionic Learning Network with researchers from the University of Oslo used these observations to develop a mechanical prototype based on the same principles.
Gripping workpieces just as a chameleon's tongue grips insects – that is the operating principle of the adaptive shape gripper DHEF from Festo. This unusual gripper can pick up, gather and put down objects of many different shapes without the need for manual adjustment.
The silicone cap of the adaptive shape gripper can fold itself over and grip objects of virtually any shape. This creates a firm and form-fitting hold. The elastic silicone enables the gripper to adapt to a wide range of geometries. When combined with a pneumatic drive, the adaptive shape gripper requires little energy for a secure grip.
Formless, round and sensitive
Unlike the mechanical grippers currently available that can only grip specific components, the adaptive shape gripper is extremely versatile. It can even manage components with freely formed shapes and round geometries. The absence of sharp edges makes it ideal for gripping sensitive objects such as air nozzles or trim strips. In principle, the gripper can pick up several parts in one movement, for example nuts from a bowl.
This means that the bionic gripper can be used to handle small parts in classic machine building, in the electronic or automotive industry, in supply units for packaging installations, and for human-robot interaction during assembly tasks or for prosthetic extensions in medical technology.
Practical product characteristics
The gripper has an elastic silicone membrane that is flexible and pliable; once it is supplied with compressed air and the standardised robot interface with integrated air connections has been added, it is ready to be used as a practical automation component. The standard sensor slot for position sensing, as well as the bayonet lock for easy replacement of the cap, are useful additional features.
For more information contact Kershia Beharie, Festo, 086 003 3786, kershia.beharie@festo.com, www.festo.co.za
Credit(s)
Further reading:
Case History 167: Test your analytical capabilities
July 2019, Michael Brown Control Engineering , Editor's Choice, Motion Control & Drives
Answer to the question at the end of Case History 166 (
www.instrumentation.co.za/8690r
) In the last Case History article, I suggested you try and see what was not so good about a level control, which 
...
Read more...
---
The powerful Festo modular control system CPX-E
Technews Industry Guide: Industrial Internet of Things & Industry 4.0, Festo , PLCs, DCSs & Controllers
Designed as an EtherCAT master and motion controller with protection to IP20, the powerful automation system CPX-E for factory and process automation with NE21-specific certifications is becoming the 
...
Read more...
---
BMG drives sewage and effluent management
July 2019, Bearing Man Group t/a BMG , Motion Control & Drives
BMG supplies a range of drives designed specially for optimum efficiency in sewage treatment applications. "Nord drives, which consist of Unicase helical shaft mount geared motors, have special features 
...
Read more...
---
Bauer motors for water treatment plants
July 2019 , Motion Control & Drives
According to Bearings International (BI) electric motors product manager Lewis Hiepner, the arduous operating conditions at water-treatment plants mean that the motors specified not only have to be high-efficiency, 
...
Read more...
---
Motors, drives, alternators and ATEX induction motors
July 2019 , Motion Control & Drives
Vert Energy is the sole distributor for Leroy-Somer in southern Africa and supplies and supports the entire LS range, which includes standard and adapted AC and DC motors, geared and brake motors, variable 
...
Read more...
---
Future-proof chair lift system
July 2019, Siemens Digital Industries , Motion Control & Drives
At Snow Space, a winter sports resort near Salzburg, Bergbahnen Wagrain, operates the Sonntagskogelbahn 2, a chair lift for taking skiing enthusiasts to the piste. To provide the most comfortable ride 
...
Read more...
---
Planetary gearboxes for railway maintenance
July 2019, Bearing Man Group t/a BMG , Motion Control & Drives
BMG supplies the local railways sector with custom-designed planetary gearboxes for use in railway maintenance programmes. "Dinamic Oil gearboxes, which are supplied with 22 kW brake motors, are used 
...
Read more...
---
Flying motion
July 2019, Beckhoff Automation , Motion Control & Drives
A planar motor system of free-floating movers with six degrees of freedom.
Read more...
---
When zero is hero: Class 0 oil-free vs technically oil-free air
July 2019 , Motion Control & Drives
Oil-free compressed air is used throughout industry, where the purest compressed air quality is critical to the end product and to the processes involved, such as in the pharmaceutical or food and beverage 
...
Read more...
---
What is going on in the Milky Way?
July 2019, Horne Technologies , Motion Control & Drives
One of the regions we know very little about is the dense part in the centre of the galaxy, where countless stars and gas clouds cluster around a presumed black hole. But a major astronomy project is 
...
Read more...
---