printer friendly version
The automated chameleon tongue
March 2019
Motion Control & Drives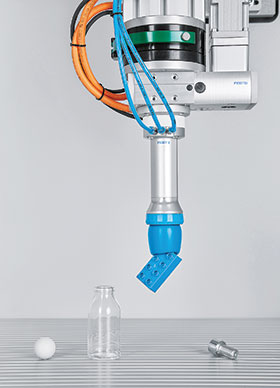 The unique combination of force and form fitting of the chameleon's tongue can be observed when it is on the hunt for insects. Once the chameleon has its prey in its sights, its tongue shoots out like a rubber band. Just before the tip of the tongue reaches the insect, it retracts in the middle whilst the edges continue to move forward. This allows the tongue to adapt to the shape and size of the prey and firmly enclose it. The prey sticks to the tongue and is pulled in as though caught on a fishing line. The Festo Bionic Learning Network with researchers from the University of Oslo used these observations to develop a mechanical prototype based on the same principles.
Gripping workpieces just as a chameleon's tongue grips insects – that is the operating principle of the adaptive shape gripper DHEF from Festo. This unusual gripper can pick up, gather and put down objects of many different shapes without the need for manual adjustment.
The silicone cap of the adaptive shape gripper can fold itself over and grip objects of virtually any shape. This creates a firm and form-fitting hold. The elastic silicone enables the gripper to adapt to a wide range of geometries. When combined with a pneumatic drive, the adaptive shape gripper requires little energy for a secure grip.
Formless, round and sensitive
Unlike the mechanical grippers currently available that can only grip specific components, the adaptive shape gripper is extremely versatile. It can even manage components with freely formed shapes and round geometries. The absence of sharp edges makes it ideal for gripping sensitive objects such as air nozzles or trim strips. In principle, the gripper can pick up several parts in one movement, for example nuts from a bowl.
This means that the bionic gripper can be used to handle small parts in classic machine building, in the electronic or automotive industry, in supply units for packaging installations, and for human-robot interaction during assembly tasks or for prosthetic extensions in medical technology.
Practical product characteristics
The gripper has an elastic silicone membrane that is flexible and pliable; once it is supplied with compressed air and the standardised robot interface with integrated air connections has been added, it is ready to be used as a practical automation component. The standard sensor slot for position sensing, as well as the bayonet lock for easy replacement of the cap, are useful additional features.
For more information contact Kershia Beharie, Festo, 086 003 3786, kershia.beharie@festo.com, www.festo.co.za
Credit(s)
Further reading:
Drive configuration made easy
November 2020, Nidec Control Techniques , Motion Control & Drives
Nidec Control Techniques prides itself on offering free software for commissioning, optimising and monitoring drive/system performance.
Read more...
---
Sinumerik One Dynamics for motion control
November 2020, Siemens Digital Industries , Motion Control & Drives
Siemens has launched three powerful technology packages exclusively for the CNC Sinumerik One.
Read more...
---
Heavy-duty wedge belts
November 2020, Bearing Man Group t/a BMG , Motion Control & Drives
Fenner Quattro Plus Twin Wrap wedge belts transmit 30% more power than conventional belts.
Read more...
---
Advanced new Festo valve portfolio gains immense popularity in industrial automation
November 2020, Festo South Africa , Editor's Choice
Kershia Beharie talks to SA Instrumentation and Control about choosing the right valves for machine applications from the popular Festo range.
Read more...
---
30 years of linear motion technology
November 2020 , Motion Control & Drives
This year, factory automation specialist Bosch Rexroth celebrates 30 years of linear motion technology and innovation.
Read more...
---
Cooling VSDs with inertial spin filters
November 2020, RTS Africa Technologies , Motion Control & Drives
RTS inertial spin filter units are compact and easy to install and RTS Africa offers full service from conceptual design to ongoing support as required.
Read more...
---
Omron launches HD-1500 mobile robot
November 2020, Omron Electronics , Motion Control & Drives
Industry-leading HD-1500 expands the possibilities for autonomous material transport.
Read more...
---
BMG installs Danfoss VSDs to improve energy efficiency on farms
November 2020, Danfoss , Motion Control & Drives
BMG's Boer Slim/Smart Farming agricultural team works closely with farmers, assisting them with the selection and operation of new electromechanical systems.
Read more...
---
What is adaptive acceleration control?
November 2020 , Motion Control & Drives
Adaptive acceleration control (AAC) is a new soft start control type that allows the selection of different acceleration and deceleration profiles according to application needs.
Read more...
---
Danfoss efficiencies help South African farmers to free up energy and achieve production goals
October 2020, Danfoss , Motion Control & Drives
Danfoss, together with engineering components provider BMG, supplied a commercial maize farmer with the technology to combat challenges around irrigation sufficiency.
Read more...
---