printer friendly version
The automated chameleon tongue
March 2019
Motion Control & Drives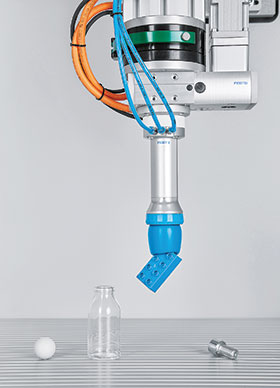 The unique combination of force and form fitting of the chameleon's tongue can be observed when it is on the hunt for insects. Once the chameleon has its prey in its sights, its tongue shoots out like a rubber band. Just before the tip of the tongue reaches the insect, it retracts in the middle whilst the edges continue to move forward. This allows the tongue to adapt to the shape and size of the prey and firmly enclose it. The prey sticks to the tongue and is pulled in as though caught on a fishing line. The Festo Bionic Learning Network with researchers from the University of Oslo used these observations to develop a mechanical prototype based on the same principles.
Gripping workpieces just as a chameleon's tongue grips insects – that is the operating principle of the adaptive shape gripper DHEF from Festo. This unusual gripper can pick up, gather and put down objects of many different shapes without the need for manual adjustment.
The silicone cap of the adaptive shape gripper can fold itself over and grip objects of virtually any shape. This creates a firm and form-fitting hold. The elastic silicone enables the gripper to adapt to a wide range of geometries. When combined with a pneumatic drive, the adaptive shape gripper requires little energy for a secure grip.
Formless, round and sensitive
Unlike the mechanical grippers currently available that can only grip specific components, the adaptive shape gripper is extremely versatile. It can even manage components with freely formed shapes and round geometries. The absence of sharp edges makes it ideal for gripping sensitive objects such as air nozzles or trim strips. In principle, the gripper can pick up several parts in one movement, for example nuts from a bowl.
This means that the bionic gripper can be used to handle small parts in classic machine building, in the electronic or automotive industry, in supply units for packaging installations, and for human-robot interaction during assembly tasks or for prosthetic extensions in medical technology.
Practical product characteristics
The gripper has an elastic silicone membrane that is flexible and pliable; once it is supplied with compressed air and the standardised robot interface with integrated air connections has been added, it is ready to be used as a practical automation component. The standard sensor slot for position sensing, as well as the bayonet lock for easy replacement of the cap, are useful additional features.
For more information contact Kershia Beharie, Festo, 086 003 3786, kershia.beharie@festo.com, www.festo.co.za
Credit(s)
Further reading:
Festo Automation Suite
Technews Industry Guide: Maintenance, Reliability & Asset Optimisation 2019, Festo , IT in Manufacturing
Software for quick and reliable commissioning.
Read more...
---
VUVS-LT Poppet Valve
Technews Industry Guide: Maintenance, Reliability & Asset Optimisation 2019, Festo , Pneumatics & Hydraulics
Frequently used in different locations and exposed places, the VUVS-LT Poppet Valve can take a lot – all without losing its good looks. Simple on the outside, sturdy on the inside, it is the ideal combination 
...
Read more...
---
Case History 165: Interesting tests on loop problems show how much can be deduced from the results.
March 2019, Michael Brown Control Engineering , Motion Control & Drives
I have published many articles showing problems in control loops with figures showing the tests conducted to determine the problems. This time, by way of a change, I would like to suggest that readers 
...
Read more...
---
Energy-saving irrigation methods
March 2019, Zest WEG Group , Motion Control & Drives
Anyone within the agricultural sector will know that operating an irrigation system can be expensive, with one of the primary factors being the cost of energy. The good news is that there are ways to 
...
Read more...
---
Quality in aftermarket fuel filters
March 2019, Parker Hannifin Sales Company South , Motion Control & Drives
When it comes to replacing the fuel filter element on a light commercial vehicle, such as the Ford Transit, Parker Racor ensures the job is simple, fast and foolproof, thanks to a patented compound bayonet 
...
Read more...
---
Flexible drive control
March 2019, Festo , Motion Control & Drives
Servo drive and servo motor as a complete system.
Read more...
---
Bag-in-Box technology just got faster
February 2019, Beckhoff Automation , Motion Control & Drives
Beckhoff's control architecture provides best solutions for local machine builder.
Read more...
---
Conveyor systems for grain applications
February 2019 , Motion Control & Drives
BLTWorld offers dependable solutions for specific problems at the transfer points of conveyor systems in bulk materials handling, for example, grain in the food and beverage industry. "ScrapeTec Trading's 
...
Read more...
---
Quarter-turn actuator for harsh conditions
February 2019, Festo , Valves, Actuators & Pump Control
Thanks to its versatility and flexibility, Festo's quarter-turn actuator DFPD can be used in a variety of applications. Its modern, simple and compact design impresses whether it is used with ball valves, 
...
Read more...
---
Bosch Rexroth introduces latest transfer system
February 2019, Tectra Automation , Motion Control & Drives
By optimising existing components and integrating new modules into its TS 5 conveyor system for heavy loads, Bosch Rexroth has enhanced its already impressive flexibility to meet the requirements of an 
...
Read more...
---