printer friendly version
Converters for building technology
March 2019
Electrical Power & Protection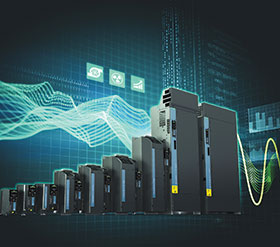 Siemens presented a new converter series at last year's SPS IPC Drives. The converters of the new Sinamics G120X series are especially suited for use in pump and fan applications in industries such as building technology and also in industrial environments. With a power range of 0,75 to 630 kW, Sinamics the converters can be operated with any motor, but are at their most effective running with synchronous reluctance motors from Siemens. Sinamics G120X are configured throughout for cost-optimised and resource-saving operation across all voltages and supply networks, and their characteristic compact design saves space in the control cabinet. Although not featuring an additional output reactor, the converters enable motor cable lengths of up to 150 metres. The integrated safety functions are certified to SIL3.
Simple, reliable and efficient
The series offers outstanding ease of operation and is simple to commission using the Sinamics Smart Access Module and the IOP-2 operator panel. The converters can be selected and ordered using only a single purchase order number in the Siemens drive technology configurator. Their integrated DC link reactor enables Sinamics G120X converters to run with the utmost stability under all network conditions. This robust, drip-proof new series comes in the form of a painted module as standard, with an additional contaminant-resistant coating as an optional extra. A high C2 (optionally C1) EMC category and a protection rating of IP20 (optionally IP21 in UL open type) ensure that the converter can be reliably used in any kind of industrial environment. Sinamics G120X converters are in compliance with all relevant EU energy-saving standards, and offer an operating efficiency level of over 98 percent. Their comprehensive range of integrated application-specific functions such as Flux Reduction for adjustment in line with the actual load, Eco Mode which ensures best possible performance and minimal losses coupled with low dynamic loads and optimised output power, or Keep Running Mode to reduce speed prior to a shutdown.
Ready for digitalisation
Sinamics G120X converters can be linked to MindSphere over Sinamics Connect 300, offering users the opportunity to analyse valuable operating data gathered from the converter, the drive train and the machine using the MindSphere app Analyse MyDrives. This enables the visualisation and analysis of status information, providing users with valuable data which can be used as the basis for optimising processes and maintenance strategies.
For more information contact Kaylin Pather, Siemens Digital Factory and Process Industries and Drives, +27 11 652 2795, kaylin.pather@siemens.com, www.siemens.co.za
Credit(s)
Further reading:
Compact uninterruptible DC power supply
Electrical Power & Protection
Traco Power's new 240 W UPS module is suited to demanding industrial applications needing a stable source of power.
Read more...
---
New motors for servo drive system
Siemens South Africa Motion Control & Drives
The servo motor thus meets all hygienic conditions and can be used for mixing and stirring, dosing and filling, as well as conveying, packaging and storing a wide variety of end products.       The 
...
Read more...
---
Rethinking energy usage in South Africa
Electrical Power & Protection
While sustainability is increasingly on the agenda of most organisations, the transition to a sustainable energy mix is not easy.
Read more...
---
Compact and powerful energy monitoring unit
Opto Africa Holdings Electrical Power & Protection Fieldbus & Industrial Networking
The RIO EMU's slim form factor is ideal for 'just one more thing' retrofit jobs thanks to DIN-rail and panel-mount options.
Read more...
---
Vacuum circuit breaker with thermal monitoring
Schneider Electric South Africa Electrical Power & Protection
The EasyPacT EXE offers IoT sensors and digital connectivity for a simpler, more sustainable and safer experience for panel builders, facility managers and OEMs.
Read more...
---
Revolutionising space exploration
Siemens South Africa IT in Manufacturing
Sierra Space, a commercial space company at the forefront of creating and building the future of space transportation for low earth orbit commercialisation, has implemented the Siemens Xcelerator portfolio of software and services as the foundation of its next-generation digital engineering program.
Read more...
---
Valmet automation system chosen for waste-to-energy plant
Valmet Automation News Electrical Power & Protection
The new plant in Warsaw, Poland, will process 305 000 tons of municipal solid waste per year to produce electricity and district heating
Read more...
---
Smart manufacturing will power the battery gigafactory of the future
Rockwell Automation Electrical Power & Protection
Electric vehicles' role in the decarbonisation of mobility requires gigafactories that can produce batteries in high volumes, at high speeds and with consistently high quality.
Read more...
---
Upskilling will be critical to alternative energy production projects
Electrical Power & Protection
One of the challenges for this sector is that jobs are typically project-based, which means they involve fixed-term contracts.
Read more...
---
Propelling green hydrogen toward large-scale African commercialisation
RTS Africa Technologies Electrical Power & Protection
RTS Africa Engineering, a founding member of the African Hydrogen Partnership, believes the industry is on the cusp of pricing diesel and petrol out of the market.
Read more...
---