printer friendly version
Converters for building technology
March 2019
Electrical Power & Protection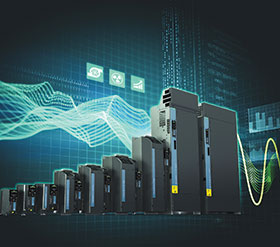 Siemens presented a new converter series at last year's SPS IPC Drives. The converters of the new Sinamics G120X series are especially suited for use in pump and fan applications in industries such as building technology and also in industrial environments. With a power range of 0,75 to 630 kW, Sinamics the converters can be operated with any motor, but are at their most effective running with synchronous reluctance motors from Siemens. Sinamics G120X are configured throughout for cost-optimised and resource-saving operation across all voltages and supply networks, and their characteristic compact design saves space in the control cabinet. Although not featuring an additional output reactor, the converters enable motor cable lengths of up to 150 metres. The integrated safety functions are certified to SIL3.
Simple, reliable and efficient
The series offers outstanding ease of operation and is simple to commission using the Sinamics Smart Access Module and the IOP-2 operator panel. The converters can be selected and ordered using only a single purchase order number in the Siemens drive technology configurator. Their integrated DC link reactor enables Sinamics G120X converters to run with the utmost stability under all network conditions. This robust, drip-proof new series comes in the form of a painted module as standard, with an additional contaminant-resistant coating as an optional extra. A high C2 (optionally C1) EMC category and a protection rating of IP20 (optionally IP21 in UL open type) ensure that the converter can be reliably used in any kind of industrial environment. Sinamics G120X converters are in compliance with all relevant EU energy-saving standards, and offer an operating efficiency level of over 98 percent. Their comprehensive range of integrated application-specific functions such as Flux Reduction for adjustment in line with the actual load, Eco Mode which ensures best possible performance and minimal losses coupled with low dynamic loads and optimised output power, or Keep Running Mode to reduce speed prior to a shutdown.
Ready for digitalisation
Sinamics G120X converters can be linked to MindSphere over Sinamics Connect 300, offering users the opportunity to analyse valuable operating data gathered from the converter, the drive train and the machine using the MindSphere app Analyse MyDrives. This enables the visualisation and analysis of status information, providing users with valuable data which can be used as the basis for optimising processes and maintenance strategies.
For more information contact Kaylin Pather, Siemens Digital Factory and Process Industries and Drives, +27 11 652 2795, kaylin.pather@siemens.com, www.siemens.co.za
Credit(s)
Further reading:
Eaton brings next-generation power protection to the market
Electrical Power & Protection
A new generation of uninterrupted power supply (UPS) and power protection systems is now available for technology applications grappling with South Africa's power cuts.
Read more...
---
High performance power products
Electrical Power & Protection
South Africa's electricity problems are causing grave difficulties for businesses and households. Vert Energy makes sure all sectors are able to keep their power on. The main focus of its business is on electric power generation.
Read more...
---
Partnering with the automotive industry
Electrical Power & Protection
The emergence and growing popularity of electric vehicles is generating exciting opportunities for the Eastern Cape province, which already has a well-established presence in the local vehicle manufacturing sector, and also for technology companies looking to partner with the automotive industry.
Read more...
---
New advanced wire tracers
Comtest Electrical Power & Protection
Comtest has launched two new wire tracers, with a safety rating of CAT IV 600 V, that simplify the process of tracing and troubleshooting of energised and de-energised wires in residential, commercial and industrial environments.
Read more...
---
Scaling up battery recycling
ABB South Africa Electrical Power & Protection
ABB has signed a memorandum of understanding (MoU) agreement with UK-based clean technology group, Altilium to jointly explore how the integration of automation, electrification and digital technologies in plants across Europe can support the scaling up of battery materials recycling.
Read more...
---
Considerations for lighting in manufacturing
Turck Banner Southern Africa Electrical Power & Protection
With so many economical and attractive lighting solutions available, choosing among technologies can be difficult. Industrial users must consider four factors in order to make the best lighting decision: the metrics, the costs, the environment and the people.
Read more...
---
Optimised steam generation for ore beneficiation
Electrical Power & Protection
Efficiency, reliability, maintenance, sustainability, fuel selection, and procurement are just some of the challenges facing the mining sector. As one of South Africa's leading operations and maintenance service providers to the steam and boiler sector, AES is perfectly placed to optimise these.
Read more...
---
The advantages of track busways
Legrand Electrical Power & Protection
A reliable and flexible power distribution system is an essential element in manufacturing, industrial and commercial sectors, where facilities require upgrades to enhance efficiency and optimise productivity. The key advantage of a track busway system is that users are able to bring the power source to the machines and equipment, instead of trying to wire machines back to the power source at a distant panel board.
Read more...
---
ABB supplies Zambian sugar producer
ABB South Africa Electrical Power & Protection
ABB has supplied its UniGear ZS1 medium voltage, arc-proof, air-insulated switchgear to a project for a major sugar producer in Zambia.
Read more...
---
Dry-type transformers for Bisie tin mine
Electrical Power & Protection
It has been five years since Trafo Power Solutions supplied Alphamin's Bisie tin mine in the Democratic Republic of Congo with two dry-type transformers. They have performed so well that another three of these modular substations, equipped with dry-type transformers, will soon be on their way to keep up with the mine's expansion.
Read more...
---