printer friendly version
Yokogawa adds OpreX redundancy
February 2019
IT in Manufacturing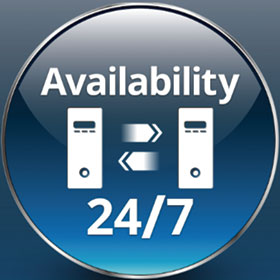 Yokogawa has announced a platform that enables software packages to run on general-purpose computers in a redundant configuration, which has been added to its OpreX Control and Safety System family. This redundancy software will help raise the availability of all the solutions that make up Yokogawa's OpreX Control category of systems, software, and devices. The first software packages based on this platform are the Exaopc OPC interface package and the Exapilot operation efficiency improvement package. For enhanced availability in plant operations, the company plans at a later date to incorporate this redundancy software in other packages that make up the OpreX Control family.
Industrial infrastructure depends on highly-reliable systems to keep it running even when a fault occurs. Such systems often have redundant features, like a hardware control unit with the same functional capabilities that stands ready to take over in the event of a fault in the primary hardware. Yokogawa's Centum VP integrated production control system, ProSafe-RS safety instrumented system, and Stardom network-based control system, all achieve high availability and reliability, thanks to the use of such redundant hardware.
Manufacturing execution systems (MES) and other types of applications typically run on a general-purpose PC that is not set up for use with another PC in a redundant configuration. To accomplish that, it is necessary to either install some kind of dedicated hardware or add a function to the PC software.
Many end-users have expressed an interest in a solution that would enable them to achieve a redundant configuration at a reasonable cost. To satisfy this need, Yokogawa has developed its new software platform.
Features
High availability
If a fault occurs, the software initiates a transfer of control from the active PC to the standby. This takes no longer than one second to complete, well within the operating parameters of oil, petrochemical, chemical, and other process facilities, where the collection of data and the issuance of control commands based on that information typically takes a few seconds or more. Since the data and status information on the two PCs is always synchronised, processing can continue without interruption, even when the system is performing sequential control of multiple tasks. This feature minimises the probability of any loss of data and ensures there is no interruption in control. The software thus ensures high availability of the systems that make up a vital part of industrial infrastructure.
Long-term operational support with online PC replacement
PCs often remain in use for years in plants and need to be replaced when they grow outmoded or fail. Thanks to this software which enables applications to run in a redundant configuration, an outmoded or defective PC can be replaced while the system remains online. It is even possible to operate different PC models in a redundant configuration providing they have been tested and approved by Yokogawa, which helps users operate their systems stably over long periods of time and improve productivity.
For more information contact Eugene Podde, Yokogawa South Africa, +27 11 831 6300, eugene.podde@ao.yokogawa.com, www.yokogawa.com/za
Credit(s)
Further reading:
Yokogawa's Smart Terminal Automation Solution
April 2019, Yokogawa South Africa , IT in Manufacturing
Yokogawa has accumulated more than two decades of experience in the automation of such terminals and supplied its Terminal Automation Solution to suit varying customer needs.
Read more...
---
Listening to the Voice of the Machine
April 2019, Parker Hannifin Sales Company South , IT in Manufacturing
The value of discrete IoT.
Read more...
---
Measurement data on the lookout for artificial intelligence
April 2019, Phoenix Contact , IT in Manufacturing
In the global race for competitive prices, it is the most efficient processes that win the race.
Read more...
---
IoT-enabled field services improve industrial asset availability
Technews Industry Guide: Maintenance, Reliability & Asset Optimisation 2019 , IT in Manufacturing
Today, many equipment manufacturers are reclaiming the service relationship from the distribution channels with a modern field service management system and remote monitoring.
Read more...
---
Understanding how predictive analytics tools benefit power utility management
Technews Industry Guide: Maintenance, Reliability & Asset Optimisation 2019, IS³ - Industry Software, Solutions & Support , IT in Manufacturing
This paper reviews how predictive analytics tools can be applied to both utility operations and maintenance.
Read more...
---
Seamless acquisition and analysis of plant data
Technews Industry Guide: Maintenance, Reliability & Asset Optimisation 2019, Beckhoff Automation , IT in Manufacturing
TwinCAT Analytics supports the ability to investigate machine optimisation and facilitate predictive maintenance.
Read more...
---
Faster results with a digital twin
April 2019, Siemens Digital Factory & Process Indust. & Drives , IT in Manufacturing
High tech company Grenzebach's portfolio includes the simulation of material flow in complex plants in the glass industry. To achieve this, Grenzebach uses Siemens' simulation solutions. Together, the 
...
Read more...
---
Mining in the Industry 4.0 era
April 2019 , IT in Manufacturing
Pitram from Micromine can assist mining operations to automate and boost efficiency.
Read more...
---
Stepping carefully into the Fourth Industrial Revolution
April 2019 , IT in Manufacturing
Rapid advances in technology and artificial intelligence in the mining industry raise issues like data protection, intellectual property ownership and legal liability. In the current absence of specific 
...
Read more...
---
Paving the way to digitalisation in oil and gas
April 2019, RJ Connect , IT in Manufacturing
Oil and gas are still indispensable fuels for the global economy, and exploring for new sources of oil and gas remains a lucrative and attractive endeavour. New oil platforms, rigs and pipelines are constantly 
...
Read more...
---