printer friendly version
Rockwell Automation expands power range
February 2019
Electrical Power & Protection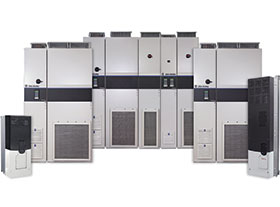 Rockwell Automation has expanded the power ranges and capabilities of TotalForce technology for its Allen-Bradley PowerFlex 755T AC drives. The drives now offer an expanded power range, helping engineers with applications from 7,5 to 4500 kW, improve productivity and reduce their lifecycle costs. The expansion brings harmonic mitigation, regeneration and common bus-system configurations to a wider range of high-demand applications.
Enhancements include more powerful adaptive control capabilities, which allow the drives to monitor machine characteristics that can change over time and automatically compensate for the changes that occur. An adaptive tuning feature uses up to four automatic tracking notch filters to block resonance and vibration that can impact quality, waste energy and prematurely wear out a machine.
In addition, predictive maintenance features provide real-time information about the health of the drive. By monitoring operational characteristics such as temperature, voltage and current, the drive is able to calculate the remaining life of critical components and notify users. This allows users to act so unplanned downtime can be prevented.
"TotalForce technology enables PowerFlex 755T drive users to take a proactive approach in improving machine uptime," said Adrian van Wyk, Rockwell Automation Sub-Saharan Africa. "The drives can deliver information about the status of an application to the control system, which can be critical for reducing downtime and increasing productivity. In addition, the ability to be self-aware also enhances reliability and simplifies service."
The expanded power range makes PowerFlex drives ideally suited for large power applications, such as pumps and fans requiring harmonic mitigation, and regenerative applications requiring anti-sway functionality, such as cranes and hoists. The offering includes:
• PowerFlex 755TL drive – the PowerFlex 755TL drive uses active front-end technology and an internal harmonic filter to reduce harmonic distortion. The drive is now available from 7,5 to 1400 kW.
• PowerFlex 755TR drive – delivering power from 7,5 to 4500 kW, this drive includes both regenerative and harmonic mitigation solutions. The drive helps reduce energy consumption and costs by delivering energy back to the incoming supply, resulting in a more energy-efficient solution.
• PowerFlex 755TM drive system – this allows users to build the system that best fits their needs for regeneration and coordination of multiple motors in common bus configurations. To optimise their system requirements and meet power-consumption needs, users can select from a series of predesigned modules with a power range from 160 to 4500 kW for motor side inverters and a range of 70 to 4800 kW for regenerative bus supplies.
For more information contact Adrian van Wyk, Rockwell Automation, +27 11 654 9700, avanwyk@ra.rockwell.com, www.rockwellautomation.co.za
Credit(s)
Further reading:
UPS with integrated power supply and USB interface
June 2019, Phoenix Contact , Electrical Power & Protection
Supplying critical DC loads safely, increased system availability, confined spaces, and tough ambient conditions present system designers and operators with a variety of challenges.
Read more...
---
Rockwell Automation executes AC drive migration at Mozal ­Aluminium
June 2019, Rockwell Automation , Motion Control & Drives
For over 20 years, Rockwell Automation 1336 drives have delivered the drive control required across Mozal, an aluminium smelter near Maputo, Mozambique. Now the industrial automation leader is in the 
...
Read more...
---
Power analysis and energy saving evolved
June 2019, HellermannTyton , Electrical Power & Protection
Advanced power and energy consumption analysis is now available using a smartphone or tablet. The TPQA820 is a true RMS, self-powered 3-phase power quality analyser used to analyse and record the most 
...
Read more...
---
Zest helps farmers find good 'ground'
June 2019, Zest WEG Group , Electrical Power & Protection
According to Zest WEG Group, there are misconceptions around what constitutes 'earth' and 'neutral' connections, and not understanding the differences can create serious problems when connections are 
...
Read more...
---
BMG enhances efficiency of solar tracking system
June 2019, Bearing Man Group t/a BMG , Electrical Power & Protection
BMG has extended the supply of Varvel gearboxes for small and medium power applications to include customised worm gearboxes for installation in photovoltaic solar tracking systems. "As part of BMG's 
...
Read more...
---
RS Components introduces new Power over Ethernet injectors
June 2019, RS Components SA , Electrical Power & Protection
RS Components has announced availability of a new selection of Power over Ethernet (PoE) single-port mid-span power injectors manufactured by Phihong, a leader in advanced power solutions and a specialist 
...
Read more...
---
Photoelectric sensor for demanding applications
June 2019, Rockwell Automation , Sensors & Transducers
The new Allen-Bradley 42AF RightSight M30 photoelectric sensor from Rockwell Automation is the latest addition to the company's smart sensing portfolio. Built with improved environmental resistance and 
...
Read more...
---
A gateway to digital transformation
Africa Automation Fair 2019 Preview, Rockwell Automation , IT in Manufacturing
Industrial automation specialist, Rockwell Automation is showcasing its flagship Allen-Bradley and Rockwell Software product brands, which are recognised worldwide for innovation and excellence. These 
...
Read more...
---
Residual circuit breaker with overcurrent protection
Africa Automation Fair 2019 Preview , Electrical Power & Protection
Entek Electric's RCBO models KBL-6 and KBL-10 are used to protect electrical circuits with a high level of reliability in industrial machines or residential buildings. Both models are widely in demand 
...
Read more...
---
New automated drive analyser
Africa Automation Fair 2019 Preview, Comtest , Electrical Power & Protection
Fluke's new MDA-500 Series is designed to easily test and troubleshoot typical problems on three-phase and single-phase inverter type motor drive systems. These are on exhibit at Stands F22-F23. The on-screen 
...
Read more...
---