Rockwell Automation expands power range
February 2019
Electrical Power & Protection

printer friendly version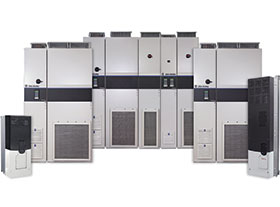 Rockwell Automation has expanded the power ranges and capabilities of TotalForce technology for its Allen-Bradley PowerFlex 755T AC drives. The drives now offer an expanded power range, helping engineers with applications from 7,5 to 4500 kW, improve productivity and reduce their lifecycle costs. The expansion brings harmonic mitigation, regeneration and common bus-system configurations to a wider range of high-demand applications.
Enhancements include more powerful adaptive control capabilities, which allow the drives to monitor machine characteristics that can change over time and automatically compensate for the changes that occur. An adaptive tuning feature uses up to four automatic tracking notch filters to block resonance and vibration that can impact quality, waste energy and prematurely wear out a machine.
In addition, predictive maintenance features provide real-time information about the health of the drive. By monitoring operational characteristics such as temperature, voltage and current, the drive is able to calculate the remaining life of critical components and notify users. This allows users to act so unplanned downtime can be prevented.
"TotalForce technology enables PowerFlex 755T drive users to take a proactive approach in improving machine uptime," said Adrian van Wyk, Rockwell Automation Sub-Saharan Africa. "The drives can deliver information about the status of an application to the control system, which can be critical for reducing downtime and increasing productivity. In addition, the ability to be self-aware also enhances reliability and simplifies service."
The expanded power range makes PowerFlex drives ideally suited for large power applications, such as pumps and fans requiring harmonic mitigation, and regenerative applications requiring anti-sway functionality, such as cranes and hoists. The offering includes:
• PowerFlex 755TL drive – the PowerFlex 755TL drive uses active front-end technology and an internal harmonic filter to reduce harmonic distortion. The drive is now available from 7,5 to 1400 kW.
• PowerFlex 755TR drive – delivering power from 7,5 to 4500 kW, this drive includes both regenerative and harmonic mitigation solutions. The drive helps reduce energy consumption and costs by delivering energy back to the incoming supply, resulting in a more energy-efficient solution.
• PowerFlex 755TM drive system – this allows users to build the system that best fits their needs for regeneration and coordination of multiple motors in common bus configurations. To optimise their system requirements and meet power-consumption needs, users can select from a series of predesigned modules with a power range from 160 to 4500 kW for motor side inverters and a range of 70 to 4800 kW for regenerative bus supplies.
For more information contact Adrian van Wyk, Rockwell Automation, +27 11 654 9700, avanwyk@ra.rockwell.com, www.rockwellautomation.co.za
Credit(s)
Further reading:
Rockwell Automation upgrades control at Mozal Aluminium
February 2019, Rockwell Automation , System Integration & Control Systems Design
Rockwell Automation has migrated the control systems at Mozal Aluminium's furnace assembly and ladle cleaning shop to its modern DCS based on the PlantPAx design standard.
Read more...
---
Compact soft starters for control of three-phase motors
February 2019, ElectroMechanica , Electrical Power & Protection
Soft starters limit the inrush current, improving overall stability of the power supply and reducing transient voltage drops, which may affect other loads in a network. They are ideal for applications 
...
Read more...
---
Forward-thinking municipality uses pumps to generate electricity
February 2019 , Electrical Power & Protection
A technical team serving the requirements of the Drakenstein municipality in the Western Cape has designed one of the country's largest pump and turbine stations to be used for water reticulation to the 
...
Read more...
---
How to optimise power quality in critical applications
February 2019, Schneider Electric South Africa , Electrical Power & Protection
As global energy consumption continues to rise, energy is becoming more decentralised and decarbonised. While demand is estimated to increase by 70% through 2040, 50% of new energy generation capacity 
...
Read more...
---
Compact DIN rail power supply
February 2019, Accutronics , Electrical Power & Protection
TDK Corporation has announced the introduction of the TDK-Lambda brand DRF960-24-1 DIN rail mount AC-DC power supply, rated at 24 V 40 A (960 W) with a 60 A (1440 W) peak for 4 seconds. The product has 
...
Read more...
---
Power supply protects against hour-long power failures
February 2019, Siemens Digital Factory & Process Indust. & Drives , Electrical Power & Protection
Siemens has upgraded its Sitop PSU8600 power supply system with the addition of new supplementary modules to transform it into an uninterruptible DC power supply. To achieve this, the new DC UPS module 
...
Read more...
---
Graphic terminals provide enhanced software integration
February 2019, Rockwell Automation , Operator Interfaces, Switches & Relays
End users and OEMs are seeking HMI solutions that simplify and streamline visualisation, especially in larger applications. With the new Allen-Bradley PanelView 5510 family of graphic terminals, companies 
...
Read more...
---
Rockwell Automation drives digital transformation
January 2019, Rockwell Automation , IT in Manufacturing
New FactoryTalk InnovationSuite, powered by PTC, accelerates digital transformation strategies.
Read more...
---
Kia Slovakia reduces safety ­downtime
January 2019, Rockwell Automation , IS & Ex
Allen-Bradley GuardLogix maximises efficiency in body shop.
Read more...
---
Compact contactor solutions
January 2019, Zest WEG Group , Electrical Power & Protection
Engineered to provide a compact contactor solution, the WEG CWB range of devices offers a width space saving of up to 18%. Developed in two frame sizes, the contactors meet a range of industrial and domestic 
...
Read more...
---