Power supply protects against hour-long power failures
February 2019
Electrical Power & Protection

printer friendly version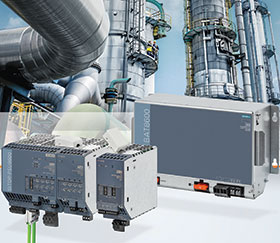 Siemens has upgraded its Sitop PSU8600 power supply system with the addition of new supplementary modules to transform it into an uninterruptible DC power supply. To achieve this, the new DC UPS module UPS8600 uses the energy stored in BAT8600 battery modules to keep the system up and running in the event of a power failure, and it extends the previous bridging times enabled by the buffer modules from minutes to hours. The PSU8600 has up to 36 outputs capable of being adjusted between 4 and 28 volts, and all of these can be buffered in the event of a power failure. To maximise buffering time for important loads, it is also possible to selectively shut down certain outputs. The Sitop PSU8600 is particularly suitable for use in applications that place stringent demands on reliability and simple integration, such as the automotive, food or pharmaceutical industries, and in the field of plant and special-purpose machinery building. The enhanced availability with the new UPS8600 makes the power supply ideally suited also for process applications such as in the chemical, oil and gas industries.
The DC UPS module can be simply integrated into the system network of the Sitop PSU8600 using the System Clip Link. The battery module is installed by means of wall mounting outside the network and connected to the UPS8600 over a plus and minus wire and the two wires of the Energy Storage Link. This allows the system to automatically detect the battery type and diagnose the battery charge status. The smart battery management system permits temperature-led charging, which helps to extend the service life of the battery. The battery modules are fitted with lead or lithium iron phosphate batteries with a capacity of 380 Wh and 264 Wh respectively. Users are able to connect up to five BAT8600 battery modules to one UPS8600 to increase the mains power failure bridging time. The BAT8600 battery module using lithium technology offers a particularly long service life, even at higher ambient temperatures.
The supply is able to communicate with practically any automation system at any time through the base module, which has Profinet and OPC UA capability. Users can respond directly to messages and diagnostic information about the operating mode (mains or buffer operation), charge status, buffer readiness, or the need to change a battery. Integration in the network allows several PCs to be safely powered down with the UPS8600.
Engineering takes place through the TIA Portal, while diagnostic functions use WinCC Faceplates or the Simatic PCS 7 Library. For open integration over Ethernet or OPC UA, new software is currently in preparation to enable convenient system-independent engineering, operation and observation.
For more information contact Jennifer Naidoo, Siemens Digital Factory and Process Industries and Drives, +27 11 652 2795, jennifer.naidoo@siemens.com, www.siemens.co.za
Credit(s)
Further reading:
Digital Enterprise offering with ­future technologies for Industry 4.0
February 2019, Siemens Digital Factory & Process Indust. & Drives , IT in Manufacturing
By expanding its Digital Enterprise portfolio and integrating future technologies, Siemens is driving forward the digital transformation of the discrete and process industries.
Read more...
---
Siemens and MineSense to develop real-time ore grade measurement solution
February 2019, Siemens Digital Factory & Process Indust. & Drives , News
With ore grades declining, plus added pressures such as rising energy costs and water restrictions, it is increasingly difficult for mining companies to fulfil customer demand by delivering material on 
...
Read more...
---
Simple connection of converters supports cloud-based applications
February 2019, Siemens Digital Factory & Process Indust. & Drives , IT in Manufacturing
The new Sinamics Connect 300 from Siemens provides a simple plug-and-play solution for integrating converters of the Sinamics family into the IT world. The new solution is suitable for low-voltage converters 
...
Read more...
---
Compact soft starters for control of three-phase motors
February 2019, ElectroMechanica , Electrical Power & Protection
Soft starters limit the inrush current, improving overall stability of the power supply and reducing transient voltage drops, which may affect other loads in a network. They are ideal for applications 
...
Read more...
---
Forward-thinking municipality uses pumps to generate electricity
February 2019 , Electrical Power & Protection
A technical team serving the requirements of the Drakenstein municipality in the Western Cape has designed one of the country's largest pump and turbine stations to be used for water reticulation to the 
...
Read more...
---
How to optimise power quality in critical applications
February 2019, Schneider Electric South Africa , Electrical Power & Protection
As global energy consumption continues to rise, energy is becoming more decentralised and decarbonised. While demand is estimated to increase by 70% through 2040, 50% of new energy generation capacity 
...
Read more...
---
Compact DIN rail power supply
February 2019, Accutronics , Electrical Power & Protection
TDK Corporation has announced the introduction of the TDK-Lambda brand DRF960-24-1 DIN rail mount AC-DC power supply, rated at 24 V 40 A (960 W) with a 60 A (1440 W) peak for 4 seconds. The product has 
...
Read more...
---
Rockwell Automation expands power range
February 2019, Rockwell Automation , Electrical Power & Protection
Rockwell Automation has expanded the power ranges and capabilities of TotalForce technology for its Allen-Bradley PowerFlex 755T AC drives. The drives now offer an expanded power range, helping engineers 
...
Read more...
---
Protecting pumps in hazardous ­areas
January 2019, Siemens Digital Factory & Process Indust. & Drives , IS & Ex
Safety has top priority wherever flammable media are used in industry. This applies in particular to the chemical industry, where flammable liquids are produced, processed and transported by pumps in 
...
Read more...
---
Compact contactor solutions
January 2019, Zest WEG Group , Electrical Power & Protection
Engineered to provide a compact contactor solution, the WEG CWB range of devices offers a width space saving of up to 18%. Developed in two frame sizes, the contactors meet a range of industrial and domestic 
...
Read more...
---