printer friendly version
How to optimise power quality in critical applications
February 2019
Electrical Power & Protection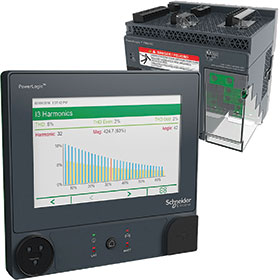 As global energy consumption continues to rise, energy is becoming more decentralised and decarbonised. While demand is estimated to increase by 70% through 2040, 50% of new energy generation capacity will be represented by solar and storage by 2030.
In answer to these trends, the way we manage energy is changing. Power distribution is becoming more digitised, aiding the transformation to smart buildings and factories. With more complex and sensitive loads and generation to manage, regulations and standards to comply with, and hidden opportunities to leverage, intelligent power systems are giving facility teams simpler ways of understanding their electrical systems that enable fast and effective decisions.
"The IIoT has now been fully extended to the facility infrastructure, with smarter devices being connected to software systems and the cloud," says Preshlen Chetty, offer manager power solutions at Schneider Electric. "It is estimated that the total number of connected devices across all categories of smart buildings will reach over 10 billion by 2021. Similarly, power distribution has evolved to include a network of connected products with embedded intelligence."
Digital tools enable faster response
It has become increasingly challenging to optimise power reliability, energy costs, and operational efficiency in critical power environments such as hospitals, data centres, airports, and manufacturing facilities. Addressing these challenges requires new digital tools designed specifically to enable faster response to opportunities and risks related to power system reliability and operations.
To keep up with this changing landscape, new kinds of power management tools are emerging that deliver connected intelligence to reveal every risk and opportunity, the highest possible metering accuracy for greater precision and certainty, modular, customisable platforms to adapt to changing needs and cybersecurity best practices to protect the power network.
"Embedded metering in smart equipment is cost-effective and convenient for basic monitoring applications such as energy usage," says Chetty. "For more advanced applications, such as power quality monitoring and power event analysis advanced power quality meters are required."
Smart equipment and power meters, designed to share their information with the other layers of the architecture such as edge control and cloud-hosted analytics, not only help to optimise power quality and reliability in critical power environments, but they also deliver the facility-wide energy consumption data needed to find energy waste, improve energy efficiency, and lower electricity costs.
"When choosing an energy meter, it is important that the product's accuracy has been third-party verified and complies with all aspects of the accuracy standard. It should also offer on-board data logging and high-resolution metering," adds Chetty. "The meter and system-level software must also provide a billing module configured to match the utility tariff schedule.
"Some of the newest advanced meters and power management systems also offer modular designs that enable adaptation to changing needs. They have also become more scalable, partially due to the trend in IoT-enabled communications. But advances in network configuration tools and database management are making it simpler to add devices and connections when and where required."
Schneider Electric offers an advanced, accurate power quality meter, the PowerLogic ION9000 series. This newest addition to the EcoStruxure Power portfolio provides a complete power quality meter for critical power applications.
"The power quality meter of the future, the ION9000 provides future-proof adaptability, a precision platform, it is highly customisable, sets a new industry benchmark for accuracy, and has a complete power quality analysis tool right out of the box so it can immediately identify and help solve power system events," concludes Chetty.
For more information contact Prisca Mashanda, Schneider Electric SA, +27 11 254 6400, prisca.mashanda@schneider-electric.com, www.schneider-electric.co.za
Credit(s)
Further reading:
Eaton brings next-generation power protection to the market
Electrical Power & Protection
A new generation of uninterrupted power supply (UPS) and power protection systems is now available for technology applications grappling with South Africa's power cuts.
Read more...
---
The time is now to implement a motor management strategy
Schneider Electric South Africa Motion Control & Drives
Motor management plays an all-important role in controlling motor energy costs in various industries, segments and applications. Research and practical experience have consistently shown that effective motor management practices can result in significant energy savings, reduced operational costs, and improved overall system reliability.
Read more...
---
High performance power products
Electrical Power & Protection
South Africa's electricity problems are causing grave difficulties for businesses and households. Vert Energy makes sure all sectors are able to keep their power on. The main focus of its business is on electric power generation.
Read more...
---
Partnering with the automotive industry
Electrical Power & Protection
The emergence and growing popularity of electric vehicles is generating exciting opportunities for the Eastern Cape province, which already has a well-established presence in the local vehicle manufacturing sector, and also for technology companies looking to partner with the automotive industry.
Read more...
---
New advanced wire tracers
Comtest Electrical Power & Protection
Comtest has launched two new wire tracers, with a safety rating of CAT IV 600 V, that simplify the process of tracing and troubleshooting of energised and de-energised wires in residential, commercial and industrial environments.
Read more...
---
Scaling up battery recycling
ABB South Africa Electrical Power & Protection
ABB has signed a memorandum of understanding (MoU) agreement with UK-based clean technology group, Altilium to jointly explore how the integration of automation, electrification and digital technologies in plants across Europe can support the scaling up of battery materials recycling.
Read more...
---
Considerations for lighting in manufacturing
Turck Banner Southern Africa Electrical Power & Protection
With so many economical and attractive lighting solutions available, choosing among technologies can be difficult. Industrial users must consider four factors in order to make the best lighting decision: the metrics, the costs, the environment and the people.
Read more...
---
Optimised steam generation for ore beneficiation
Electrical Power & Protection
Efficiency, reliability, maintenance, sustainability, fuel selection, and procurement are just some of the challenges facing the mining sector. As one of South Africa's leading operations and maintenance service providers to the steam and boiler sector, AES is perfectly placed to optimise these.
Read more...
---
The evolution of the digital person at MESA 2023
Schneider Electric South Africa News
Addressing delegates at the recent MESA Africa international summit, Dr Suven Ramsunder, digital transformation expert at Schneider Electric, emphasised that individuals' perception of what technology can do for them continues to influence their decision-making process.
Read more...
---
The advantages of track busways
Legrand Electrical Power & Protection
A reliable and flexible power distribution system is an essential element in manufacturing, industrial and commercial sectors, where facilities require upgrades to enhance efficiency and optimise productivity. The key advantage of a track busway system is that users are able to bring the power source to the machines and equipment, instead of trying to wire machines back to the power source at a distant panel board.
Read more...
---