printer friendly version
How to optimise power quality in critical applications
February 2019
Electrical Power & Protection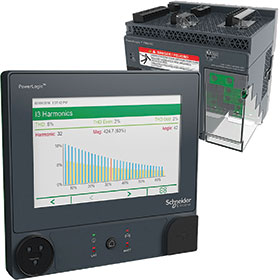 As global energy consumption continues to rise, energy is becoming more decentralised and decarbonised. While demand is estimated to increase by 70% through 2040, 50% of new energy generation capacity will be represented by solar and storage by 2030.
In answer to these trends, the way we manage energy is changing. Power distribution is becoming more digitised, aiding the transformation to smart buildings and factories. With more complex and sensitive loads and generation to manage, regulations and standards to comply with, and hidden opportunities to leverage, intelligent power systems are giving facility teams simpler ways of understanding their electrical systems that enable fast and effective decisions.
"The IIoT has now been fully extended to the facility infrastructure, with smarter devices being connected to software systems and the cloud," says Preshlen Chetty, offer manager power solutions at Schneider Electric. "It is estimated that the total number of connected devices across all categories of smart buildings will reach over 10 billion by 2021. Similarly, power distribution has evolved to include a network of connected products with embedded intelligence."
Digital tools enable faster response
It has become increasingly challenging to optimise power reliability, energy costs, and operational efficiency in critical power environments such as hospitals, data centres, airports, and manufacturing facilities. Addressing these challenges requires new digital tools designed specifically to enable faster response to opportunities and risks related to power system reliability and operations.
To keep up with this changing landscape, new kinds of power management tools are emerging that deliver connected intelligence to reveal every risk and opportunity, the highest possible metering accuracy for greater precision and certainty, modular, customisable platforms to adapt to changing needs and cybersecurity best practices to protect the power network.
"Embedded metering in smart equipment is cost-effective and convenient for basic monitoring applications such as energy usage," says Chetty. "For more advanced applications, such as power quality monitoring and power event analysis advanced power quality meters are required."
Smart equipment and power meters, designed to share their information with the other layers of the architecture such as edge control and cloud-hosted analytics, not only help to optimise power quality and reliability in critical power environments, but they also deliver the facility-wide energy consumption data needed to find energy waste, improve energy efficiency, and lower electricity costs.
"When choosing an energy meter, it is important that the product's accuracy has been third-party verified and complies with all aspects of the accuracy standard. It should also offer on-board data logging and high-resolution metering," adds Chetty. "The meter and system-level software must also provide a billing module configured to match the utility tariff schedule.
"Some of the newest advanced meters and power management systems also offer modular designs that enable adaptation to changing needs. They have also become more scalable, partially due to the trend in IoT-enabled communications. But advances in network configuration tools and database management are making it simpler to add devices and connections when and where required."
Schneider Electric offers an advanced, accurate power quality meter, the PowerLogic ION9000 series. This newest addition to the EcoStruxure Power portfolio provides a complete power quality meter for critical power applications.
"The power quality meter of the future, the ION9000 provides future-proof adaptability, a precision platform, it is highly customisable, sets a new industry benchmark for accuracy, and has a complete power quality analysis tool right out of the box so it can immediately identify and help solve power system events," concludes Chetty.
For more information contact Prisca Mashanda, Schneider Electric SA, +27 11 254 6400, prisca.mashanda@schneider-electric.com, www.schneider-electric.co.za
Credit(s)
Further reading:
How the food and beverage industry could benefit from blockchain
Technews Industry Guide: Industrial Internet of Things & Industry 4.0, Schneider Electric South Africa , IT in Manufacturing
Advances in blockchain technology could enable the food and beverage industry (F&B) to enhance traceability. In the US alone, food recalls and food-borne illnesses cost some $77 billion per annum, including 
...
Read more...
---
A new electrician rewards programme
July 2019, Schneider Electric South Africa , News
Schneider Electric, has announced the introduction of its mySchneider Electrician Rewards Programme for electricians. The programme is aimed at rewarding residential and small building electricians for 
...
Read more...
---
Guaranteed power protection
July 2019, Schneider Electric South Africa , Electrical Power & Protection
During energy month, it may be time to assess what equipment in your office or data centre is critical to keep online. Adopting smart uninterruptible power supply (UPS) technology has become the preferred 
...
Read more...
---
Quick transformer turnaround for KZN mine
July 2019 , Electrical Power & Protection
When a mining company in KwaZulu-Natal experienced a transformer failure recently, it was hoping for a quick solution. The mine got one from dry-type transformer specialist Trafo Power Solutions. It took 
...
Read more...
---
UPS for industrial networks
July 2019, Phoenix Contact , Electrical Power & Protection
The new Quint DC UPS uninterruptible power supply can be integrated into established networks, and continues to supply systems without interruption even in the event of a mains failure. It can be integrated 
...
Read more...
---
Smart Grid solutions enhance utility revenue collection
July 2019, Schneider Electric South Africa , Electrical Power & Protection
At African Utility Week in Cape Town, Johan Pretorius, business development manager, Schneider Electric South Africa, presented a paper on 'The Impact of Revenue Collection on Non-Technical Losses'. "The 
...
Read more...
---
Leonardo fitted with backup power by Zest WEG Group
July 2019, Zest WEG Group , Electrical Power & Protection
As Sandton anticipates the completion this year of the Leonardo, the top end mixed-use skyscraper being constructed by Aveng-Grinaker LTA, Level 1 BBBEE-rated Zest WEG Group has supplied generator sets 
...
Read more...
---
UPS with integrated power supply and USB interface
June 2019, Phoenix Contact , Electrical Power & Protection
Supplying critical DC loads safely, increased system availability, confined spaces, and tough ambient conditions present system designers and operators with a variety of challenges.
Read more...
---
Power analysis and energy saving evolved
June 2019, HellermannTyton , Electrical Power & Protection
Advanced power and energy consumption analysis is now available using a smartphone or tablet. The TPQA820 is a true RMS, self-powered 3-phase power quality analyser used to analyse and record the most 
...
Read more...
---
Zest helps farmers find good 'ground'
June 2019, Zest WEG Group , Electrical Power & Protection
According to Zest WEG Group, there are misconceptions around what constitutes 'earth' and 'neutral' connections, and not understanding the differences can create serious problems when connections are 
...
Read more...
---