printer friendly version
Forward-thinking municipality uses pumps to generate electricity
February 2019
Electrical Power & Protection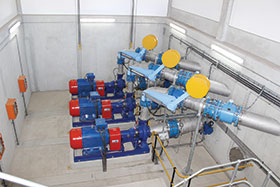 A technical team serving the requirements of the Drakenstein municipality in the Western Cape has designed one of the country's largest pump and turbine stations to be used for water reticulation to the nearby town of Paarl during dry periods, and to generate electricity for the city during the remainder of the year.
The city's engineer for water operations, Hein Henning, says they were faced with the dilemma of having to pump water to their neighbour for just one month a year. For the rest of the time the pump station would be dormant and need expensive maintenance due to possible corrosion, perishing, lubrication and bearing damage to the idle infrastructure.
Instead, the progressive municipality chose to innovate and generate an income while simultaneously reducing the requirement for maintenance by effectively allowing the pumps to run backwards against the pressure of water from its elevated reservoir and generate electricity for the region's electrical grid.
Power generation
The commissioning of the pump and turbine (PaT) station effectively brings online one of the largest such projects of its kind in South Africa, able to generate 57 kW, which is enough to power the entire region's water infrastructure of treatment plants, pumphouses, offices and other infrastructure.
"The water comes from the City of Cape Town Wemmershoek Dam and is gravity-fed to our city regions via the main reservoir," explains Henning. "For one month of the year, the pumps need to be switched on to pump 400 litres per second upstream to Paarl, where after they would usually be switched off.
"However, the higher elevation of the reservoir allows us to rotate the pumps backwards to act as small turbines for the rest of the year which is able to generate electricity at 80% efficiency. Unlike turbines however, the pumps are standard stock items from the supplier, KSB Pumps and Valves, and do not require specialised support and servicing. What's more, the pumps are durable enough to allow us to design the infrastructure with a 40-year lifespan."
Technology integration
Before commissioning the project, the municipality had spelled out its requirement to replace its existing 96 litre-per-second pump station with a new one and discussed the ability to generate electricity in the off season with consulting engineers, Aurecon. Having designed and planned a solution, the main contract was awarded to Hidro-Tech Systems for mechanical and electrical work.
Brian Cooper of Hidro-Tech says that despite the relative simplicity of the mechanical design, it required complex integration of controls to deal with the hydraulic force and convert the electricity generated into a useable form. This required pump speeds to be controlled via a variable speed drive to prevent over speed, as well as convert the wave produced to a pure 50 Hz sinusoid compatible with the city's power grid.
"The system is designed with full PLC control that can be managed on site HMI, or accessed remotely to give users control and monitoring of the site wherever and whenever required," he elaborates. "The industrial network automates the entire system including control and monitoring of the pumps, valves, level indicators, flowmeters and other equipment critical to the systems efficient operation.
"In addition to providing seamless control of the system, it also ensures redundancy in all operating conditions and provides emergency measures in the event of failures, or parameter changes as required to rectify any operating problems incurred.
Project results
Following the commissioning of the pump station and turbines the system has begun operating at full capacity and the Drakenstein municipality has started reaping the benefits of its forward-thinking water management strategy.
"We are pleased with the outcome and commend everybody involved in the project for their innovation and dedication to building a system that can be used as a blueprint by other municipalities around the country," concludes Henning. "It has been a brilliant project with many challenges and plenty of innovation. We look forward to tackling similar projects in the future."
For more information contact Annett Kriel, KSB Pumps and Valves South Africa, +27 11 876 5600, annett.kriel@ksb.com, www.ksb.com
Further reading:
Guaranteed power protection
July 2019, Schneider Electric South Africa , Electrical Power & Protection
During energy month, it may be time to assess what equipment in your office or data centre is critical to keep online. Adopting smart uninterruptible power supply (UPS) technology has become the preferred 
...
Read more...
---
Quick transformer turnaround for KZN mine
July 2019 , Electrical Power & Protection
When a mining company in KwaZulu-Natal experienced a transformer failure recently, it was hoping for a quick solution. The mine got one from dry-type transformer specialist Trafo Power Solutions. It took 
...
Read more...
---
UPS for industrial networks
July 2019, Phoenix Contact , Electrical Power & Protection
The new Quint DC UPS uninterruptible power supply can be integrated into established networks, and continues to supply systems without interruption even in the event of a mains failure. It can be integrated 
...
Read more...
---
Smart Grid solutions enhance utility revenue collection
July 2019, Schneider Electric South Africa , Electrical Power & Protection
At African Utility Week in Cape Town, Johan Pretorius, business development manager, Schneider Electric South Africa, presented a paper on 'The Impact of Revenue Collection on Non-Technical Losses'. "The 
...
Read more...
---
Leonardo fitted with backup power by Zest WEG Group
July 2019, Zest WEG Group , Electrical Power & Protection
As Sandton anticipates the completion this year of the Leonardo, the top end mixed-use skyscraper being constructed by Aveng-Grinaker LTA, Level 1 BBBEE-rated Zest WEG Group has supplied generator sets 
...
Read more...
---
UPS with integrated power supply and USB interface
June 2019, Phoenix Contact , Electrical Power & Protection
Supplying critical DC loads safely, increased system availability, confined spaces, and tough ambient conditions present system designers and operators with a variety of challenges.
Read more...
---
Power analysis and energy saving evolved
June 2019, HellermannTyton , Electrical Power & Protection
Advanced power and energy consumption analysis is now available using a smartphone or tablet. The TPQA820 is a true RMS, self-powered 3-phase power quality analyser used to analyse and record the most 
...
Read more...
---
Zest helps farmers find good 'ground'
June 2019, Zest WEG Group , Electrical Power & Protection
According to Zest WEG Group, there are misconceptions around what constitutes 'earth' and 'neutral' connections, and not understanding the differences can create serious problems when connections are 
...
Read more...
---
BMG enhances efficiency of solar tracking system
June 2019, Bearing Man Group t/a BMG , Electrical Power & Protection
BMG has extended the supply of Varvel gearboxes for small and medium power applications to include customised worm gearboxes for installation in photovoltaic solar tracking systems. "As part of BMG's 
...
Read more...
---
RS Components introduces new Power over Ethernet injectors
June 2019, RS Components SA , Electrical Power & Protection
RS Components has announced availability of a new selection of Power over Ethernet (PoE) single-port mid-span power injectors manufactured by Phihong, a leader in advanced power solutions and a specialist 
...
Read more...
---