Forward-thinking municipality uses pumps to generate electricity
February 2019
Electrical Power & Protection

printer friendly version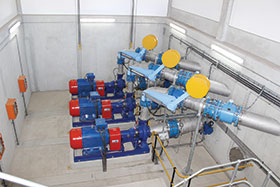 A technical team serving the requirements of the Drakenstein municipality in the Western Cape has designed one of the country's largest pump and turbine stations to be used for water reticulation to the nearby town of Paarl during dry periods, and to generate electricity for the city during the remainder of the year.
The city's engineer for water operations, Hein Henning, says they were faced with the dilemma of having to pump water to their neighbour for just one month a year. For the rest of the time the pump station would be dormant and need expensive maintenance due to possible corrosion, perishing, lubrication and bearing damage to the idle infrastructure.
Instead, the progressive municipality chose to innovate and generate an income while simultaneously reducing the requirement for maintenance by effectively allowing the pumps to run backwards against the pressure of water from its elevated reservoir and generate electricity for the region's electrical grid.
Power generation
The commissioning of the pump and turbine (PaT) station effectively brings online one of the largest such projects of its kind in South Africa, able to generate 57 kW, which is enough to power the entire region's water infrastructure of treatment plants, pumphouses, offices and other infrastructure.
"The water comes from the City of Cape Town Wemmershoek Dam and is gravity-fed to our city regions via the main reservoir," explains Henning. "For one month of the year, the pumps need to be switched on to pump 400 litres per second upstream to Paarl, where after they would usually be switched off.
"However, the higher elevation of the reservoir allows us to rotate the pumps backwards to act as small turbines for the rest of the year which is able to generate electricity at 80% efficiency. Unlike turbines however, the pumps are standard stock items from the supplier, KSB Pumps and Valves, and do not require specialised support and servicing. What's more, the pumps are durable enough to allow us to design the infrastructure with a 40-year lifespan."
Technology integration
Before commissioning the project, the municipality had spelled out its requirement to replace its existing 96 litre-per-second pump station with a new one and discussed the ability to generate electricity in the off season with consulting engineers, Aurecon. Having designed and planned a solution, the main contract was awarded to Hidro-Tech Systems for mechanical and electrical work.
Brian Cooper of Hidro-Tech says that despite the relative simplicity of the mechanical design, it required complex integration of controls to deal with the hydraulic force and convert the electricity generated into a useable form. This required pump speeds to be controlled via a variable speed drive to prevent over speed, as well as convert the wave produced to a pure 50 Hz sinusoid compatible with the city's power grid.
"The system is designed with full PLC control that can be managed on site HMI, or accessed remotely to give users control and monitoring of the site wherever and whenever required," he elaborates. "The industrial network automates the entire system including control and monitoring of the pumps, valves, level indicators, flowmeters and other equipment critical to the systems efficient operation.
"In addition to providing seamless control of the system, it also ensures redundancy in all operating conditions and provides emergency measures in the event of failures, or parameter changes as required to rectify any operating problems incurred.
Project results
Following the commissioning of the pump station and turbines the system has begun operating at full capacity and the Drakenstein municipality has started reaping the benefits of its forward-thinking water management strategy.
"We are pleased with the outcome and commend everybody involved in the project for their innovation and dedication to building a system that can be used as a blueprint by other municipalities around the country," concludes Henning. "It has been a brilliant project with many challenges and plenty of innovation. We look forward to tackling similar projects in the future."
For more information contact Annett Kriel, KSB Pumps and Valves South Africa, +27 11 876 5600, annett.kriel@ksb.com, www.ksb.com
Further reading:
Compact soft starters for control of three-phase motors
February 2019, ElectroMechanica , Electrical Power & Protection
Soft starters limit the inrush current, improving overall stability of the power supply and reducing transient voltage drops, which may affect other loads in a network. They are ideal for applications 
...
Read more...
---
How to optimise power quality in critical applications
February 2019, Schneider Electric South Africa , Electrical Power & Protection
As global energy consumption continues to rise, energy is becoming more decentralised and decarbonised. While demand is estimated to increase by 70% through 2040, 50% of new energy generation capacity 
...
Read more...
---
Compact DIN rail power supply
February 2019, Accutronics , Electrical Power & Protection
TDK Corporation has announced the introduction of the TDK-Lambda brand DRF960-24-1 DIN rail mount AC-DC power supply, rated at 24 V 40 A (960 W) with a 60 A (1440 W) peak for 4 seconds. The product has 
...
Read more...
---
Power supply protects against hour-long power failures
February 2019, Siemens Digital Factory & Process Indust. & Drives , Electrical Power & Protection
Siemens has upgraded its Sitop PSU8600 power supply system with the addition of new supplementary modules to transform it into an uninterruptible DC power supply. To achieve this, the new DC UPS module 
...
Read more...
---
Rockwell Automation expands power range
February 2019, Rockwell Automation , Electrical Power & Protection
Rockwell Automation has expanded the power ranges and capabilities of TotalForce technology for its Allen-Bradley PowerFlex 755T AC drives. The drives now offer an expanded power range, helping engineers 
...
Read more...
---
Compact contactor solutions
January 2019, Zest WEG Group , Electrical Power & Protection
Engineered to provide a compact contactor solution, the WEG CWB range of devices offers a width space saving of up to 18%. Developed in two frame sizes, the contactors meet a range of industrial and domestic 
...
Read more...
---
RS Components expands current transformer range
January 2019, RS Components SA , Electrical Power & Protection
RS Components has announced availability of a range of RS Pro current transformers targeting a wide range of applications including process control, motor control, utility power monitoring, control panels, 
...
Read more...
---
Efficient lighthouse operation in the modern age
December 2018, Horne Technologies , Electrical Power & Protection
In a lighthouse the structures may appear old and dignified, but the technology inside is modern and robust. Low operating costs, availability and long maintenance intervals are the decisive criteria 
...
Read more...
---
Evolving power management for intelligent buildings
December 2018, Schneider Electric South Africa , Electrical Power & Protection
Without doubt, managing energy costs while driving sustainability and efficiency is one of the biggest power management challenges that facility professionals face today. While advances in technology 
...
Read more...
---
Siemens launches Distributed Energy System for Africa
December 2018, Siemens Digital Factory & Process Indust. & Drives , Electrical Power & Protection
Africa's energy transition is happening now. Population and economic growth are major factors that play a role in increased energy consumption and the evolving energy landscape. The era of the Internet 
...
Read more...
---