printer friendly version
Simple connection of converters supports cloud-based applications
February 2019
IT in Manufacturing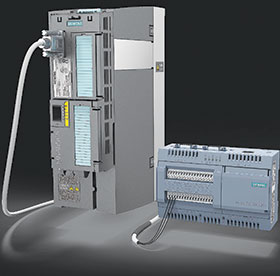 The new Sinamics Connect 300 from Siemens provides a simple plug-and-play solution for integrating converters of the Sinamics family into the IT world. The new solution is suitable for low-voltage converters and supports cloud-based digitalisation solutions.
MindSphere applications such as Analyze MyDrives can now be used directly via Sinamics Connect 300. Sinamics Connect 300 is an IoT gateway with its own dedicated LAN connection. The converter is connected directly to the Sinamics Connect 300 terminal block. Parameters, operating data and statuses are being transmitted over universal serial interface protocol and can be retrieved at any time. No modifications are necessary to the hardware or firmware of drives used with Sinamics Connect 300, nor do PLC programs need to be adjusted. Commissioning takes place conveniently and simply using a web server user interface. Sinamics Connect 300 does not bring about any changes to the data and signal flow of the machine automation, nor does it place any additional load on the fieldbus of the machine or plant. This makes the use of Sinamics Connect 300 completely independent of the automation and enables rapid, trouble-free and low-cost commissioning. The simultaneous connection of up to eight drives opens up outstanding economies of scale, and the Sinamics Connect 300 is also highly suited for machine users looking to directly upgrade heterogeneous legacy machine fleets in brown field projects.
Analyze MyDrives now also available for the latest MindSphere version
The MindSphere app Analyze MyDrives is being prepared for use with the latest MindSphere version. Analyze MyDrives allows operators to monitor the drive components of their machines. The app collates and evaluates all the operating data, and can be used to analyse and visualise any parameters, or to define the threshold values and work area. By continuously monitoring power consumption, torque and frequency, it enables the determination of actual maintenance requirements. As a result, machine operators are informed about any critical operating statuses within the drive train, and machine builders are able to offer servicing tailored to actual needs. Regular machine maintenance performed generally at predefined intervals is no longer required, enhancing machine capacity utilisation and productivity while reducing maintenance intervals and downtimes. The analysis of operating data also enables predictive maintenance and so reduces the risk of unscheduled costs, allowing all optimisation potential to be channelled into energy-saving measures.
For more information contact Jennifer Naidoo, Siemens Digital Factory and Process Industries and Drives, +27 11 652 2795, jennifer.naidoo@siemens.com, www.siemens.co.za
Credit(s)
Further reading:
Yokogawa's Smart Terminal Automation Solution
April 2019, Yokogawa South Africa , IT in Manufacturing
Yokogawa has accumulated more than two decades of experience in the automation of such terminals and supplied its Terminal Automation Solution to suit varying customer needs.
Read more...
---
Listening to the Voice of the Machine
April 2019, Parker Hannifin Sales Company South , IT in Manufacturing
The value of discrete IoT.
Read more...
---
Measurement data on the lookout for artificial intelligence
April 2019, Phoenix Contact , IT in Manufacturing
In the global race for competitive prices, it is the most efficient processes that win the race.
Read more...
---
IoT-enabled field services improve industrial asset availability
Technews Industry Guide: Maintenance, Reliability & Asset Optimisation 2019 , IT in Manufacturing
Today, many equipment manufacturers are reclaiming the service relationship from the distribution channels with a modern field service management system and remote monitoring.
Read more...
---
Understanding how predictive analytics tools benefit power utility management
Technews Industry Guide: Maintenance, Reliability & Asset Optimisation 2019, IS³ - Industry Software, Solutions & Support , IT in Manufacturing
This paper reviews how predictive analytics tools can be applied to both utility operations and maintenance.
Read more...
---
Seamless acquisition and analysis of plant data
Technews Industry Guide: Maintenance, Reliability & Asset Optimisation 2019, Beckhoff Automation , IT in Manufacturing
TwinCAT Analytics supports the ability to investigate machine optimisation and facilitate predictive maintenance.
Read more...
---
Siemens infrastructure technology day
April 2019, Siemens Digital Factory & Process Indust. & Drives , News
Siemens recently held an infrastructure technology day at its Midrand premises. The highlight was the launch of the new Sinamics G120X frequency converter range, which has been specially optimised for 
...
Read more...
---
Faster results with a digital twin
April 2019, Siemens Digital Factory & Process Indust. & Drives , IT in Manufacturing
High tech company Grenzebach's portfolio includes the simulation of material flow in complex plants in the glass industry. To achieve this, Grenzebach uses Siemens' simulation solutions. Together, the 
...
Read more...
---
Mining in the Industry 4.0 era
April 2019 , IT in Manufacturing
Pitram from Micromine can assist mining operations to automate and boost efficiency.
Read more...
---
Stepping carefully into the Fourth Industrial Revolution
April 2019 , IT in Manufacturing
Rapid advances in technology and artificial intelligence in the mining industry raise issues like data protection, intellectual property ownership and legal liability. In the current absence of specific 
...
Read more...
---