printer friendly version
Simple connection of converters supports cloud-based applications
February 2019
IT in Manufacturing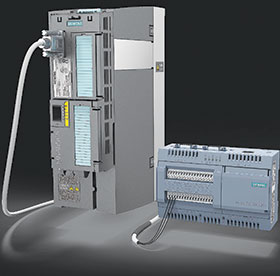 The new Sinamics Connect 300 from Siemens provides a simple plug-and-play solution for integrating converters of the Sinamics family into the IT world. The new solution is suitable for low-voltage converters and supports cloud-based digitalisation solutions.
MindSphere applications such as Analyze MyDrives can now be used directly via Sinamics Connect 300. Sinamics Connect 300 is an IoT gateway with its own dedicated LAN connection. The converter is connected directly to the Sinamics Connect 300 terminal block. Parameters, operating data and statuses are being transmitted over universal serial interface protocol and can be retrieved at any time. No modifications are necessary to the hardware or firmware of drives used with Sinamics Connect 300, nor do PLC programs need to be adjusted. Commissioning takes place conveniently and simply using a web server user interface. Sinamics Connect 300 does not bring about any changes to the data and signal flow of the machine automation, nor does it place any additional load on the fieldbus of the machine or plant. This makes the use of Sinamics Connect 300 completely independent of the automation and enables rapid, trouble-free and low-cost commissioning. The simultaneous connection of up to eight drives opens up outstanding economies of scale, and the Sinamics Connect 300 is also highly suited for machine users looking to directly upgrade heterogeneous legacy machine fleets in brown field projects.
Analyze MyDrives now also available for the latest MindSphere version
The MindSphere app Analyze MyDrives is being prepared for use with the latest MindSphere version. Analyze MyDrives allows operators to monitor the drive components of their machines. The app collates and evaluates all the operating data, and can be used to analyse and visualise any parameters, or to define the threshold values and work area. By continuously monitoring power consumption, torque and frequency, it enables the determination of actual maintenance requirements. As a result, machine operators are informed about any critical operating statuses within the drive train, and machine builders are able to offer servicing tailored to actual needs. Regular machine maintenance performed generally at predefined intervals is no longer required, enhancing machine capacity utilisation and productivity while reducing maintenance intervals and downtimes. The analysis of operating data also enables predictive maintenance and so reduces the risk of unscheduled costs, allowing all optimisation potential to be channelled into energy-saving measures.
For more information contact Jennifer Naidoo, Siemens Digital Factory and Process Industries and Drives, +27 11 652 2795, jennifer.naidoo@siemens.com, www.siemens.co.za
Credit(s)
Further reading:
Siemens South Africa puts Smart City vision into action
September 2019, Siemens Digital Industries , News
Fourteen months ago, Siemens installed a microgrid at its headquarters in Midrand and data shows it is using 50% less supplied energy, drawing it from solar resources instead. By extracting energy off 
...
Read more...
---
Reliable gas production
September 2019, Siemens Digital Industries , IT in Manufacturing
Energy supplier uses Siemens technology for optimum information exchange.
Read more...
---
Automotive supplier relies on Siemens PLM solution
September 2019, Siemens Digital Industries , IT in Manufacturing
Küster Automotive is an internationally active family-run company and a part of Küster Holding. A full-service supplier, Küster manufactures components for the automotive industry. For its production 
...
Read more...
---
Top tips to help you implement 4IR projects that deliver value
September 2019 , Editor's Choice, IT in Manufacturing
In the just over 10 years I have spent working on IT projects in the manufacturing space, the amount of new fads and IT jargon that has to be adopted has reached the heavens, and ascended into other realms. 
...
Read more...
---
Digitisation requires new skills
September 2019, Schneider Electric South Africa , IT in Manufacturing
Smart grid investments by municipal and public power utilities typically focus on electric distribution and customer systems. The expected benefits include lower costs, better customer service and more 
...
Read more...
---
Industry 4.0: Manufacturing Executing Systems
September 2019, S4 Integration , IT in Manufacturing
Industry 4.0 is set to lead the way for digitisation of manufacturing processes. Manufacturing Executing Systems (MES) are a critical component of Industry 4.0 as they act as an enabler for end-to-end 
...
Read more...
---
Siemens launches the Digital Enterprise Series
August 2019, Siemens Digital Industries , News
The digital transformation of the producing economy is gaining momentum. It enables new opportunities for value creation, innovative business models and trendsetting forms of cooperation. Now is the time 
...
Read more...
---
Safety and cybersecurity convergence goes beyond safety systems
August 2019 , IT in Manufacturing
However, the scope of safety and cybersecurity goes well beyond process safety systems alone. Across the industrial and infrastructure worlds, an increasing number of end users are adopting more sophisticated 
...
Read more...
---
Engineering is shaping the future
August 2019, Siemens Digital Industries, ESTEQ Test & Measurement , News
Engineering is shaping what the future will look like and is evolving as quickly as technology itself. This year's highly successful Engineering Community Conference (ECC) hosted by ESTEQ at the CSIR 
...
Read more...
---
Siemens to acquire ESTEQ
August 2019, Siemens Digital Industries , News
Siemens Digital Industries Software has announced that it has signed an agreement to acquire the assets of ESTEQ, a distributor of product lifecycle management, product design and simulation, and manufacturing 
...
Read more...
---