printer friendly version
Towards the Smart Factory
February 2019
IT in Manufacturing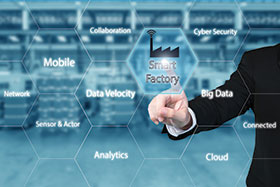 With much of the reported paradigm of Industry 4.0 resting on self-configuration of machinery and production lines, Omron's Victor Marquess looks at what can already be achieved to get on the path to an Industry 4.0 future and the promise of the Smart Factory.
Mass production is giving way to shorter batch runs, just-in-time production and increasing levels of customisation, which demand the flexibility of the Smart Factory. Not only does this require more intelligent and sophisticated production processes, but also the ability to reconfigure everything from individual machines to complete production lines, without incurring delays between batches. And, as batch sizes become smaller, so the need for shorter changeover times becomes more acute.
Production line changeovers have moved from mechanical readjustments to a button push on an HMI, dramatically reducing reconfiguration times. But as the requirement for more frequent changeovers has grown, so has a need for greater intelligence in the self-configuration process. There is now increasing pressure on machine builders to deliver machines that are 'Smart Factory ready', and which can configure themselves quickly and with less operator interaction.
With the advanced integrated functionality of components such as PLCs, drives, servos, sensors, HMIs and robotics, plants already have the means to implement a Smart Factory production environment as everything required for self-configuration is already available.
Software is the key
For machine builders, programming self-configuration capabilities within the machine cannot be an afterthought. "Addressing self-configuration late in the machine design process always results in a less capable system, compromising competitive advantage and increasing development costs," explains Marques.
Traditionally, programming this added level of functionality into the machine has been a challenging and time-consuming process, adding cost. And if there is little commonality from one machine design to the next, the economics of increased programming time might not add up. However, help is at hand.
Omron has focused on making the software side of development quicker and easier for those machine builders and end-users committed to the Industry 4.0 paradigm. The company provides a complete library of pre-written, pre-configured and pre-tested function blocks that dramatically speed up the programming of advanced functions at every stage in the machine development – not just at the end of the project. Modular and reusable, the function blocks can be dropped into the design as needed, and then simply embellished to meet the needs of the specific Smart Factory application.
There are currently more than 40 function blocks, to choose from, with more being written, tested and added all the time. Examples include motion control, path control, tension control, temperature control, servo settings, sensor set-up, vibration suppression and device operation.
While today's requirement may be for shorter batch runs as a minimum requirement, the mass customisation envisaged by Industry 4.0 might be the base requirement in just a few years' time. Indeed, many industries are already looking at so called 'batch size one' requirements, where every product coming off the line might be subtly different to meet the needs of individual customers.
"Omron's function blocks mean that even the most sophisticated machine applications no longer need to be last minute considerations as an afterthought value add proposition," concludes Marques. "Machine builders can begin to add advanced functionality such as self-configuration as part of the standard machine development process, helping to deliver all the competitive advantage that the Smart Factory concept promises."
Credit(s)
Further reading:
Yokogawa's Smart Terminal Automation Solution
April 2019, Yokogawa South Africa , IT in Manufacturing
Yokogawa has accumulated more than two decades of experience in the automation of such terminals and supplied its Terminal Automation Solution to suit varying customer needs.
Read more...
---
Listening to the Voice of the Machine
April 2019, Parker Hannifin Sales Company South , IT in Manufacturing
The value of discrete IoT.
Read more...
---
Measurement data on the lookout for artificial intelligence
April 2019, Phoenix Contact , IT in Manufacturing
In the global race for competitive prices, it is the most efficient processes that win the race.
Read more...
---
IoT-enabled field services improve industrial asset availability
Technews Industry Guide: Maintenance, Reliability & Asset Optimisation 2019 , IT in Manufacturing
Today, many equipment manufacturers are reclaiming the service relationship from the distribution channels with a modern field service management system and remote monitoring.
Read more...
---
Understanding how predictive analytics tools benefit power utility management
Technews Industry Guide: Maintenance, Reliability & Asset Optimisation 2019, IS³ - Industry Software, Solutions & Support , IT in Manufacturing
This paper reviews how predictive analytics tools can be applied to both utility operations and maintenance.
Read more...
---
Seamless acquisition and analysis of plant data
Technews Industry Guide: Maintenance, Reliability & Asset Optimisation 2019, Beckhoff Automation , IT in Manufacturing
TwinCAT Analytics supports the ability to investigate machine optimisation and facilitate predictive maintenance.
Read more...
---
Faster results with a digital twin
April 2019, Siemens Digital Factory & Process Indust. & Drives , IT in Manufacturing
High tech company Grenzebach's portfolio includes the simulation of material flow in complex plants in the glass industry. To achieve this, Grenzebach uses Siemens' simulation solutions. Together, the 
...
Read more...
---
Mining in the Industry 4.0 era
April 2019 , IT in Manufacturing
Pitram from Micromine can assist mining operations to automate and boost efficiency.
Read more...
---
Stepping carefully into the Fourth Industrial Revolution
April 2019 , IT in Manufacturing
Rapid advances in technology and artificial intelligence in the mining industry raise issues like data protection, intellectual property ownership and legal liability. In the current absence of specific 
...
Read more...
---
Paving the way to digitalisation in oil and gas
April 2019, RJ Connect , IT in Manufacturing
Oil and gas are still indispensable fuels for the global economy, and exploring for new sources of oil and gas remains a lucrative and attractive endeavour. New oil platforms, rigs and pipelines are constantly 
...
Read more...
---