printer friendly version
Towards the Smart Factory
February 2019
IT in Manufacturing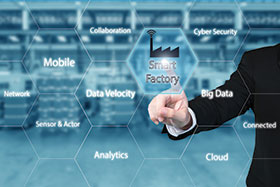 With much of the reported paradigm of Industry 4.0 resting on self-configuration of machinery and production lines, Omron's Victor Marquess looks at what can already be achieved to get on the path to an Industry 4.0 future and the promise of the Smart Factory.
Mass production is giving way to shorter batch runs, just-in-time production and increasing levels of customisation, which demand the flexibility of the Smart Factory. Not only does this require more intelligent and sophisticated production processes, but also the ability to reconfigure everything from individual machines to complete production lines, without incurring delays between batches. And, as batch sizes become smaller, so the need for shorter changeover times becomes more acute.
Production line changeovers have moved from mechanical readjustments to a button push on an HMI, dramatically reducing reconfiguration times. But as the requirement for more frequent changeovers has grown, so has a need for greater intelligence in the self-configuration process. There is now increasing pressure on machine builders to deliver machines that are 'Smart Factory ready', and which can configure themselves quickly and with less operator interaction.
With the advanced integrated functionality of components such as PLCs, drives, servos, sensors, HMIs and robotics, plants already have the means to implement a Smart Factory production environment as everything required for self-configuration is already available.
Software is the key
For machine builders, programming self-configuration capabilities within the machine cannot be an afterthought. "Addressing self-configuration late in the machine design process always results in a less capable system, compromising competitive advantage and increasing development costs," explains Marques.
Traditionally, programming this added level of functionality into the machine has been a challenging and time-consuming process, adding cost. And if there is little commonality from one machine design to the next, the economics of increased programming time might not add up. However, help is at hand.
Omron has focused on making the software side of development quicker and easier for those machine builders and end-users committed to the Industry 4.0 paradigm. The company provides a complete library of pre-written, pre-configured and pre-tested function blocks that dramatically speed up the programming of advanced functions at every stage in the machine development – not just at the end of the project. Modular and reusable, the function blocks can be dropped into the design as needed, and then simply embellished to meet the needs of the specific Smart Factory application.
There are currently more than 40 function blocks, to choose from, with more being written, tested and added all the time. Examples include motion control, path control, tension control, temperature control, servo settings, sensor set-up, vibration suppression and device operation.
While today's requirement may be for shorter batch runs as a minimum requirement, the mass customisation envisaged by Industry 4.0 might be the base requirement in just a few years' time. Indeed, many industries are already looking at so called 'batch size one' requirements, where every product coming off the line might be subtly different to meet the needs of individual customers.
"Omron's function blocks mean that even the most sophisticated machine applications no longer need to be last minute considerations as an afterthought value add proposition," concludes Marques. "Machine builders can begin to add advanced functionality such as self-configuration as part of the standard machine development process, helping to deliver all the competitive advantage that the Smart Factory concept promises."
Credit(s)
Further reading:
Five-point action plan to decarbonise South African mining
ABB South Africa IT in Manufacturing
Decarbonising the mining industry requires a purposeful methodology combined with a suite of solutions. ABB's automation and digital portfolio empowers miners to succeed in their all-electric ambitions.
Read more...
---
Implementing industrial-grade cybersecurity
Emerson Automation Solutions IT in Manufacturing
Increasing capability and connectivity generate greater cybersecurity concerns. Internet connectivity and the adoption of Wi-Fi on the plant floor opens doors for bad actors to access all types of digital assets. Whereas in years past the availability of industrial digital devices was paramount, today confidentiality and integrity play equally important roles.
Read more...
---
How far can ML and AI go in food & beverage?
IT in Manufacturing
AI can date its origins back to the 1950s. What we are actually seeing today are the results of decades of research and technological developments. When it comes to the food and beverage sector, things are no different and more businesses are reaping the benefits of AI technologies.
Read more...
---
Creating intelligence in oil and gas
Schneider Electric South Africa IT in Manufacturing
The oil and gas industry plays a major role in the global economy, and has in recent years come under increasing pressure to meet sustainability targets, while still maintaining high levels of operations and lowering the end-to-end lifecycle costs of its assets. Fortunately, thanks to advances in connectivity and digital analytics, they can move towards a position that allows them to enter the next phase of advanced organisational and process management in tandem with sustainability goals.
Read more...
---
Unleashing the future of mining
RJ Connect IT in Manufacturing
With the demand for critical minerals for the clean energy transition surging, the World Bank predicts a 500% increase in their production by 2050. For the mining industry, this means unprecedented growth. But it also faces a plethora of internal and external challenges. In response to these constant changes, mining operations are proactively embracing digital transformation, leveraging technologies such as automation, unmanned systems and AI for image recognition to enhance operational efficiency and safety.
Read more...
---
How the evolving cloud is driving growth
IT in Manufacturing
Cloud technology has become a driving force for South African companies to adapt their IT infrastructure. They are blending cloud services with on-premises solutions to harness the best from a multi-cloud, hybrid world. The conversation now is is about figuring out the optimal blend.
Read more...
---
Process automation for sustainable mining
Schneider Electric South Africa IT in Manufacturing
Process automation plays a vital role in making the mining industry more sustainable. By leveraging advanced automation systems, mining companies can optimise resource utilisation, minimise energy consumption, and lower greenhouse gas emissions.
Read more...
---
Futureproofing networks
RJ Connect IT in Manufacturing
The rise of smart manufacturing has seen a growing number of cyberthreats in the industrial sector as an unintended consequence of the convergence of IT and OT. While this achieves better efficiency and creates greater value, it also exposes traditionally isolated OT systems to all kinds of cyberattacks.
Read more...
---
Megatrends shaping the auto industry
Editor's Choice IT in Manufacturing
The automotive industry is in the midst of a technology-driven revolution that will not only advance the safety and sustainability of transportation, but also transform how consumers interact with their vehicles and the OEM brands behind them.
Read more...
---
Smart manufacturing: the future is now
IT in Manufacturing
Intelligent technologies at a device layer are disrupting the manufacturing industry by managing and monitoring production outputs and keeping operational costs down.
Read more...
---