printer friendly version
Quarter-turn actuator for harsh conditions
February 2019
Valves, Actuators & Pump Control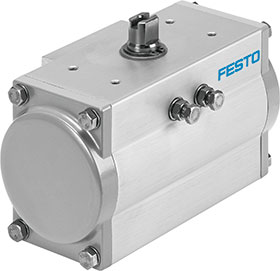 Thanks to its versatility and flexibility, Festo's quarter-turn actuator DFPD can be used in a variety of applications. Its modern, simple and compact design impresses whether it is used with ball valves, shut off valves or air dampers in the pharmaceutical or beverage industry or for water treatment and other areas of process automation.
Flexible in operating pressure
The single-acting version of the new actuator is particularly compact and extremely modular. Due to its optimised design it can be configured in increments of 0,5 bar for more effective use. With nine different spring combinations, the DFPD meets the most precise operating pressure requirements between two and six bar. The rotation angle for the standard size is up to 90° and for the sizes 40, 120, 240 and 480, it rises to 180°.
The basic version of the DFPD is suitable for temperatures between -20 and 180°C. The low temperature variant is designed for arctic regions and covers a temperature range of -50 to 60°C. The high temperature variant can be used at temperatures between 0 and 150°C. With its versatile and corrosion-resistant surface coating, the actuator can also be reliably and flexibly used in harsh conditions. It can be mounted anywhere and the end positions can be adjusted, both ends enduring high flexibility during operation.
A complete package covering the entire value chain
In combination with the CMSX positioner, the actuator is suited for analog control in dosing tasks. Furthermore, the sensor boxes SRBC/SRBE/SRBG enable simple digital control and full position sensing, which is possible outdoors as well as in potentially explosive environments.
For more information contact Kershia Beharie, Festo, 086 003 3786, kershia.beharie@festo.com, www.festo.co.za
Credit(s)
Further reading:
Festo to go digital at Automation Expo
June 2019, Festo , News
The world is currently undergoing radical digital transformation, which is viewed as an implementation of digital technologies in all sectors, including the automation industry. As a company that continuously 
...
Read more...
---
Flow sensor for liquid media
June 2019, Festo , Flow Measurement & Control
The new flow sensor SFAW from Festo is ideal for monitoring cooling circuits, for example in welding guns in the automotive industry as well as in front-end applications in the semiconductor and electronics 
...
Read more...
---
Robotics meets artificial intelligence
June 2019, Festo , Pneumatics & Hydraulics
Whether its grabbing, holding or turning, touching, typing or pressing – in everyday life, we use our hands as a matter of course for the most diverse tasks. In that regard, the human hand, with its unique 
...
Read more...
---
Schubert & Salzer in control at PVS
May 2019, Macsteel Fluid Control , Valves, Actuators & Pump Control
Belgium-based PVS Chemicals produces extremely pure chemicals for use in the semiconductor industry. One of the company's outstanding innovations is the production of ultra-pure sulphuric acid. As the 
...
Read more...
---
Ball sector valves and sliding gate valves
Africa Automation Fair 2019 Preview, Macsteel Fluid Control , Valves, Actuators & Pump Control
Macsteel Fluid Control is exhibiting ball sector valves and sliding gate valves from Schubert & Salzer Control Systems at Stand D17.    The robust, efficient ball sector valves are capable of very precise 
...
Read more...
---
Actuators for precise positioning
Africa Automation Fair 2019 Preview , Valves, Actuators & Pump Control
Beck actuators provide precise positioning of valves, dampers, fluid couplings and other final control elements.    Unlike pneumatic and conventional electric actuators, they can withstand continuous 
...
Read more...
---
Valve island with CoilVision technology
Africa Automation Fair 2019 Preview, Hydramatics Control Equipment , Valves, Actuators & Pump Control
Camozzi Automation's Series D valve island has the ability to combine two different valve sizes in the same island with the help of only one initial electric part, bringing important benefits in terms 
...
Read more...
---
Speedy, reliable mA loop valve testing
Africa Automation Fair 2019 Preview, Comtest , Valves, Actuators & Pump Control
Fluke's new 710 mA loop valve tester allows technicians to source the 4-20 mA signal while it interrogates HART data to collect critical information about a valve's position and status, providing quick 
...
Read more...
---
Extended valve offering
Africa Automation Fair 2019 Preview, Metso South Africa , Valves, Actuators & Pump Control
Flow control specialist, Metso is showcasing the latest additions to its offering for the process industries, as well as the most comprehensive line of control valves available on the market today. Pay 
...
Read more...
---
New Rotork master station for valve actuator control
May 2019 , Valves, Actuators & Pump Control
Rotork has launched the latest generation of its monitoring and control system for valve actuators and plant equipment. Suitable for use in all industries, the Rotork Master Station is capable of operating 
...
Read more...
---