Improved supply chain efficiency and energy saving at Namibia Breweries
February 2019
IT in Manufacturing

printer friendly version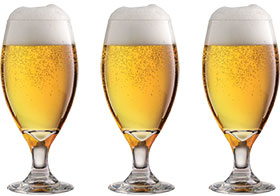 Established in 1920, Namibia Breweries is one of the leading beverage manufacturing companies in Namibia and southern Africa. Today, with the stated vision to be the 'most progressive and inspiring company', NBL leads the domestic beer market and has a significant share of the premium beer category in South Africa.
While the company's main focus is producing beer, its other portfolios include soft drinks, fruit juice and water using raw materials such as malt, hops and water. NBL's notable achievements include energy saving projects such as the biomass boiler, on-site solar plant, and personal boreholes, as well as winning 10 consecutive gold medals at the Deutsche Landwirtschafts-Gesellschaft (DLG) Quality Evaluation Awards. NBL has also managed to double its production output on average every 10 years over the past three decades.
To keep this momentum going, the integration of MES with ERP systems and other business applications has become mission-critical for plant operations. It enables agile, short-term production planning and flexible update schedules and improves supply chain visibility and decision support by updating business applications with production responses in real time.
Access to real-time, centralised information
NBL MES specialist Annemarie Kruger explained: "From a process perspective, NBL had a challenge when it came to sending real-time process orders automatically to its ERP system, versus sending a process order that needs to be verified by human interaction first.
"These time delays, as well as having too many different sources of information and systems, led to our malt orders, a key ingredient in the brewing of beer, not being generated correctly. The result of this is a potential situation where not enough malt is delivered on time, meaning the business may have to stop production at times. Production loss in brewing can cost the organisation more than NAD one million per day.
"Alternatively, too much malt could be delivered on site due to an incorrect order placement. This type of error has resulted in an estimated NAD two million loss in demurrage fees over the past year due to delayed operations in unloading. In order to avoid these predicaments, NBL decided to roll out Wonderware Enterprise Integrator and Wonderware Skelta BPM."
Wonderware Enterprise Integrator
Wonderware Enterprise Integrator enables message exchange and automatic data synchronisation between multiple business and plant applications. It is a commercial off-the-shelf software that allows business and manufacturing systems to complement each other, in a loosely coupled yet highly reliable manner.
Wonderware Skelta BPM
Wonderware Skelta BPM helps organisations perform intelligently, effectively and in a governed manner. Through its powerful functionality and model-driven framework, this solution offers a strong platform for effective modelling across the enterprise for improved productivity and rapid delivery of new business applications.
One centralised location, one version of 'the 'truth'
The combination of the two solutions has allowed the brewing company to integrate its PCS and ERP systems, putting the correct system-related controls in place and ensuring that logistics and procurement staff can use current (near real-time) information, with less manual intervention, in order to plan accurately for the next malt and raw material shipment. As well as ensuring data integrity, all of the people, processes and systems within the organisation that need access to this information can retrieve it from a single source.
"We are now one step closer to becoming a fully functional 'single version of the truth' business through the use of these Wonderware products to integrate our ERP system with the plant control solutions," concludes Kruger. "NBL has improved its efficiency by providing a platform where business- critical information is captured and stored in a central location."
For more information contact Clarise Rautenbach, IS³ – Industry Software, Solutions & Support, +27 11 607 8473, clarise.rautenbach@is3.co.za, www.is3.co.za
Credit(s)
Further reading:
Digital Enterprise offering with ­future technologies for Industry 4.0
February 2019, Siemens Digital Factory & Process Indust. & Drives , IT in Manufacturing
By expanding its Digital Enterprise portfolio and integrating future technologies, Siemens is driving forward the digital transformation of the discrete and process industries.
Read more...
---
IS³ - Industry Software, Solutions and Support extends portfolio to AVEVA's Engineer, Construct and Procure Software Solutions
February 2019, IS³ - Industry Software, Solutions & Support , News
IS³ has recently signed an extension to the contract with AVEVA, which now extends its portfolio to include AVEVA's Engineer, Construct and Procure Software Solutions. AVEVA is a global leader in engineering 
...
Read more...
---
Book early for this year's X-Change User Group Conference
February 2019, IS³ - Industry Software, Solutions & Support , News
The largest industrial software event in Africa, X-Change 2019, is almost upon us. This year X-Change will take place at the Sun City Resort from the 17-20 March.    X-Change has been a success for a 
...
Read more...
---
Operators step into the future
February 2019, SKF South Africa , IT in Manufacturing
Recognising the increasingly vital role that technology plays in business, SKF continues to move with the Industry 4.0 tide. In line with its 'World Class Manufacturing' initiative, SKF has implemented 
...
Read more...
---
Spresense platform brings sound and vision to IoT devices
February 2019, RS Components SA , IT in Manufacturing
RS Components has boosted opportunities to create smarter IoT devices by introducing Sony Spresense, featuring Arm Cortex-M4F performance and extensive sensing, audio, and imaging capabilities. The low-power 
...
Read more...
---
Towards the Smart Factory
February 2019, Omron Electronics , IT in Manufacturing
With much of the reported paradigm of Industry 4.0 resting on self-configuration of machinery and production lines, Omron's Victor Marquess looks at what can already be achieved to get on the path to 
...
Read more...
---
Unobtrusive approach to digitalisation
February 2019, Parker Hannifin Sales Company South , IT in Manufacturing
As Industry 4.0 continues to unfold, increasing numbers of manufacturers, big and small, are seeking the best opportunities to increase the automation of their industrial processes and improve productivity. 
...
Read more...
---
Enhanced intelligence at the edge
February 2019, RJ Connect , IT in Manufacturing
A new computing model that helps create autonomous edge nodes is changing the IIoT landscape. Edge nodes are data-aggregation points in an IIoT system, where the physical world of sensors and actuators 
...
Read more...
---
Simple connection of converters supports cloud-based applications
February 2019, Siemens Digital Factory & Process Indust. & Drives , IT in Manufacturing
The new Sinamics Connect 300 from Siemens provides a simple plug-and-play solution for integrating converters of the Sinamics family into the IT world. The new solution is suitable for low-voltage converters 
...
Read more...
---
Yokogawa adds OpreX redundancy
February 2019, Yokogawa South Africa , IT in Manufacturing
Yokogawa has announced a platform that enables software packages to run on general-purpose computers in a redundant configuration, which has been added to its OpreX Control and Safety System family. This 
...
Read more...
---