RS Components expands current transformer range
January 2019
Electrical Power & Protection

printer friendly version
RS Components has announced availability of a range of RS Pro current transformers targeting a wide range of applications including process control, motor control, utility power monitoring, control panels, switchgear used in generators and electrical power distribution systems, as well as in energy and building management systems.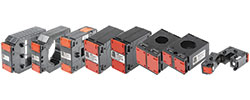 Current transformers are widely used in a range of electrical power applications for the measurement and handling of AC currents. High circuit currents – or primary currents – are transformed to a significantly reduced secondary current, enabling connection to measurement and recording instruments. Current transformers will also isolate these instruments from high voltages in monitored circuits.
The range offers Class 1 accuracy of 1% at rated current and covers devices with primary current handling from 5 to 3000 A. Key features include sealable terminal covers and availability of various case sizes and mounting options, including wall, cable, busbar and DIN-rail mounting. Meeting UL94V0 approvals, devices in the range are supplied in moulded cases made from flame-retardant polycarbonate materials.
Credit(s)
Further reading:
RS Components introduces robot-based learning
February 2019, RS Components SA , News
RS Components has announced the availability of a new product, Sphero's SPRK+, which is designed to provide students with hands-on computer programming education. Sphero embraces the understanding that 
...
Read more...
---
RS Components bolsters education with tools to inspire young engineers
February 2019, RS Components SA , News
RS Components has introduced new ranges from Seeed Studio, Arduino and Bare Conductive that target academic institutions, including educators and students of electronics, as well as inspiring electronics 
...
Read more...
---
Spresense platform brings sound and vision to IoT devices
February 2019, RS Components SA , IT in Manufacturing
RS Components has boosted opportunities to create smarter IoT devices by introducing Sony Spresense, featuring Arm Cortex-M4F performance and extensive sensing, audio, and imaging capabilities. The low-power 
...
Read more...
---
RS launches rugged Molex connectors
February 2019, RS Components SA , Enclosures, Cabling & Connectors
RS Components has introduced the Molex Squba range of 1,80 mm sealed wire-to-wire connectors, designed to fit into small spaces while offering IP67 protection against liquid, dust and dirt. Squba supports 
...
Read more...
---
Compact soft starters for control of three-phase motors
February 2019, ElectroMechanica , Electrical Power & Protection
Soft starters limit the inrush current, improving overall stability of the power supply and reducing transient voltage drops, which may affect other loads in a network. They are ideal for applications 
...
Read more...
---
Forward-thinking municipality uses pumps to generate electricity
February 2019 , Electrical Power & Protection
A technical team serving the requirements of the Drakenstein municipality in the Western Cape has designed one of the country's largest pump and turbine stations to be used for water reticulation to the 
...
Read more...
---
How to optimise power quality in critical applications
February 2019, Schneider Electric South Africa , Electrical Power & Protection
As global energy consumption continues to rise, energy is becoming more decentralised and decarbonised. While demand is estimated to increase by 70% through 2040, 50% of new energy generation capacity 
...
Read more...
---
Compact DIN rail power supply
February 2019, Accutronics , Electrical Power & Protection
TDK Corporation has announced the introduction of the TDK-Lambda brand DRF960-24-1 DIN rail mount AC-DC power supply, rated at 24 V 40 A (960 W) with a 60 A (1440 W) peak for 4 seconds. The product has 
...
Read more...
---
Power supply protects against hour-long power failures
February 2019, Siemens Digital Factory & Process Indust. & Drives , Electrical Power & Protection
Siemens has upgraded its Sitop PSU8600 power supply system with the addition of new supplementary modules to transform it into an uninterruptible DC power supply. To achieve this, the new DC UPS module 
...
Read more...
---
Rockwell Automation expands power range
February 2019, Rockwell Automation , Electrical Power & Protection
Rockwell Automation has expanded the power ranges and capabilities of TotalForce technology for its Allen-Bradley PowerFlex 755T AC drives. The drives now offer an expanded power range, helping engineers 
...
Read more...
---