printer friendly version
Compact contactor solutions
January 2019
Electrical Power & Protection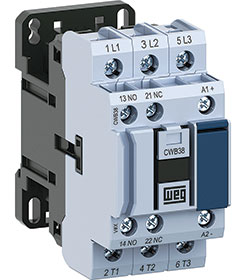 Engineered to provide a compact contactor solution, the WEG CWB range of devices offers a width space saving of up to 18%. Developed in two frame sizes, the contactors meet a range of industrial and domestic application requirements. The first contactor in the range, covering up to 38 A, has a width of only 45 mm while the second contactor, ranging from 40 to 80 A, has a width of 54 mm. Two mounting options, standard DIN rail or oblong mounting holes makes interchangeability easy.
Significantly, the space saving allows the use six contactors where previously only five could be used. Another innovative engineering feature is the use of WEG's Zero-Width mechanical interlocking system. Traditionally contactors use a mechanical interlock device which is external to the contactor. The Zero-Width system facilitates quick and easy mechanical interlocking between contactors, without the need for tools. In addition, this feature allows the user to build a reversing starter up to 38 A with a total width of only 90 mm.
Built-in front auxiliary contacts not only enhance the space saving benefit, but also eliminate the need to purchase additional auxiliary contacts. This feature also offers greater flexibility as it facilitates optimisation of the internal space in electrical panels.
In another innovation, the contactors have been engineered with integral surge suppressor blocks without increasing the physical size of the devices. This limits undesired interference which could be caused during the opening of the contactor coils and allows for the front mount surge suppressor to be easily removed without the use of special tools.
Energy saving is achieved through the low consumption of the coils, which allows direct switching from PLCs without the need for interface relays. This facilitates both space and cost savings for the end-user.
Available at competitive pricing from Zest WEG Group's branches and national distributor network, the WEG CWB range of contactors affords customers a high level of flexibility.
Credit(s)
Further reading:
Regulation of motor efficiency could help stabilise SA's power supply
September 2019, Zest WEG Group , News
South Africa could go a long way to cut the risk of future load-shedding by adopting a minimum efficiency performance standard (MEPS) for electric motors. According to Fanie Steyn, manager rotating machines 
...
Read more...
---
Cut the complexity of panel design
September 2019, ElectroMechanica , Electrical Power & Protection
A low-voltage electrical distribution system design to reduce the complexities often associated with panel design is available from leading local supplier ElectroMechanica (EM). Quadro+ from Hager combines 
...
Read more...
---
Ultra slim DIN rail power supplies
September 2019, Vepac Electronics , Electrical Power & Protection
XP Power has announced the DSR range of AC-DC DIN rail power supplies approved for industrial control systems and information technology equipment applications. These versatile supplies provide reliable 
...
Read more...
---
Oil dielectric RF termination loads
September 2019, Comtest , Electrical Power & Protection
For maximum process repeatability and consistency, modern plasma applications require precise RF power regulation and control. A key component in ensuring accurate and repeatable RF power delivery to 
...
Read more...
---
Outsmarting the DC switch arc
August 2019, Phoenix Contact , Electrical Power & Protection
Trouble-free switching even of higher DC loads up to 250 VDC and 10 A can be realised by means of selecting a special coupling relay, preferably with blowout magnet.
Read more...
---
Movidrive for screen filters
August 2019, SEW-Eurodrive , Electrical Power & Protection
An industrial water filtration specialist that has used gearmotors from SEW-Eurodrive for many years has adopted its Movidrive inverters with CMP servo motors and customisable iPOS software for its latest 
...
Read more...
---
Fast payback on steam cogeneration
August 2019, Zest WEG Group , Electrical Power & Protection
Fast payback on steam turbine cogeneration systems makes this power source an attractive option across numerous industries. This is according to Leandro Magro, manager steam turbines at Zest WEG Group, 
...
Read more...
---
Power-factor correction to cut ­energy costs
August 2019, ElectroMechanica , Electrical Power & Protection
Power-factor correction is a mechanism to reduce operating costs associated with electricity consumption. Some of the key advantages here are reduced kVA charges, improved plant efficiency and network 
...
Read more...
---
Battery monitoring for power utilities
August 2019, Comtest , Electrical Power & Protection
Comtest now offers the Midtronics Cellguard ELS+ electrolyte level monitoring system, an innovative solution for power utilities' critical power reliability. This customer-driven product assures reliable 
...
Read more...
---
Motor repair in Zambia keeps mine pumping
August 2019 , Electrical Power & Protection
Marthinusen & Coutts' Cleveland Engineering Services Division, a division of Actom, recently teamed up with the Marthinusen & Coutts Kitwe facility in Zambia to rehabilitate medium voltage pump motors 
...
Read more...
---