printer friendly version
Compact contactor solutions
January 2019
Electrical Power & Protection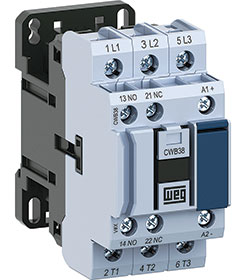 Engineered to provide a compact contactor solution, the WEG CWB range of devices offers a width space saving of up to 18%. Developed in two frame sizes, the contactors meet a range of industrial and domestic application requirements. The first contactor in the range, covering up to 38 A, has a width of only 45 mm while the second contactor, ranging from 40 to 80 A, has a width of 54 mm. Two mounting options, standard DIN rail or oblong mounting holes makes interchangeability easy.
Significantly, the space saving allows the use six contactors where previously only five could be used. Another innovative engineering feature is the use of WEG's Zero-Width mechanical interlocking system. Traditionally contactors use a mechanical interlock device which is external to the contactor. The Zero-Width system facilitates quick and easy mechanical interlocking between contactors, without the need for tools. In addition, this feature allows the user to build a reversing starter up to 38 A with a total width of only 90 mm.
Built-in front auxiliary contacts not only enhance the space saving benefit, but also eliminate the need to purchase additional auxiliary contacts. This feature also offers greater flexibility as it facilitates optimisation of the internal space in electrical panels.
In another innovation, the contactors have been engineered with integral surge suppressor blocks without increasing the physical size of the devices. This limits undesired interference which could be caused during the opening of the contactor coils and allows for the front mount surge suppressor to be easily removed without the use of special tools.
Energy saving is achieved through the low consumption of the coils, which allows direct switching from PLCs without the need for interface relays. This facilitates both space and cost savings for the end-user.
Available at competitive pricing from Zest WEG Group's branches and national distributor network, the WEG CWB range of contactors affords customers a high level of flexibility.
Credit(s)
Further reading:
A game changer for MCCs
April 2019, Zest WEG Group , News
The replacement of steel by aluzinc in the manufacture of Shaw Controls' motor control centres (MCCs) is giving a range of benefits to the company's customers. "Traditionally we used only steel for our 
...
Read more...
---
Contactless energy transfer system for an automotive assembly line extension
April 2019, SEW-Eurodrive , Electrical Power & Protection
The Movitrans contactless energy transfer system from SEW-Eurodrive, in conjunction with its Movipro SDC decentralised drive, position and application controller, has played a critical role in an assembly 
...
Read more...
---
VSDs drive cost saving in pumping systems
April 2019, Zest WEG Group , Electrical Power & Protection
WEG variable speed drives (VSDs) offer the agricultural sector the ability to reduce the operating cost on automated water collection systems with a reduction in motor energy consumption when the motor 
...
Read more...
---
Power module with load sharing
April 2019, Accutronics , Electrical Power & Protection
TDK Corporation has announced the introduction of the DRM40 series of DIN rail mount redundancy modules. Two 10 30 V DC inputs are rated at 20 A each and the output at 40 A. A 150% peak load capability 
...
Read more...
---
Cummins technology and innovation
April 2019 , Electrical Power & Protection
Powering a world that's always on
At the recent Middle East Electricity (MEE) exhibition held at the Dubai World Trade Centre, visitors could discover a range of the latest power products, systems and 
...
Read more...
---
Stakeless earth ground loop testing
April 2019, Comtest , Electrical Power & Protection
Testing the grounding components of equipment in hard to reach spaces, including areas that are indoors or fully paved and do not permit driving auxiliary test stakes, is always challenging. Comtest is 
...
Read more...
---
Let there be light
March 2019, RJ Connect , Electrical Power & Protection
Fuel cell system helps channel electricity to rural community.
Read more...
---
Convection cooled 600 W AC-DC supplies
March 2019, Accutronics , Electrical Power & Protection
TDK Corporation has announced the introduction of the GXE600 series of 600 W AC-DC power supplies, certified to the IEC 60601-1 medical safety standard as well as IEC 62368-1. In a 1U high package, these 
...
Read more...
---
Dry-type transformers for water project
March 2019 , Electrical Power & Protection
Dry-type transformer specialist Trafo Power Solutions has secured an order for 13 custom-designed cast resin units for Rand Water's large Zuikerbosch Wastewater Treatment Works near Vereeniging. The 
...
Read more...
---
Converters for building technology
March 2019, Siemens Digital Industries , Electrical Power & Protection
Siemens presented a new converter series at last year's SPS IPC Drives. The converters of the new Sinamics G120X series are especially suited for use in pump and fan applications in industries such as 
...
Read more...
---