printer friendly version
Ham-Let moves into the future with smart valves
December 2018
Pneumatics & Hydraulics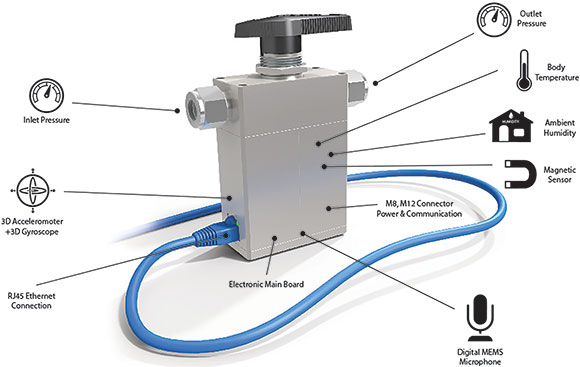 The Ham-Let Group has manufactured high-quality instrumentation valves, fittings and auxiliary products for fluid systems in a variety of markets since 1950, and has now launched its first smart valve ready to connect to the Internet. The company has incorporated cloud-based technology into its products to increase reliability, reduce costs and open up new possibilities that were previously too expensive or too complex to implement. As a complete oil and gas portfolio company, Ham-Let continues to make efforts to supply unique safety solutions that bring best value in terms of total cost of ownership.
Maximum reliability for general service applications
The Ham-Let IoT-H800L ball valve delivers maximum reliability and high lifecycle for general service applications in the instrumentation field and has integrated IIoT sensors to provide a variety of services that improve performance and total cost of ownership.
Users benefit from this unique design which increases productivity by sending real-time alarms and collecting and sending essential data securely to the cloud or to servers on premise. The valve uses innovative technology to measure media and ambient environment through built-in sensors (temperature, inlet and outlet pressures, acoustic, vibration and humidity), which use programmable rules to control the valve. For example, the valve automatically shuts off when a differential pressure limit is reached and sends real-time reports and alarm notifications in case of abnormal operation. This reduces total cost of ownership by eliminating the need for peripheral sensors and their associated fittings, and by eliminating leakage risk.
The IoT-H800L ball valve is built on open architecture to enable quick customisation and integration into current frameworks utilising common communications protocols with built-in integration to IIoT clouds. These unique capabilities make the valve flexible enough to fit any scenario that users require to solve local business challenges.
Amir Widmann, Ham-Let Group CEO, commented, "As we have gone through the Industry 4.0 revolution, we increasingly realised the need to move to digital systems and connect the valves to the cloud. Previously, a valve was only able to open and close. Now, the Ham-Let IIoT valves can sense the matter that passes through them, as well as various environmental conditions such a temperature, pressure, vibration, humidity, acoustics and more. Using a combination of machine learning, edge computing and the cloud, connected IIoT valves provide customers with accurate and cost-effective measurement and monitoring capabilities."
Ham-Let Innovation Centre
The Ham-Let Group have been chosen to operate a laboratory of technological innovation on behalf of the Israel Innovation Authority. The laboratory will focus on technologies in the field of intelligent process industry and the IIoT.
The purpose is to encourage industrial corporations, especially those involved in advanced production, to take part in cooperative ventures with technological entrepreneurs as a lever for growth and the building of future strategy. The laboratory will serve as a structured platform for cooperation between industrial corporations and start-up companies in a variety of fields such as automotive, robotics, 3D printing, and others. Ham-Let has one of the most advanced production plants in Israel with extensive investment in infrastructure and technology, making it ideal for entrepreneurs in the field of smart industry to examine new technologies.
The unique equipment to be used by the start-up companies that will be absorbed in the Ham-Lat Group includes metalworking machines, robotics, electro-polishing systems and advanced coatings, welds and orbitals, a wide range of unique machines, ultra-clean rooms for manufacturing and development laboratories. Ham-Let's technological laboratory intends to absorb many projects in a wide range of fields. Each project will be evaluated in accordance with the laboratory's ability to assist and in accordance with its relevance to the interests of the Ham-Let Group.
The laboratory is supported by a specific ecosystem for technology companies with partners, including academic institutions, business centres, and investment bodies. It is an important addition to the industrial companies with whom Ham-Let operates on a regular basis, which include hundreds of local and international manufacturers.
Widmann concluded: "We are excited to open our facilities to start-up companies and entrepreneurs that focus on smart industry projects. Ham-Let supports many industries and this gives us an opportunity to test innovative new products and then offer them to our customers."
For more information contact Stuart Harvey, Fluid Systems Africa, +27 87 551 1677, stuart@fluidsystemsafrica.co.za, www.fluidsystemsafrica.co.za
Credit(s)
Further reading:
SMC is here to stay
August 2019, SMC Corporation South Africa , Pneumatics & Hydraulics
Kim Roberts [KR]: How does SMC SA fit into SMC's global vision and strategy?
Peter Findlay [PF]:
SMC entered the South African market directly in 2015 as a subsidiary of SMC UK, and in turn as a subsidiary 
...
Read more...
---
How the latest pneumatics can reduce plant costs
August 2019, Parker Hannifin Sales Company South , Pneumatics & Hydraulics
The implementation of predictive maintenance has become a high-held ambition for many modern plants, a strategy that avoids the costs of both reactive and scheduled preventative maintenance by only deploying maintenance routines exactly when needed; namely, shortly before a pneumatic component is predicted to fail.
Read more...
---
Boltight hydraulic bolt tightening from BMG
August 2019, Bearing Man Group t/a BMG , Pneumatics & Hydraulics
BMG's Nord-Lock bolting solutions now include Boltight hydraulic bolt tensioning tools, which are used to tighten bolts simultaneously, ensuring even preload in industrial applications and extreme environments, 
...
Read more...
---
Robotics meets artificial intelligence
June 2019, Festo , Pneumatics & Hydraulics
Whether its grabbing, holding or turning, touching, typing or pressing – in everyday life, we use our hands as a matter of course for the most diverse tasks. In that regard, the human hand, with its unique 
...
Read more...
---
Parker Hannifin introduces couplings for quick and easy installation
May 2019, Parker Hannifin Sales Company South , Pneumatics & Hydraulics
Parker Hannifin now offers quick connection couplings for its NSA series, notable for features including their low weight. NSA couplings are available in nickel-plated brass or stainless steel, while 
...
Read more...
---
VUVS-LT Poppet Valve
Technews Industry Guide: Maintenance, Reliability & Asset Optimisation 2019, Festo , Pneumatics & Hydraulics
Frequently used in different locations and exposed places, the VUVS-LT Poppet Valve can take a lot – all without losing its good looks. Simple on the outside, sturdy on the inside, it is the ideal combination 
...
Read more...
---
Optimum hydraulic performance through cost effective filtration solutions
Technews Industry Guide: Maintenance, Reliability & Asset Optimisation 2019, Hydrasales , Pneumatics & Hydraulics
Maintenance personnel have to facilitate optimum hydraulic system performance through their programmes, hence the incorporation of oil cleanliness checks, or oil contamination monitoring should not be 
...
Read more...
---
The advantages of rolled vs. cut threads for fluid system instrumentation fittings
March 2019, Fluid Systems Africa , Pneumatics & Hydraulics
A new level in leak tightness from Fluid Systems Africa.
Read more...
---
Ready for smart manufacturing
March 2019, Metal Work Pneumatic South Africa , Pneumatics & Hydraulics
Metal Work's new EB80 is an electro-pneumatic system consisting of a solenoid valve assembly with fieldbus or multi-pin control, and modules to manage analog or digital input/output signals. It can accommodate 
...
Read more...
---
Fluid Systems Africa official distributor in Africa for Advanced Pressure Technology
February 2019, Fluid Systems Africa , News
Fluid Systems Africa has been appointed official distributor in Africa for AP Tech as its official distributor in Africa and is looking forward to supporting its customers in resolving their fluid system 
...
Read more...
---