printer friendly version
Siemens launches Distributed Energy System for Africa
December 2018
Electrical Power & Protection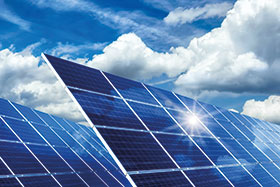 Africa's energy transition is happening now. Population and economic growth are major factors that play a role in increased energy consumption and the evolving energy landscape. The era of the Internet of Energy (IoE) means that industry is identifying new ways to drive and optimise its own conversion to clean, renewable power generation and supply, and because the need to rely on large power plants for energy is diminishing, Microgrids are being implemented to ensure reliable and sustainable energy when outages occur, and even when too much pressure is placed on the national grid.
To this end, Siemens has launched a one of a kind, end-to-end Distributed Energy System (DES) at its head office in Midrand, as a solution to tackle Africa's energy transition. The launch took place after an interactive discussion between Sabine Dall'Omo, Siemens CEO for Southern and Eastern Africa and media partner CNBC Africa as well key industry players, around the role that Distributed Energy Systems plays in Africa's energy transition.
The system is built around a 1 MW PV-solar plant strategically positioned throughout the Siemens Park campus that takes full advantage of the African sun. Captured solar power is then integrated into the Sicam Microgrid Controller. Excess energy is stored in a 140 kWh Siestorage installation, with the entire system monitored, visualised and controlled via the IIoT energy platform – Monet.
Combining efforts from local and global company experts, this is the first Siemens DES solution of its kind in Africa, and is in line with the company's goal to achieve carbon neutrality by 2030 through energy efficiency, decentralised energy systems, and the purchasing of clean electricity.
The project provides a showcase to current and prospective customers on a proven Siemens solution that will help them save energy, cut costs, lower carbon emissions and ensure uninterrupted power. "Microgrids and DES solutions are ideal for Africa because they are designed for a specific purpose, be it communities or industry," says Dall'Omo. "But it also means you can have diverse power supplies, such as solar or wind during the day, then switch over to other forms of generation like biomass when the conditions for renewables are poor."
The Sicam 8000 Microgrid Controller is the intelligence behind the system that stabilises the Siemens campus grid in case of an outage and allows for cost-optimised energy consumption. It took home the Digital Solution of the Year award at the Africa Utility Week Industry Gala Awards.
Solutions in Africa for Africa
The challenges currently facing Africa's energy sector are urging private businesses, communities and educational institutions to curtail their dependence on the traditional, centralised model of linear power generation and delivery, and to identify efficient power generation solutions.
"The DES is designed to provide uninterrupted power and ensure a steady and reliable electricity supply for the continent's growing demand," explains Dall'Omo. "Industry, hospitals, corporate parks and small communities, for example, can also improve their energy costs and operations by adapting similar strategies and implementing DESs.
"This system will drive down our organisations energy costs and cut carbon emissions. We have already reduced the energy demand from the national grid by approximately 40% compared to previous years and more savings are expected with further optimisation."
In a next step, the system will be connected with the Siemens Desigo CC Building Management System and Smart Metering network in the buildings.
For more information contact Keshin Govender, Siemens South Africa, +27 11 652 2412, keshin.govender@siemens.com, www.siemens.co.za
Credit(s)
Further reading:
Comos version 10.3 saves time
Technews Industry Guide: Industrial Internet of Things & Industry 4.0, Siemens Digital Industries , IT in Manufacturing
Modular engineering with intelligent templates and central data storage.
Read more...
---
Digitalisation drives compressed air system development
Technews Industry Guide: Industrial Internet of Things & Industry 4.0, Siemens Digital Industries , IT in Manufacturing
German company, Otto Boge (Boge), develops compressed air systems for which it offers an extensive portfolio of components, machines and complete plants. To increase the efficiency of its production, 
...
Read more...
---
Guaranteed power protection
July 2019, Schneider Electric South Africa , Electrical Power & Protection
During energy month, it may be time to assess what equipment in your office or data centre is critical to keep online. Adopting smart uninterruptible power supply (UPS) technology has become the preferred 
...
Read more...
---
Quick transformer turnaround for KZN mine
July 2019 , Electrical Power & Protection
When a mining company in KwaZulu-Natal experienced a transformer failure recently, it was hoping for a quick solution. The mine got one from dry-type transformer specialist Trafo Power Solutions. It took 
...
Read more...
---
UPS for industrial networks
July 2019, Phoenix Contact , Electrical Power & Protection
The new Quint DC UPS uninterruptible power supply can be integrated into established networks, and continues to supply systems without interruption even in the event of a mains failure. It can be integrated 
...
Read more...
---
Smart Grid solutions enhance utility revenue collection
July 2019, Schneider Electric South Africa , Electrical Power & Protection
At African Utility Week in Cape Town, Johan Pretorius, business development manager, Schneider Electric South Africa, presented a paper on 'The Impact of Revenue Collection on Non-Technical Losses'. "The 
...
Read more...
---
Leonardo fitted with backup power by Zest WEG Group
July 2019, Zest WEG Group , Electrical Power & Protection
As Sandton anticipates the completion this year of the Leonardo, the top end mixed-use skyscraper being constructed by Aveng-Grinaker LTA, Level 1 BBBEE-rated Zest WEG Group has supplied generator sets 
...
Read more...
---
Systematic flow metering
July 2019, Siemens Digital Industries , Flow Measurement & Control
Aguas de Saltillo, the water utility company which serves the Mexican city of Saltillo, is responsible for supplying drinking water to a population of around 850 000. To ensure a reliable supply to this 
...
Read more...
---
Future-proof chair lift system
July 2019, Siemens Digital Industries , Motion Control & Drives
At Snow Space, a winter sports resort near Salzburg, Bergbahnen Wagrain, operates the Sonntagskogelbahn 2, a chair lift for taking skiing enthusiasts to the piste. To provide the most comfortable ride 
...
Read more...
---
New functions for Sinamics V90 servo converter
July 2019, Siemens Digital Industries , Motion Control & Drives
New functions are being added to the proven Sinamics V90 servo drive system with the V1.11 version of the Sinamics firmware. The Fast PTI mode is now available for the drive system, increasing Pulse Train 
...
Read more...
---