printer friendly version
Temperature measurement within the plastics industry
December 2018
Temperature Measurement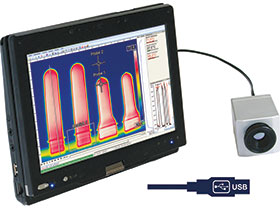 Temperature is an important measurement parameter for many process techniques used in the plastics industry. Non-contact temperature measurement using an infrared sensor system is therefore an effective method for process monitoring and control, which supports high quality levels and good process integration.
Within the plastics industry, the production and testing of products is subject to numerous thermal processes. Infrared thermometers or pyrometers are often used for single point temperature measurement when the critical point within the process is known. Infrared cameras are well equipped to reveal fault points, especially the compact and fast Optris PI thermal imager. Infrared cameras help to visualise thermal procedures and therefore optimise and monitor the processes.
Plastic processors produce a large variety of products with different dimensions, thickness, texture, colour and embossing patterns. Depending on the framework conditions, infrared thermometers and infrared cameras can be used to secure and improve the processes.
Process control during thermoforming
An important application for infrared temperature sensors is the fitting of pyrometers in thermoforming and packing machines.
During the thermoforming process, the material is heated to 190°C with infrared emitters and then thermally homogenised. High homogeneity over the surface and a specific set up of the converting temperature leads to higher quality results during reforming. A defined cooling range closes the process.
To achieve steady product quality and avoid local combustion and crack formation, the Optris PI infrared camera is used to regulate the temperature profile during the production run. Pyrometers regulate the temperature at selected measurement points.
At a customer of Optris, the infrared thermometer Optris CT LT has been set-up in one line at the heating zone exit to monitor the temperature profile and visualise temperature gradients. This allows the machine operators to monitor the complete temperature profile.
To monitor the profile during embossing, the manufacturer uses Optris CT LT pyrometers measuring in single point and installed across the direction of motion. The temperature measurements are visualised at the PLC, making it possible to use the temperature traits for process monitoring.
Injection moulding – reduction of distortion
During the production of injection moulded parts, dimensional stability is of importance. During the process, the molten plastic is injected at pressure into the forming tool.
The outer skin of the product then sets before it is separated. This stabilises the component, as the middle is mostly still liquid and the stored heat slowly dissipates to the outside. If too much heat is stored in the component during separation, distortion can take place, resulting in dimensions that are out of specification.
The Optris PI thermal imager contributes to the optimisation of the tool temperature through the heating and cooling systems. Online monitoring detects the maximum component temperature after separation. The cooling time can therefore be increased if the temperature is above specification, or reduced if it is below.
Until now, only samples of the temperature were taken and longer closing times set up as a precaution – a waste of capacity. The Optris PI infrared camera solves this problem as it can be used to monitor the production temperature without disruption or contact with the parts. A resultant productivity increase occurs since more components can be produced simultaneously.
For more information contact Instrotech, +27 10 595 1831, sales@instrotech.co.za, www.instrotech.co.za
Credit(s)
Further reading:
Keller's water level monitoring systems
April 2019, Instrotech , Level Measurement & Control
The Grib Mine, located in Russia's Mezensky District in the Arkhangelsk Oblast, is one of the largest diamond deposits in the world. During winter, temperatures can drop to -25° and sometimes -37°. The 
...
Read more...
---
Insertion resistance thermometers
April 2019, Instrotech , Temperature Measurement
Instrotech is offering Kobold's MMA range of industrial temperature probes, or insertion resistance thermometers, with or without transmitter. The MMA is engineered using 316 stainless steel and incorporates 
...
Read more...
---
Fixed thermal imaging for process heating
April 2019, R&C Instrumentation , Temperature Measurement
Noncontact temperature measurement is widely used for industrial process monitoring and control. Infrared (IR) thermal imaging can provide detailed information to help improve product quality and increase 
...
Read more...
---
Low volume rotating vane flowmeter
April 2019, Instrotech , Flow Measurement & Control
Instrotech is offering Kobold's DTK rotating vane flowmeter for small quantities, a versatile, efficient and very economic piece of equipment. This flowmeter was specially developed for use in low viscosity 
...
Read more...
---
Electromagnetic flowmeter for conductive fluids
April 2019, Instrotech , Flow Measurement & Control
Instrotech is offering the Kobold electromagnetic inductive flowmeter for conductive fluids – the model DMH – with a standard accuracy of ± 0,3% of reading stability of zero. It is used specifically for 
...
Read more...
---
Web data logger
April 2019, GHM Messtechnik SA , Temperature Measurement
There is ongoing tightening up of regulations that impact upon industries where the monitoring of measurements of illuminance, temperature, atmospheric pressure, humidity and CO
2
is critical in the manufacture 
...
Read more...
---
PRO series cameras with leading-edge technology
Technews Industry Guide: Maintenance, Reliability & Asset Optimisation 2019, Comtest , Temperature Measurement
When diagnosing problems, capturing and displaying small temperature variances makes all the difference. Comtest now offers Fluke's Ti480 and Ti450 PRO series infrared cameras, recently fine-tuned to 
...
Read more...
---
Compact plastic temperature probe
March 2019, ASSTech Process Electronics + Instrumentation , Temperature Measurement
Jumo has introduced the new plastoSens T04 plastic temperature probe, which can measure the temperature in injection moulding processes by simply being placed on a pipe. To measure the temperature, different 
...
Read more...
---
Relative humidity probe hands control to the user
March 2019, Instrotech , Sensors & Transducers
The Michell HygroSmart HS3 advanced interchangeable relative humidity and temperature probe is 100% configurable to give users maximum flexibility. It also allows for alterations to RH measurements, to 
...
Read more...
---
Temperature probes for all applications
March 2019, ASSTech Process Electronics + Instrumentation , Temperature Measurement
Kimo offers an extensive range of thermocouple and RTD temperature probes that come as standard products or can be custom made to suit the measuring requirements. The thermocouple types are fitted with 
...
Read more...
---