printer friendly version
Mass flow measurement of gases
November 2018
Mass Measurement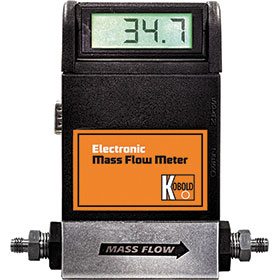 The Kobold MAS mass flowmeter works according to the calorimetric method and was conceived for gas flow measurement. Since gases can be compressed, the volume changes with pressure and temperature. In practice this means that calibration should be done for a particular working pressure and temperature. This conversion is not needed with the MAS device because the mass flow of the gas is determined by measuring the heat transfer.
The gas is led through a laminar-flow bypass and due to the pressure difference that arises a small quantity of gas branches off into the measuring pipe. With laminar flow, the distribution ratios of both gas quantities remain constant, which is important for the calculation of the flow volume. There are two temperature measuring points (RTD elements) in the measuring tube arranged in sequence (one behind the other). The gas flowing through is subjected to a constant amount of heat. The gas molecules absorb that heat and carry it away. This creates a temperature difference between the sensors that increases with the amount of gas flowing. The temperature difference creates a resistance difference in the RTD elements. It is now only necessary to convert the temperature difference into the standard mass flow. A rotating LCD display shows the corresponding volume flow in standard units per minute. The digital display makes it virtually impossible to make a reading error.
Typical applications are in process control, laboratories, gas display tables, OEM applications, leakage rate testing, filter monitoring and gas flow calibration. The sophisticated measuring procedure and modern electronics in the MAS greatly simplifies the measurement of gas flow.
For more information contact Instrotech, +27 10 595 1831, sales@instrotech.co.za, www.instrotech.co.za
Credit(s)
Further reading:
Robust oxygen analyser for challenging conditions
June 2020, Instrotech , Analytical Instrumentation & Environmental Monitoring
A major supplier of nitrogen generators has selected Michell's XTP601 oxygen analyser to ensure N2 quality as part of its engineered systems for the oil and gas industry in the Middle East. The containerised 
...
Read more...
---
Process moisture analyser
June 2020, Instrotech , Analytical Instrumentation & Environmental Monitoring
Michell Instruments has announced that an independent report confirms excellent measurement performance of its OptiPeak TDL600 process moisture analyser. A new report undertaken by DBI Gas und Umwelttechnik 
...
Read more...
---
Advanced pump control
June 2020, Instrotech , Valves, Actuators & Pump Control
Factory automation continues to develop year on year and pumps are increasingly required to supply real-time operating data to control networks so that their performance can be monitored and adjusted 
...
Read more...
---
Belt conveyor weighing applications
June 2020, Loadtech Loadcells , Mass Measurement
Loadtech's LT1320 is a precision digital indicator for belt weighing applications. The unit takes the weight and speed information from a belt conveyor system and accurately calculates the rate and total 
...
Read more...
---
Covid-19 early detection strategy
May 2020, Instrotech , Sensors & Transducers
Instrotech would like to make it known that it has a specialised early detection system on offer, that allows for fast, non-contact screening and identification of school learners, tertiary students and 
...
Read more...
---
Electromagnetic flowmeter upgrade
May 2020, Instrotech , Flow Measurement & Control
Instrotech has announced that the Kobold magnetic inductive flowmeters MIM and MIS have been upgraded and further developed as follows: Kobold MIM, for measuring and monitoring of conductive liquids, 
...
Read more...
---
Oval wheel flowmeters
April 2020, Instrotech , Flow Measurement & Control
Instrotech has on offer three Kobold oval wheel flowmeters that give precise flow measurement for all viscous, non-abrasive clean liquids and can be used in a number of diverse applications, such as measurement 
...
Read more...
---
Mini oval wheel flowmeter
April 2020, Instrotech , Flow Measurement & Control
Instrotech now offers another space miracle from Kobold for OEM customers. With an all stainless steel body and temperature measurement for fuel consumption, the DOE offers different pulse output options, 
...
Read more...
---
Inspection system for coronavirus detection
April 2020, Instrotech , Temperature Measurement
The coronavirus and other diseases are highly infectious and transferred by sick people or contaminated objects. Globally, aircraft are one way that this virus is quickly exported worldwide. China, the 
...
Read more...
---
Kobold optimises gas burner maintenance
Technews Industry Guide: Maintenance, Reliability & Asset Optimisation 2020, Instrotech , Maintenance, Test & Measurement, Calibration
Whenever the flow of gases needs to be adjusted or monitored, Kobold's model UTS variable area flowmeter for monitoring gas burners offers a solution. This compact measuring instrument can be placed at 
...
Read more...
---