printer friendly version
BMG fluid technology services
November 2018
Pneumatics & Hydraulics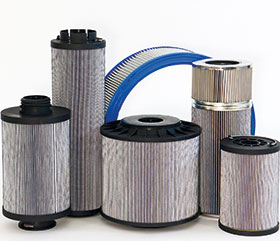 BMG's fluid technology services include solutions for hydraulics and pneumatics, lubrication, fuel and industrial filtration systems, hydraulic hose and fittings, as well as instrumentation, pumps and industrial valves.
"The range encompasses FG EcoPart filter elements for stationary and mobile hydraulic systems," says David Dyce, business unit manager, Fluid Technology, BMG. "These components, with defined filter performance and purity class, comply with stringent DIN and ISO standards and have all other necessary standard industry approvals. The series is available in different versions, with various grades of fineness."
These components are suitable for diverse hydraulic applications, as well as gear oil treatment. The filter elements are designed to reduce solid particle contamination, prevent the ingress of dirt from the environment and maintain the properties of the hydraulic fluid for an extended time period.
Included are a range of FG desiccant breathers designed to protect machines from the damage caused by moisture and the ingress of particles. When contaminated air enters the top of the breather, it passes through layered filter media, blocking particles from entering and thus preventing wear to equipment surfaces. The filtered air passes through a bed of silica gel, which effectively removes moisture. Silica keeps the equipment dry by attracting moisture from inside the equipment reservoir during service or shut-down.
FG desiccant breathers have an enlarged housing, which ensures up to 20% more absorption of moisture than conventional breathers. The centre tube is constructed from a robust nylon material, providing rigidity to the element and allowing an even air flow through the silica gel. For additional system protection, secondary filter media prevent any possible migration of silica dust.
Breathers are suitable for use in hydraulic units where there is high humidity and temperature fluctuation. Typical applications include wind energy, power plants, tunnel construction, aerospace and manufacturing processes, as well as petrochemical and chemical plants.
For more information contact Lauren Holloway, BMG, +27 11 620 7597, laurenhy@bmgworld.net, www.bmgworld.net
Credit(s)
Further reading:
The role of maintenance-free couplings in the sugar industry
May 2019, Bearing Man Group t/a BMG , Motion Control & Drives
BMG works closely with engineers in the sugar industry, providing engineering solutions and technical services to enhance production efficiencies at every mill and refinery. "BMG's specialist services 
...
Read more...
---
Parker Hannifin introduces couplings for quick and easy installation
May 2019, Parker Hannifin Sales Company South , Pneumatics & Hydraulics
Parker Hannifin now offers quick connection couplings for its NSA series, notable for features including their low weight. NSA couplings are available in nickel-plated brass or stainless steel, while 
...
Read more...
---
BMG acquires Rustenburg Engineering and Joerg Foundry
April 2019, Bearing Man Group t/a BMG , News
Through BMG's acquisition of Rustenburg Engineering and Joerg Foundry in 2018, the company is now a major player the foundry industry. "This strategic investment in a dynamic sector of engineering broadens 
...
Read more...
---
VUVS-LT Poppet Valve
Technews Industry Guide: Maintenance, Reliability & Asset Optimisation 2019, Festo , Pneumatics & Hydraulics
Frequently used in different locations and exposed places, the VUVS-LT Poppet Valve can take a lot – all without losing its good looks. Simple on the outside, sturdy on the inside, it is the ideal combination 
...
Read more...
---
Optimum hydraulic performance through cost effective filtration solutions
Technews Industry Guide: Maintenance, Reliability & Asset Optimisation 2019, Hydrasales , Pneumatics & Hydraulics
Maintenance personnel have to facilitate optimum hydraulic system performance through their programmes, hence the incorporation of oil cleanliness checks, or oil contamination monitoring should not be 
...
Read more...
---
The advantages of rolled vs. cut threads for fluid system instrumentation fittings
March 2019, Fluid Systems Africa , Pneumatics & Hydraulics
A new level in leak tightness from Fluid Systems Africa.
Read more...
---
BMG and Eaton Hydraulics enhance partnership agreement
March 2019, Bearing Man Group t/a BMG , News
The well-established partnership between BMG and Eaton Hydraulics has been enhanced with the recent accreditation of BMG's Johannesburg head office facility – BMG World – as the exclusive Eaton Hydraulics 
...
Read more...
---
Chain wear indicators
March 2019, Bearing Man Group t/a BMG , Maintenance, Test & Measurement, Calibration
BMG has extended its range of Tsubaki chain wear indicators with the addition of the recently launched large-size gauges. "These indicators enable plant and machinery engineers to measure roller chain 
...
Read more...
---
Ready for smart manufacturing
March 2019, Metal Work Pneumatic South Africa , Pneumatics & Hydraulics
Metal Work's new EB80 is an electro-pneumatic system consisting of a solenoid valve assembly with fieldbus or multi-pin control, and modules to manage analog or digital input/output signals. It can accommodate 
...
Read more...
---
BMG and Fenner celebrate 90 years in SA
January 2019, Bearing Man Group t/a BMG , News
BMG, which acquired FPT Distribution SA (Fenner Power Transmission) over 20 years ago, celebrates Fenner's 90th anniversary of business in South Africa this year. "BMG is proud to be the exclusive distributor 
...
Read more...
---