printer friendly version
Nord drives for wash-down ­applications
November 2018
Motion Control & Drives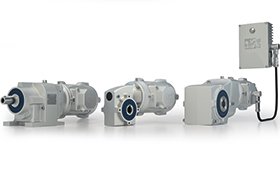 BMG's range of Nord aluminium drives is available with the nsd tupH (sealed surface conversion system) anti-corrosion treatment, which has been developed for improved process reliability in extreme environmental conditions and hygienically critical applications.
"Nord's corrosion protection system, which is resistant to acids and alkalis, is a highly efficient treatment for gear units, smooth motors, frequency inverters and motor starters used in wash-down applications," explains Derrick Louw, Nord product specialist, BMG. "The drive units are a robust alternative to painted geared motors or stainless steel versions. The surface treatment process permanently bonds a high hardness layer to the substrate to offer the same corrosion resistance as stainless steel. Advantages include extended surface life, a substantially lower mass, improved installation options and cost efficiency.
"The easy-to-clean surface treatment is not a coating like a paint layer, which can detach or flake off. This durable layer offers optimum protection against scratching, blistering and the penetration of corrosion, even if the unit is damaged. As a surface conversion system, it is highly resistant to extreme environments and aggressive cleaning chemicals, even under high pressure wash-down conditions."
Nord drives with nsd tupH comply with FDA Title 21 CFR 175.300 and, for this reason, are suitable for food applications. They have been successfully tested for blistering, corrosion, scratching and salt spray and resistance to common cleaning agents used in the food industry.
Typical applications for the drives with nsd tupH surface treatment include the food and beverage industry, bottling and canning plants, water treatment and sewage plants, as well as offshore and onshore applications. This range is suitable for use in any plant that requires a wash-down after production.
The range, assembled locally by BMG according to stringent international quality and safety specifications, has earned recognition for reliability, efficiency, reduced noise levels, extended service life and minimal maintenance requirements.
For more information contact Lauren Holloway, BMG, +27 11 620 7597, laurenhy@bmgworld.net, www.bmgworld.net
Credit(s)
Further reading:
Case History 166: Feel and understanding, or lack thereof
May 2019, Michael Brown Control Engineering , Motion Control & Drives
I was present at a very interesting discussion the other day with people who are leaders in the automation and control industry. The subject was how jobs would disappear over the next decade or two as 
...
Read more...
---
Control costs with ABB drives
May 2019, ABB South Africa , Motion Control & Drives
ABB is showcasing the ACS580 and ACS480 drives, which offer ready-made solutions for a wide range of applications. Along with energy savings, these drives contain enough functionality to replace various 
...
Read more...
---
Extraordinary power control
May 2019, KVMTech , Motion Control & Drives
EPower controllers have measurement accuracy and functionality that deliver extraordinary power control, improving process performance and saving on energy costs. Covering all types of load and voltage, 
...
Read more...
---
SEW-Eurodrive's mechatronic drive system for the bakery industry
May 2019, SEW-Eurodrive , Motion Control & Drives
SEW-Eurodrive is assisting the bakery industry to improve efficiency and reduce energy consumption by means of its Movigear mechatronic drive system. The company has enjoyed a longstanding relationship 
...
Read more...
---
Siemens extends drive system functionality
May 2019, Siemens Digital Industries , Motion Control & Drives
Siemens now offers new features in the firmware and hardware for the Sinamics S120 drive system. Operation is made easier in firmware V5.2 through the integration of the web server, which has a new, responsive 
...
Read more...
---
SEW-Eurodrive helps French Spiderman
May 2019, SEW-Eurodrive , Motion Control & Drives
Specialist rigging company, Film Riggers, was recently called upon to ensure the safety of Alain Robert, aka the French Spiderman, while he scaled a skyscraper in central Johannesburg to create an advertisement 
...
Read more...
---
The role of maintenance-free couplings in the sugar industry
May 2019, Bearing Man Group t/a BMG , Motion Control & Drives
BMG works closely with engineers in the sugar industry, providing engineering solutions and technical services to enhance production efficiencies at every mill and refinery. "BMG's specialist services 
...
Read more...
---
BMG acquires Rustenburg Engineering and Joerg Foundry
April 2019, Bearing Man Group t/a BMG , News
Through BMG's acquisition of Rustenburg Engineering and Joerg Foundry in 2018, the company is now a major player the foundry industry. "This strategic investment in a dynamic sector of engineering broadens 
...
Read more...
---
Case History 165: Interesting tests on loop problems show how much can be deduced from the results.
March 2019, Michael Brown Control Engineering , Motion Control & Drives
I have published many articles showing problems in control loops with figures showing the tests conducted to determine the problems. This time, by way of a change, I would like to suggest that readers 
...
Read more...
---
BMG and Eaton Hydraulics enhance partnership agreement
March 2019, Bearing Man Group t/a BMG , News
The well-established partnership between BMG and Eaton Hydraulics has been enhanced with the recent accreditation of BMG's Johannesburg head office facility – BMG World – as the exclusive Eaton Hydraulics 
...
Read more...
---