Medium-voltage switchgear that doesn't require SF6
November 2018
Electrical Power & Protection

printer friendly version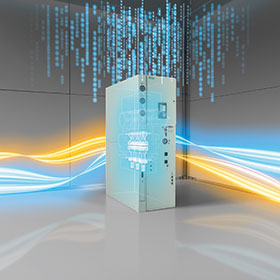 At this year's Hannover Messe, Siemens presented another medium-voltage switchgear that doesn't require SF6 as the insulating gas, the 8DAB 12. The system uses clean air consisting only of the natural constituents of ambient air as the insulating gas. The switchgear is a new addition to the 8DA and 8DB product family and also works with the proven vacuum switching technology. A vacuum-interrupter unit handles switching and arc extinguishing, while the natural gas insulates the current-carrying conductors inside the housing of the metal-encapsulated gas-insulated switchgear (GIS). This type-tested system is used to switch high currents at the primary distribution level. The single-pole encapsulated 8DAB 12 is a SF6-free medium-voltage switchgear in the Siemens blue GIS portfolio. Switches and switchgear that use SF6 as the insulating, switching, and extinguishing gas remain an important part of the Siemens portfolio.
"With the addition of the 8DAB 12, we're systematically expanding our portfolio of medium-voltage switchgear," says Stephan May, CEO of the Siemens Medium Voltage and Systems business unit. "We'll continue to offer our customers proven vacuum switching technology and single-pole switchgear encapsulation. They can now select the characteristics of the insulating gases used, depending on their requirements. The functionality and dimensions remain the same as the switchgear in our 8DA series." The new blue GIS portfolio is Siemens' answer to the market requirements of customers who want to use both the proven properties of GIS systems in their power grids as well as a non-chemical insulating medium. The blue GIS portfolio represents Siemens' work with insulating media that contain no fluorine gases and meet all the strictest safety and environmental standards.
In recent years, the company has intensively researched alternative insulating materials and technologies that approximate the properties of SF6-based gas mixtures and simultaneously ensure safe and economical switchgear operation. The gas contained in the 8DAB 12 medium-voltage switchgear consists exclusively of natural constituents of the ambient air with no chemical additives. These constituents are, for example, nitrogen (N2) and oxygen (O2). The 8DAB 12 is a gas-insulated medium-voltage switchgear that works with the proven vacuum switching technology, so the operator benefits from all the advantages of this technology: no maintenance, compact design, high operating and personal safety, and high availability. Clean air provides the added benefits of easier handling during installation and recycling. In addition, it is not necessary to report the quantity of gas used.
Siemens has been using its vacuum interruption technology in its medium-voltage switchgear for more than 40 years. It is also used in high-voltage systems and recently in switchgear up to 145 kV as well. With vacuum switching technology, when the contacts open the switching arc burns in a metal vapour plasma between the contacts inside the vacuum extinction chamber. The metal vapour condenses back onto the contacts after the arc is extinguished. No decomposition products occur, and the arc doesn't affect the surrounding insulation. This means that natural gases that aren't suitable for extinguishing arcs can be used to insulate the current-carrying conductors.
For more information contact Jennifer Naidoo, Siemens Digital Factory and Process Industries and Drives, +27 11 652 2795, jennifer.naidoo@siemens.com, www.siemens.co.za
Credit(s)
Further reading:
Digital Enterprise offering with ­future technologies for Industry 4.0
February 2019, Siemens Digital Factory & Process Indust. & Drives , IT in Manufacturing
By expanding its Digital Enterprise portfolio and integrating future technologies, Siemens is driving forward the digital transformation of the discrete and process industries.
Read more...
---
Siemens and MineSense to develop real-time ore grade measurement solution
February 2019, Siemens Digital Factory & Process Indust. & Drives , News
With ore grades declining, plus added pressures such as rising energy costs and water restrictions, it is increasingly difficult for mining companies to fulfil customer demand by delivering material on 
...
Read more...
---
Simple connection of converters supports cloud-based applications
February 2019, Siemens Digital Factory & Process Indust. & Drives , IT in Manufacturing
The new Sinamics Connect 300 from Siemens provides a simple plug-and-play solution for integrating converters of the Sinamics family into the IT world. The new solution is suitable for low-voltage converters 
...
Read more...
---
Compact soft starters for control of three-phase motors
February 2019, ElectroMechanica , Electrical Power & Protection
Soft starters limit the inrush current, improving overall stability of the power supply and reducing transient voltage drops, which may affect other loads in a network. They are ideal for applications 
...
Read more...
---
Forward-thinking municipality uses pumps to generate electricity
February 2019 , Electrical Power & Protection
A technical team serving the requirements of the Drakenstein municipality in the Western Cape has designed one of the country's largest pump and turbine stations to be used for water reticulation to the 
...
Read more...
---
How to optimise power quality in critical applications
February 2019, Schneider Electric South Africa , Electrical Power & Protection
As global energy consumption continues to rise, energy is becoming more decentralised and decarbonised. While demand is estimated to increase by 70% through 2040, 50% of new energy generation capacity 
...
Read more...
---
Compact DIN rail power supply
February 2019, Accutronics , Electrical Power & Protection
TDK Corporation has announced the introduction of the TDK-Lambda brand DRF960-24-1 DIN rail mount AC-DC power supply, rated at 24 V 40 A (960 W) with a 60 A (1440 W) peak for 4 seconds. The product has 
...
Read more...
---
Power supply protects against hour-long power failures
February 2019, Siemens Digital Factory & Process Indust. & Drives , Electrical Power & Protection
Siemens has upgraded its Sitop PSU8600 power supply system with the addition of new supplementary modules to transform it into an uninterruptible DC power supply. To achieve this, the new DC UPS module 
...
Read more...
---
Rockwell Automation expands power range
February 2019, Rockwell Automation , Electrical Power & Protection
Rockwell Automation has expanded the power ranges and capabilities of TotalForce technology for its Allen-Bradley PowerFlex 755T AC drives. The drives now offer an expanded power range, helping engineers 
...
Read more...
---
Protecting pumps in hazardous ­areas
January 2019, Siemens Digital Factory & Process Indust. & Drives , IS & Ex
Safety has top priority wherever flammable media are used in industry. This applies in particular to the chemical industry, where flammable liquids are produced, processed and transported by pumps in 
...
Read more...
---