printer friendly version
Medium-voltage switchgear that doesn't require SF6
November 2018
Electrical Power & Protection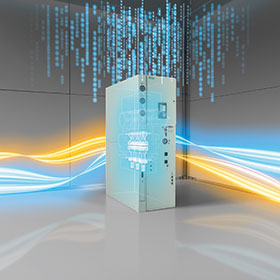 At this year's Hannover Messe, Siemens presented another medium-voltage switchgear that doesn't require SF6 as the insulating gas, the 8DAB 12. The system uses clean air consisting only of the natural constituents of ambient air as the insulating gas. The switchgear is a new addition to the 8DA and 8DB product family and also works with the proven vacuum switching technology. A vacuum-interrupter unit handles switching and arc extinguishing, while the natural gas insulates the current-carrying conductors inside the housing of the metal-encapsulated gas-insulated switchgear (GIS). This type-tested system is used to switch high currents at the primary distribution level. The single-pole encapsulated 8DAB 12 is a SF6-free medium-voltage switchgear in the Siemens blue GIS portfolio. Switches and switchgear that use SF6 as the insulating, switching, and extinguishing gas remain an important part of the Siemens portfolio.
"With the addition of the 8DAB 12, we're systematically expanding our portfolio of medium-voltage switchgear," says Stephan May, CEO of the Siemens Medium Voltage and Systems business unit. "We'll continue to offer our customers proven vacuum switching technology and single-pole switchgear encapsulation. They can now select the characteristics of the insulating gases used, depending on their requirements. The functionality and dimensions remain the same as the switchgear in our 8DA series." The new blue GIS portfolio is Siemens' answer to the market requirements of customers who want to use both the proven properties of GIS systems in their power grids as well as a non-chemical insulating medium. The blue GIS portfolio represents Siemens' work with insulating media that contain no fluorine gases and meet all the strictest safety and environmental standards.
In recent years, the company has intensively researched alternative insulating materials and technologies that approximate the properties of SF6-based gas mixtures and simultaneously ensure safe and economical switchgear operation. The gas contained in the 8DAB 12 medium-voltage switchgear consists exclusively of natural constituents of the ambient air with no chemical additives. These constituents are, for example, nitrogen (N2) and oxygen (O2). The 8DAB 12 is a gas-insulated medium-voltage switchgear that works with the proven vacuum switching technology, so the operator benefits from all the advantages of this technology: no maintenance, compact design, high operating and personal safety, and high availability. Clean air provides the added benefits of easier handling during installation and recycling. In addition, it is not necessary to report the quantity of gas used.
Siemens has been using its vacuum interruption technology in its medium-voltage switchgear for more than 40 years. It is also used in high-voltage systems and recently in switchgear up to 145 kV as well. With vacuum switching technology, when the contacts open the switching arc burns in a metal vapour plasma between the contacts inside the vacuum extinction chamber. The metal vapour condenses back onto the contacts after the arc is extinguished. No decomposition products occur, and the arc doesn't affect the surrounding insulation. This means that natural gases that aren't suitable for extinguishing arcs can be used to insulate the current-carrying conductors.
For more information contact Jennifer Naidoo, Siemens Digital Factory and Process Industries and Drives, +27 11 652 2795, jennifer.naidoo@siemens.com, www.siemens.co.za
Credit(s)
Further reading:
Electrical loggers for energy savings
October 2020, Comtest , Electrical Power & Protection
Fluke energy loggers deliver a complete picture to reduce energy costs and improve the bottom line.
Read more...
---
Power supply components and services for marine applications
October 2020 , Electrical Power & Protection
Vert Energy works closely with the marine and offshore sector offering the supply of quality branded components and the support of a comprehensive repair and maintenance service.
Read more...
---
Bringing intelligence to the shop floor with Siemens Industrial Edge
October 2020, Siemens Digital Industries , IT in Manufacturing
Siemens Industrial Edge closes the gap between local and cloud computing and enables high-frequency data exchange at field level.
Read more...
---
Validation goes digital
September 2020, Siemens Digital Industries , IT in Manufacturing
CVal allows customers in the pharmaceutical industry to produce digital, auditable plant documentation through efficient data handling across all disciplines using a central database and object orientation.
Read more...
---
Automation and digitalisation offer competitive edge in volatile markets
August 2020, Siemens Digital Industries , News
The current situation creates major challenges for industrial companies worldwide and shows that digitalised and highly automated production is more important than ever when it comes to gaining a competitive 
...
Read more...
---
Mines reduce fire hazards
August 2020 , Electrical Power & Protection
Underground mines in southern, central, and west Africa have been seeing the safety benefits of dry-type transformers from Johannesburg-based Trafo Power Solutions. According to managing director 
...
Read more...
---
RS Components stocks Eaton contactors
August 2020, RS Components SA , Electrical Power & Protection
RS Components now stocks Eaton's complete Moeller series of compact DILMT contactors. Easy to integrate in a variety of industrial machines and systems, the contactors enable space savings of up to 40%, 
...
Read more...
---
Siemens South Africa joins forces with the National Ventilator project community in response to the COVID-19 pandemic
June 2020, Siemens Digital Industries , News
Siemens has been a long-standing partner of the Council for Scientific and Industrial Research (CSIR) in South Africa and have cooperated in various field of research, including manufacturing and mining. 
...
Read more...
---
Siemens and Bentley Systems build digital twin for Indonesian petrochemical complex
June 2020, Siemens Digital Industries , News
Siemens and Bentley Systems will develop the first petrochemical digital twin in Indonesia for Chandra Asri, the country's largest integrated petrochemical complex. With over 27 year footprint, the latter 
...
Read more...
---
Power supplies for building automation
June 2020, Phoenix Contact , Electrical Power & Protection
The new Step Power power supplies from Phoenix Contact are specifically tailored to the needs of modern building automation. With their comprehensive approval package, which includes the standard 
...
Read more...
---