printer friendly version
PC-based control for the process industry
November 2018
IS & Ex
At Electra Mining 2018, Beckhoff took the opportunity to introduce the local market to its newly-expanded process competence. With its PC-based control architecture and the high-speed EtherCAT fieldbus, the company has always had the potential to implement process control solutions – in addition to its traditional machine automation capabilities – but what it lacked, was the ability to extend these into Ex zones. This has now changed. Benjamin Bruns, business manager process industry at Beckhoff, was out from Germany for the exhibition. SA Instrumentation and Control took the opportunity to chat to him along with Kenneth McPherson, managing director of Beckhoff's sub-Saharan Africa office, about this interesting new development.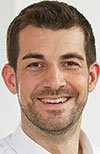 Benjamin Bruns.
From Zone 0 to the cloud
"The addition of Ex functionality is part of a strategy designed to open up new markets for our PC-based control architecture," explains Bruns. "Up until now most of our business has been in machine building, factory and motion control applications, but with the addition of the new explosion-proof components, our platform is now equally well suited to the hazardous conditions found in process industries, mining for example, or oil and gas."
At the I/O level, the EtherCAT terminals of the ELX series provide a compact solution for applications requiring intrinsically safe signal transmission to or from a field instrument or actuator. "We cover all common industry standards by connecting via process protocols such as HART, NAMUR and FDT/DTM, which have been integrated into the TwinCAT programming environment," says Bruns. "It's a powerful approach because from the terminal up, everything is communicated using the standard EtherCAT fieldbus. So all we need to do is add the HART data, for instance, to an EtherCAT message, and thus we enable all the benefits of a fast Ethernet communication platform."
In the ELX terminals, Beckhoff has achieved the explosion protection using galvanic isolation to ensure the same high accuracy and resolution of its standard ranges. The ATEX approved terminals are supported by a range of explosion-protected control panels and panel PCs of the CPX series, and from there, cloud communication is easily achieved using either the TwinCAT IoT software or an IoT coupler.
Open and fast and now Ex certified
Beckhoff's PC-based approach combines the classical control functions such as PLCs, measurement technology and communications into one powerful system. With the addition of the hazardous area components and the process technology updates to the TwinCAT software, the platform is now undoubtedly suitable for almost any process control type application. But why would anyone want to switch from an existing setup?
"Whether we like it or not, Industry 4.0 is steering process control towards more open system approaches," elaborates McPherson, who has been listening intently up to this point. "Not only that, but as the volumes of data increase, faster communication platforms will become
more and more important. We tick the first box with our PC-based approach, which allows us to integrate the best of the IT and process control worlds into a single architecture. As for the second, our system incorporates a fast Ethernet fieldbus as standard, and is supported by the largest fieldbus organisation of them all – the EtherCAT Technology Group."
"The addition of the explosion protection has positioned us perfectly for a move into process during the Industry 4.0 era," agrees Bruns. "But we have found the best way to prove the benefit of our system to end-users who may not be familiar with our technology is through pilot projects. We identify a problem at a site and then set up a Beckhoff solution independent from the main control platform, linked through a gateway if needed. Invariably clients are impressed by the ease of setup and overall performance of our system, to the extent
that the relationship develops from there."
McPherson nods and says that is exactly the right approach to take locally as most projects, at least initially, are likely to be of the brownfield type. Given the pressures the South African mining industry currently faces, it seems inevitable that the more forward thinking managers will soon consider the feasibility of digitalisation to improve operating margins. At that point, Kenneth McPherson and his team could find themselves ideally positioned for expansion, thanks to the impressive new hazardous area capability of the Beckhoff control platform. Supported by a fast, secure communication network and cloud-based analytics functionality, PC-based control just became an option for the process industry in South Africa.
For more information contact Michelle Murphy, Beckhoff Automation, +27 11 795 2898, michellem@beckhoff.com, www.beckhoff.co.za
Credit(s)
Further reading:
Tube connector for Ex areas
May 2020, Parker Hannifin - Sales Company South Africa , IS & Ex
Parker Hannifin has extended its Phastite permanent instrumentation connection range, which is now available in a number of corrosion-resistant alloys (CRAs), including Alloy 825, 625 and Super Duplex, 
...
Read more...
---
SMC's static removal solutions
November 2020, SMC Corporation South Africa , IS & Ex
Around the world, SMC Corporation has a long history in assisting customers in several industries with pneumatic solutions and components. Perhaps less well known in South Africa is the SMC ioniser range, 
...
Read more...
---
Portion cutter for fish and poultry
November 2020, Beckhoff Automation , System Integration & Control Systems Design
Extremely fast and highly precise meat portion cutter leverages PC control.
Read more...
---
Retrofit your vehicles with collision protection
November 2020, ifm - South Africa , IS & Ex
The camera-based anti-collision system from ifm automatically detects persons and obstacles in the rear area of the vehicle, warns the driver, and stops the vehicle if necessary.
Read more...
---
Safe use of Ethernet in Ex areas
November 2020, Turck Banner , IS & Ex
Turck is paving the way for the evaluation of plant data using its excom high-availability I/O system.
Read more...
---
PC-based control monitors road tunnel with flexible scalability
October 2020, Beckhoff Automation , System Integration & Control Systems Design
With more than 200 industrial PCs in operation, the Kaisermühlen Tunnel in Vienna shows that scalable PC-based control technology from Beckhoff is an optimum automation platform in this environment.
Read more...
---
Safety controllers with diagnostics
October 2020, Turck Banner , IS & Ex
The combination of an intuitive user interface and diagnostics makes it easy to design and troubleshoot complex safety systems in just a few clicks.
Read more...
---
PC-based control reduces complexity in folio applications
October 2020, Beckhoff Automation , System Integration & Control Systems Design
BW Papersystems relied on PC-based control for the development of the eCon folio-size sheeter, which greatly reduced complexity and costs compared to the legacy system it replaced.
Read more...
---
Modular towel production lines
September 2020, Beckhoff Automation , Motion Control & Drives
Rapid development and configuration of manufacturing systems for terrycloth towels with PC-based control.
Read more...
---
Open Beckhoff technology sets adoption record
September 2020, Beckhoff Automation , News
Now, with 3000 officially registered device manufacturers, EtherCAT has the broadest base of adoption in the industrial Ethernet market.
Read more...
---