Analysing pressure peaks
November 2018
Pressure Measurement & Control

printer friendly version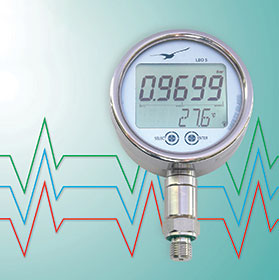 Keller's Leo 5 high-resolution digital manometer features precise sensor technology, fast signal processing, peak recording and data storage with a time stamp. Designed for deployment in hostile environments, the instrument features a robust stainless steel housing, safety glass front, a 16 mm backlit display and capacitive touch controls.
Recording and analysing pressure peaks
Undetected pressure 'spikes' are a common cause of premature wear and untimely failures in pneumatic and hydraulic systems. In freshwater systems, this phenomenon is sometimes called 'water hammer'. The Leo 5, with its pressure peak analysis mode, will sample and record system pressure at a rate of 5 kHz and with 16 bit resolution, enabling the troubleshooter to positively characterise system behaviour. With storage capacity for over 50 000 peak values, including temperature and time stamp, data from the data is exportable for detailed analysis via the included USB interface.
In the standard measurement mode, the unit operates at a sampling rate of 2 kHz and with an A-to-D resolution of 20 bits. The line-up includes seven standard full-scale pressure ranges between 3 and 1000 bar. In the temperature range of 0-50°C, the TEB (total error band) for pressure is ±0,5% FS.
Other features
The LEO 5 is available with a wide range of optional features, including a standard radio interface for measurements in inaccessible or mobile locations. Traditional analog outputs of 4-20 mA and 0-10 V DC and up to two switch outputs for process control and monitoring can also be provided. Configuration and data transmission take place via USB or RS-485 interface. Special housing materials, pressure connections and other user-specific options are available.
With high resolution for accurate measurement, pressure peak analysis and measurement data recording, the instrument has been adopted as an indispensable tool by pneumatic and hydraulic system mechanics.
For more information contact Instrotech, +27 10 595 1831, sales@instrotech.co.za, www.instrotech.co.za
Credit(s)
Further reading:
Battery powered digital temperature gauges
February 2019, Instrotech , Temperature Measurement
Kobold's DTE series of digital temperature gauges offers a wide range of industrial and analytical possibilities in applications where high accuracy and clear indication is required, and where alarm control 
...
Read more...
---
Dosage and fluid media monitoring
January 2019, Instrotech , Analytical Instrumentation & Environmental Monitoring
Kobold's ZED-D electronic dosage devices are ideally suited for dosing and monitoring fluid media. They process the signals from separately-installed flow sensors and are mostly freely configurable. The 
...
Read more...
---
Compact differential pressure transmitter
January 2019, Vepac Electronics , Pressure Measurement & Control
The Halstrup Walcher P 34 series differential pressure transmitter is designed for pressure monitoring applications in cleanrooms, laboratories, pharmaceutical plants and operating theatres as well as 
...
Read more...
---
Humidity measurement in poultry farms
December 2018, Instrotech , Sensors & Transducers
Methods of farming chickens vary from country to country, however the general temperature and humidity conditions required for the three stages of chicken lifecycle are always similar. Temperature and 
...
Read more...
---
Temperature measurement within the plastics industry
December 2018, Instrotech , Temperature Measurement
Temperature is an important measurement parameter for many process techniques used in the plastics industry. Non-contact temperature measurement using an infrared sensor system is therefore an effective 
...
Read more...
---
Hygienic diaphragm pressure gauges
December 2018, WIKA Instruments , Pressure Measurement & Control
WIKA has expanded the application range of its hygienic diaphragm pressure gauges with the model PG43SA-S, which is now also available in a version with ATEX approval. The pressure gauge can thus be used 
...
Read more...
---
Torque transducers for powertrains
December 2018, Instrotech , Sensors & Transducers
Climate change, urban air quality and the rising cost of energy have become the defining issues of the 21st century. With energy consumption and exhaust emissions from vehicles being significant contributors 
...
Read more...
---
Clearly visible flow measurement
November 2018, Instrotech , Flow Measurement & Control
To check the flow processes in pipeline systems and for insight into the interior of process pipes, many flow indicators are used in which the flowing medium sets a rotor turning and thus, to a large 
...
Read more...
---
Mass flow measurement of gases
November 2018, Instrotech , Mass Measurement
The Kobold MAS mass flowmeter works according to the calorimetric method and was conceived for gas flow measurement. Since gases can be compressed, the volume changes with pressure and temperature. In 
...
Read more...
---
Pressure measurement with dual display
October 2018 , Pressure Measurement & Control
The PSQ series dual digital display pressure sensors from Autonics allow users to monitor both PV and SV readings. The 12-segment LCD display is capable of displaying various alphanumeric characters for 
...
Read more...
---