printer friendly version
Railway current and voltage transducers
November 2018
Electrical Power & Protection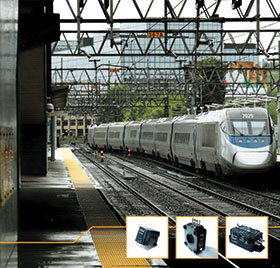 Swiss manufacturer LEM has released its new traction catalogue describing railway current and voltage transducers. The new catalogue outlines the various technologies used by an isolated transducer design, namely open-loop 'Hall', closed-loop 'Hall' and closed-loop fluxgate. Voltage transducers are based on closed-loop 'Hall' or new isolated digital technology, offering higher specifications.
The company provides transducers suitable for on-board rolling stock, for example, main rectifier, main inverter or drive propulsion inverter, auxiliary inverter. Trackside substation transducers are also available for rectifiers, DC switch-gear as well as DC energy monitoring. Also catered for are interference frequency detection, main transformer saturation detection, fault detection and ground leakage. The traction transducers are also suitable for mining trucks, trolley buses, subway railways and points machine monitoring.
LEM transducers carry a five year warranty and comply with European standards and regulations:
• EN 50463-x (2012): Railway application, Energy measurement on board trains, DC measurement Class 2 and AC measurement Class 1.5.
• EN50155 (2007): Railway applications, Electronic equipment used on rolling stock.
• EN50121-3-2 (2006): Railway applications, Electromagnetic compatibility. Part 3-2: Rolling stock – Apparatus.
• EN 61373 (2010): Railway applications, Rolling stock equipment, shock and vibration tests.
• EN 50121-1 (2001): Railway applications, installation coordination. Part 1: Basic requirements.
• IEC 62056-21 (2002): Electricity metering, Data exchange for meter reading, tariff and load control. Part 21: Direct local data exchange.
Credit(s)
Further reading:
Electrical loggers for energy savings
October 2020, Comtest , Electrical Power & Protection
Fluke energy loggers deliver a complete picture to reduce energy costs and improve the bottom line.
Read more...
---
Power supply components and services for marine applications
October 2020 , Electrical Power & Protection
Vert Energy works closely with the marine and offshore sector offering the supply of quality branded components and the support of a comprehensive repair and maintenance service.
Read more...
---
Mines reduce fire hazards
August 2020 , Electrical Power & Protection
Underground mines in southern, central, and west Africa have been seeing the safety benefits of dry-type transformers from Johannesburg-based Trafo Power Solutions. According to managing director 
...
Read more...
---
RS Components stocks Eaton contactors
August 2020, RS Components SA , Electrical Power & Protection
RS Components now stocks Eaton's complete Moeller series of compact DILMT contactors. Easy to integrate in a variety of industrial machines and systems, the contactors enable space savings of up to 40%, 
...
Read more...
---
Power supplies for building automation
June 2020, Phoenix Contact , Electrical Power & Protection
The new Step Power power supplies from Phoenix Contact are specifically tailored to the needs of modern building automation. With their comprehensive approval package, which includes the standard 
...
Read more...
---
Skid-mounted dry-type transformer
June 2020 , Electrical Power & Protection
In a specialised application on a coal mine, Trafo Power Solutions recently supplied a dry-type transformer mounted on a mobile skid. "The harsh environment of a coal mine required us to specially 
...
Read more...
---
Customised transformers for renewables and beyond
June 2020 , Electrical Power & Protection
A focus on application engineering allows Trafo Power Solutions to supply customised dry-type transformers for a range of sectors including renewable energy. "We begin at the proposal stage by engaging 
...
Read more...
---
Electrical certificate of compliance (COC) for instrumentation: non-hazardous installations
June 2020, Everest Equipment & Control , Electrical Power & Protection
An instrument and control installation's scope of work often never makes a request for a certificate of compliance: it is assumed to be an electrical function and hence many installations are non-compliant. 
...
Read more...
---
Five tips to manage energy use while staying at home
May 2020 , Electrical Power & Protection
Covid-19 continues to impact many aspects of our lives. Many are now required to stay at home in an effort to curb the spread of the pandemic. One of the many implications of staying at home will be the 
...
Read more...
---
Holistic approach to energy security
April 2020 , Electrical Power & Protection
As South Africans settle into the routine and inconvenience of load shedding and planning their activities around shifting electricity supply, it is businesses that are taking the biggest hit through 
...
Read more...
---