printer friendly version
SEW supplies industrial gear units for West African mine
November 2018
Motion Control & Drives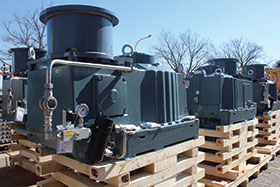 Having an in-house projects department to focus on the specific requirements of project houses, OEMs and other tender-related project activity is starting to bear fruit for drive and automation specialist SEW-Eurodrive South Africa, which has clinched an order for five M-Series industrial gear units for a mining operation in West Africa.
The department, headed by Andreas Meid and with Pat Marquez as project sales coordinator and Brett Weinmann in charge of project sales development, oversaw this entire venture from receipt of the initial order to successful installation and commissioning at the mine, in addition to any back-up service and technical assistance required.
It is this capability to offer complete solutions, as opposed to standalone products, in addition to the necessary aftermarket support, that has resulted in SEW's projects division showing consistent growth year-on-year. "We pride ourselves on our on-time delivery, which is a clear differentiator for us in a highly competitive market," comments Meid. "We are committed to supplying high-quality products, in addition to the continuous improvement of our customer service offering."
The department also has a drawing office and a mechanical engineer to compile any calculations that are needed. Its core function is to respond to queries from either project houses or OEMs for specific project work. It focuses mainly on greenfield projects related to conveyors, agitators, and mixers in mineral-processing applications.
"Based on the enquiries received, we work in conjunction with the specific project house or OEM to offer a complete solution for their mining clients," explains Meid. "In other words, our products essentially allow them to complete their portion of the work in hand." Such collaboration between suppliers and related companies is a growing trend in response to a tough business environment, and the customer requirement to reduce operating costs by installing the latest technology.
Project management is critical
The team liaise closely with their clients in order to best meet all technical requirements and time constraints. "Project management in this regard is critical, from the time that the order enters our system, to the point where the product is finally delivered," elaborates Marquez. "Once this stage is reached, other departments also become involved."
"We specialise in integrated solutions," adds Meid. "Many clients tend to regard SEW solely as a gear unit supplier, but we offer a host of ancillary services that can add significant value, reduce risk and downtime, and improve efficiency. This is why the projects department remains in a growth phase, with the bulk of its work being secured in the rest of Africa at present. In this regard, it also works closely with the Exports Department, headed by Marcio Sicchiero, to realise additional opportunities on the continent.
M-Series industrial gear units
In terms of main products, the M-Series industrial gear units (the M indicating modular) are ideal to meet the highest demands for quality, reliability, and performance. The product range has been optimised for a range of drive characteristics, allowing for simple machine design by easily adding options and mounting parts.
A long service life is guaranteed due to highly efficient lubrication and sealing, which also cuts down on maintenance requirements. Easy mounting and installation are facilitated by advanced features such as EBD (extended bearing distance) and an axial thrust bearing arrangement on the output shaft.
Looking to the future, Meid concludes that the company is well on its way to being perceived as a sole solutions provider for its clients: "This gives us the added possibility of integrating some of our latest electronics products as well in future. While our mechanical products remain our core focus, particularly given the harsh operating environment in Africa, combined with the lack of technical skills,
SEW-Eurodrive has always been sufficiently forward thinking to make sure clients have access to the latest technology and developments."
For more information contact Jana Klut, SEW-Eurodrive, +27 11 248 7000, jklut@sew.co.za, www.sew-eurodrive.co.za
Credit(s)
Further reading:
Case History 166: Feel and understanding, or lack thereof
May 2019, Michael Brown Control Engineering , Motion Control & Drives
I was present at a very interesting discussion the other day with people who are leaders in the automation and control industry. The subject was how jobs would disappear over the next decade or two as 
...
Read more...
---
Control costs with ABB drives
May 2019, ABB South Africa , Motion Control & Drives
ABB is showcasing the ACS580 and ACS480 drives, which offer ready-made solutions for a wide range of applications. Along with energy savings, these drives contain enough functionality to replace various 
...
Read more...
---
Extraordinary power control
May 2019, KVMTech , Motion Control & Drives
EPower controllers have measurement accuracy and functionality that deliver extraordinary power control, improving process performance and saving on energy costs. Covering all types of load and voltage, 
...
Read more...
---
SEW-Eurodrive's mechatronic drive system for the bakery industry
May 2019, SEW-Eurodrive , Motion Control & Drives
SEW-Eurodrive is assisting the bakery industry to improve efficiency and reduce energy consumption by means of its Movigear mechatronic drive system. The company has enjoyed a longstanding relationship 
...
Read more...
---
Siemens extends drive system functionality
May 2019, Siemens Digital Industries , Motion Control & Drives
Siemens now offers new features in the firmware and hardware for the Sinamics S120 drive system. Operation is made easier in firmware V5.2 through the integration of the web server, which has a new, responsive 
...
Read more...
---
SEW-Eurodrive helps French Spiderman
May 2019, SEW-Eurodrive , Motion Control & Drives
Specialist rigging company, Film Riggers, was recently called upon to ensure the safety of Alain Robert, aka the French Spiderman, while he scaled a skyscraper in central Johannesburg to create an advertisement 
...
Read more...
---
The role of maintenance-free couplings in the sugar industry
May 2019, Bearing Man Group t/a BMG , Motion Control & Drives
BMG works closely with engineers in the sugar industry, providing engineering solutions and technical services to enhance production efficiencies at every mill and refinery. "BMG's specialist services 
...
Read more...
---
SEW-Eurodrive drives for Greenfield coal mine
April 2019, SEW-Eurodrive , News
A Greenfield coal mine in the Mpumalanga coalfields region has standardised on drives from SEW-Eurodrive for its entire conveyor belt system. This entailed a massive 27-unit order that was assembled at 
...
Read more...
---
Zambian cement producer standardises on SEW-Eurodrive
April 2019, SEW-Eurodrive , News
A major cement producer in Zambia has not only standardised on products from SEW-Erodrive, but has also invested in a comprehensive stockholding of critical spare units to prevent any downtime and subsequent 
...
Read more...
---
Solution for wastewater treatment
April 2019, SEW-Eurodrive , Analytical Instrumentation & Environmental Monitoring
Industrial gear units and geared motors from SEW-Eurodrive South Africa are ideal for demanding applications such as agitators, mixers and aerators. Local OEM, Wamechsi Group has standardised on SEW products 
...
Read more...
---