printer friendly version
How to choose the right cable
October 2018
Enclosures, Cabling & Connectors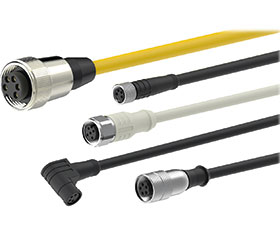 Cables are an essential part of any industrial application. Therefore, it is important to make sure to choose the appropriate cable material for the environment, especially where chemical cleaning solutions, cutting fluids, and other caustic liquids are present. The two main types of cables used in industrial applications are either PVC or PUR, and they are each suited to different types of environments. This article describes the difference between PVC and PUR cables and when to use them.
PVC cables and when to use them
Polyvinyl chloride (PVC) cables are an excellent choice for most chemical washdown applications in the food and beverage industry. They have excellent resistance to cleaning solvents including:
• Sodium hypochlorite.
• Sodium hydroxide.
• Potassium hydroxide.
• Peracetic acid.
• Hydrogen peroxide.
• Quaternary ammonium compounds.
It is also important to take into consideration the concentration of chemicals, temperature of the process, and the duration and frequency of exposure, since these factors can impact the suitability of PVC for these applications. Furthermore, PVC has limited resistance to oils, making it less suited for automotive and machine tool industries.
In addition to being resistant to common cleaning chemicals, PVC cables are generally more rigid than other types of cables. This makes them suitable for use in applications where they will be exposed to high temperature, high pressure washdown as the rigidity of the sheathing protects the cable from damage.
A PVC cable with IP69K rating means it is sealed against the ingress of water even during washdown. However, the rigidity of PVC cables can be a disadvantage in freezer applications, where low temperatures can cause the material to crack if the cables are flexed. Discuss specific applications with an expert to determine the best cable material in these circumstances.
PUR cables and when to use them
PUR (or polyurethane) is a thermoplastic material used for cable jackets. Since PUR cables are resistant to cutting fluids, oils, and other harsh chemicals, they are a good choice for many automotive manufacturing, stamping and machining applications.
PUR cables also have high tensile strength, tear and abrasion resistance. They are also extremely flexible, with a small bend radius. This makes them ideal for applications where connections move or bend frequently, such as robotic applications.
For more information contact Brandon Topham, RET Automation Controls, +27 11 453 2468, brandon.topham@retautomation.com, www.retautomation.com
Credit(s)
Further reading:
Maintenance transformed through machine learning
Technews Industry Guide: Maintenance, Reliability & Asset Optimisation 2019, Turck Banner , Maintenance, Test & Measurement, Calibration
This article explains what predictive maintenance is, how condition monitoring with machine learning works, and five capabilities to look for in a condition monitoring solution.
Read more...
---
Shock-proof linear position sensors
April 2019, Turck Banner , Sensors & Transducers
Turck's enhanced Li linear position sensors measure position values at a frequency of 5 kHz at measuring lengths of up to 2 metres. Turck has updated its contactless Li Q25 positioning systems and has 
...
Read more...
---
Wireless controller
April 2019, Turck Banner , PLCs, DCSs & Controllers
With three times faster processing speed and eight times more memory than previous models of the DXM controller, the new DXM700 provides expanded ScriptBasic programming capabilities and faster script 
...
Read more...
---
Hazardous area installations
March 2019, Pepperl+Fuchs , Enclosures, Cabling & Connectors
How to find the most efficient protected solution for each application.
Read more...
---
Background suppression laser sensor
March 2019, Turck Banner , Sensors & Transducers
Turck's Q5X laser sensor solves the most difficult distance-based applications, even at acute angles. The high-power laser sensor features excess gain, which enables the sensor to detect dark objects 
...
Read more...
---
M12 field wired push-in connectors
March 2019, Turck Banner , Enclosures, Cabling & Connectors
Turck has added M12 field wireable connectors with integrated push-in connection technology to its connectivity portfolio. The new connectors enable the user to complete rapid and safe manual assembly 
...
Read more...
---
Factor 1 sensors in a plastic barrel
March 2019, Turck Banner , Sensors & Transducers
Inductive sensors in a plastic threaded barrel design and with an antivalent output have been added to Turck's uprox series of factor 1 sensors, which offer the same large switching distance to all metals. 
...
Read more...
---
Enclosure series for explosion protection in process automation
February 2019, Pepperl+Fuchs , Enclosures, Cabling & Connectors
For many years, users have been waiting for a new, universal enclosure system in the field of electrical explosion protection. Having invested in this area, Pepperl+Fuchs has developed the GRP enclosure 
...
Read more...
---
Rittal's new industry-first enclosure system
February 2019, Rittal , Enclosures, Cabling & Connectors
Following the official launch of Rittal's new VX25 large enclosure system at last year's Hanover Trade Fair, Rittal South Africa unveiled this evolution during a customer day which took place last year. 
...
Read more...
---
RS launches rugged Molex connectors
February 2019, RS Components SA , Enclosures, Cabling & Connectors
RS Components has introduced the Molex Squba range of 1,80 mm sealed wire-to-wire connectors, designed to fit into small spaces while offering IP67 protection against liquid, dust and dirt. Squba supports 
...
Read more...
---