printer friendly version
Socomec's Digiware system deployed in Sandton
October 2018
Electrical Power & Protection
ElectroMechanica (EM) has supplied the Socomec Digiware system to a large South African corporation's head office in Sandton, where it is being used for electrical metering in compliance of a Green Star rating.
EM is the sole distributor of Socomec's metering offering and was contracted as a hardware supplier in this regard. Product manager Artur Socha explains that the system can cover a large number of metering points, is highly accurate, and also allows for significant space-saving in the electrical panels. The solution needed to be flexible and modular, and ultimately be able to translate data back to the building's power metering and building automation system software.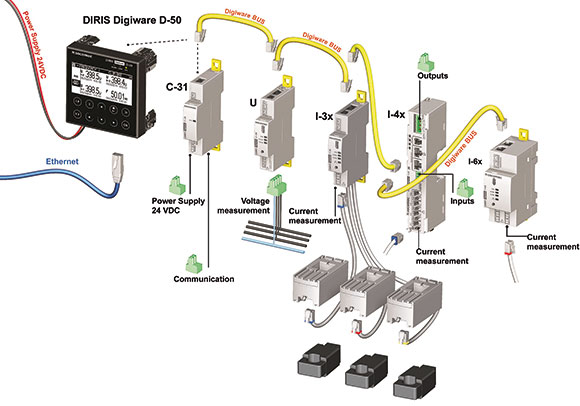 The total number of metered points exceeds 1500, from LV main distribution down to sub distribution board level. The metering of all power distribution units in the data centre was also included in the scope, thus adding to the overall requirement of providing metering hardware with a small installation footprint within the panels.
The Digiware system comprises technological innovations that revolutionise metering, bringing a high degree of flexibility to installations and making connection and configuration easy. These innovations combine to deliver performance in terms of accuracy and functionality. This makes it an effective solution for metering consumption, and measuring and monitoring the quality of electrical energy in industrial or commercial applications requiring a large concentration of points with a small footprint. "These were the main reasons that the system was selected for this mega-project," comments Socha.
The 12 000 square metre building is located in the heart of Sandton and in 2017, it received a five-star Green Star rating from the Green Building Council of South Africa, making it one of the largest new-build projects to receive this rating to date.
For more information contact Karen Zotter, ElectroMechanica, +27 11 249 5000, karenz@em.co.za, www.em.co.za
Credit(s)
Further reading:
Five tips to manage energy use while staying at home
May 2020 , Electrical Power & Protection
Covid-19 continues to impact many aspects of our lives. Many are now required to stay at home in an effort to curb the spread of the pandemic. One of the many implications of staying at home will be the 
...
Read more...
---
EM launches 2020 catalogue with 450 new products
April 2020, ElectroMechanica , News
ElectroMechanica has launched the latest edition of its biannual product catalogue. The catalogue covers a broad range of new developments across each of the various categories. "We place the same emphasis 
...
Read more...
---
Holistic approach to energy security
April 2020 , Electrical Power & Protection
As South Africans settle into the routine and inconvenience of load shedding and planning their activities around shifting electricity supply, it is businesses that are taking the biggest hit through 
...
Read more...
---
Save energy costs with highly-efficient Delta VFDs
April 2020, ElectroMechanica , Electrical Power & Protection
Customers can realise significant savings on their total energy costs by replacing older motor starters with energy-efficient Delta variable frequency drives (VFDs), distributed locally by ElectroMechanica 
...
Read more...
---
Utility made easy
April 2020, Schneider Electric South Africa , Electrical Power & Protection
In recognition of the growing demand for reliable power provision, Schneider Electric strives to assist network operators to deliver electricity safely and efficiently. The company's Advanced Distribution 
...
Read more...
---
Specialised transformers for renewable energy projects
April 2020, Zest WEG Group , Electrical Power & Protection
Zest WEG's local transformer manufacturing facility has supplied 36 specialised photovoltaic (PV) transformers to a solar energy generation plant in the Northern Cape. According to sales team leader, 
...
Read more...
---
Meeting the needs of the mining industry
April 2020, Varispeed (Div of Hudaco Trading) , Electrical Power & Protection
Both above and below ground, Varispeed keeps the interests of its customers top of mind, all the time. The company was recently approached by a platinum mine in South Africa to assist with a robust application. 
...
Read more...
---
Game-changing electrical accessories
April 2020, Schneider Electric South Africa , Electrical Power & Protection
In a world where products are moving from standardised to customised, today's consumers want high quality products that meet their specific requirements. Electrical accessories are no exception and Schneider 
...
Read more...
---
EnI Electrical delivers at the sharp end of African contracts
March 2020, Zest WEG Group , Electrical Power & Protection
Usually the last contractor on site, electrical instrumentation and control (EC&I) specialist EnI Electrical puts extra effort into helping clients around Africa meet their scheduled start-ups. With 
...
Read more...
---
In-house testing of transformers
March 2020, Zest WEG Group , Electrical Power & Protection
The recent installation of an impulse voltage generator at Zest WEG's transformer manufacturing facility in Heidelberg will allow in-house testing of transformers, saving time and money for customers. According 
...
Read more...
---