Power pack with industrial Ethernet and diagnostics
October 2018
Electrical Power & Protection

printer friendly version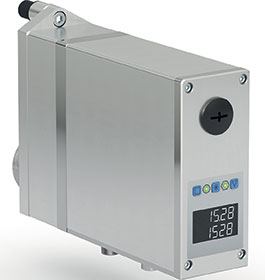 The motorised size changeover of machine spindles or machine axes is now being implemented in various ways. The solutions to this are often relatively rudimentary with no hand-wheel or crank being rotated, but one or more buttons are pressed instead. While this does not meet the requirements of an Industry 4.0 process chain, intelligent positioning drives can offer an efficient solution in such cases.
Intelligent networks such as industrial Ethernet provide a high degree of diagnostic capability for fault analysis, in addition to the efficient and fast exchange of process data. For a smart size changeover, actuating drives are therefore necessary. In addition to the purely motorised changeover, these drives permit a complex data exchange with control systems, reliably detect operating states outside the fixed range, and communicate status or error messages, for example. As a result, a constantly increasing load current could signal that the adjustment axis may be heavily contaminated by pollutants and has to be cleaned during the next maintenance service. This is precisely where the intelligent actuators from Siko add their value. In addition to the pure exchange of process data, these actuators also make all diagnostic values available in order to be able to prevent unplanned downtime from erroneous format setting.
The all-in-one drive
With the new AG24, Siko has now expanded its portfolio of positioning drives with intelligent RTE (real-time Ethernet). In addition to the tried and tested positioning drives AG25 and AG26, which are characterised by their ultra-compact design, the AG24 has been released to expand the portfolio of actuators. Despite the considerable output power and speed of the AG24, all the components are still integrated in a single housing. No external components or junction boxes are needed to connect to higher-level controllers. This means that the drive is connected only to the supply voltage and the port for data exchange has to be connected directly to the controller or the next drive in the network. A simpler network connection is hard to imagine.
Power pack in all situations
With a maximum rated torque of 14 Nm, the AG24 is a real power pack. The compact drive reaches its maximum changeover speed of 150 rpm at a nominal torque of 6 Nm and can fully automate virtually any manual adjustment effortlessly. Due to the hollow shaft with clamping ring and torque support, the drive is very simply adapted to the existing machine shaft without the basic construction of the adjustment unit having to be changed. Other shaft diameters or the force transmission via a feather key groove is available as an option. The robust metal housing is designed with a protection class of up to IP65.
With the integrated 2-line LCD and the keypad, not only can individual IP addresses be assigned, but the current actual value and the respective setpoint can also be directly monitored for diagnostics. Furthermore, via the display and the keyboard, it is possible to check each stored parameter and to adjust it if necessary. Possible operating data can be read out and errors can be diagnosed without an analysis via the fieldbus being necessary.
With the integrated position controller, the setpoints are approached accurately with up to 1024 steps per revolution. With an optional integrated electromechanical brake, the position is also held securely in the case of external mechanical loads. Even without a brake, though, users never lose control of the positions. The integrated absolute value sensor also detects motions in the no-current state, which is why the actual position of the drive can be read back at any time when the system is switched on again.
For more information contact Instrotech, +27 10 595 1831, sales@instrotech.co.za, www.instrotech.co.za
Credit(s)
Further reading:
Compact soft starters for control of three-phase motors
February 2019, ElectroMechanica , Electrical Power & Protection
Soft starters limit the inrush current, improving overall stability of the power supply and reducing transient voltage drops, which may affect other loads in a network. They are ideal for applications 
...
Read more...
---
Forward-thinking municipality uses pumps to generate electricity
February 2019 , Electrical Power & Protection
A technical team serving the requirements of the Drakenstein municipality in the Western Cape has designed one of the country's largest pump and turbine stations to be used for water reticulation to the 
...
Read more...
---
How to optimise power quality in critical applications
February 2019, Schneider Electric South Africa , Electrical Power & Protection
As global energy consumption continues to rise, energy is becoming more decentralised and decarbonised. While demand is estimated to increase by 70% through 2040, 50% of new energy generation capacity 
...
Read more...
---
Compact DIN rail power supply
February 2019, Accutronics , Electrical Power & Protection
TDK Corporation has announced the introduction of the TDK-Lambda brand DRF960-24-1 DIN rail mount AC-DC power supply, rated at 24 V 40 A (960 W) with a 60 A (1440 W) peak for 4 seconds. The product has 
...
Read more...
---
Power supply protects against hour-long power failures
February 2019, Siemens Digital Factory & Process Indust. & Drives , Electrical Power & Protection
Siemens has upgraded its Sitop PSU8600 power supply system with the addition of new supplementary modules to transform it into an uninterruptible DC power supply. To achieve this, the new DC UPS module 
...
Read more...
---
Rockwell Automation expands power range
February 2019, Rockwell Automation , Electrical Power & Protection
Rockwell Automation has expanded the power ranges and capabilities of TotalForce technology for its Allen-Bradley PowerFlex 755T AC drives. The drives now offer an expanded power range, helping engineers 
...
Read more...
---
Battery powered digital temperature gauges
February 2019, Instrotech , Temperature Measurement
Kobold's DTE series of digital temperature gauges offers a wide range of industrial and analytical possibilities in applications where high accuracy and clear indication is required, and where alarm control 
...
Read more...
---
Dosage and fluid media monitoring
January 2019, Instrotech , Analytical Instrumentation & Environmental Monitoring
Kobold's ZED-D electronic dosage devices are ideally suited for dosing and monitoring fluid media. They process the signals from separately-installed flow sensors and are mostly freely configurable. The 
...
Read more...
---
Compact contactor solutions
January 2019, Zest WEG Group , Electrical Power & Protection
Engineered to provide a compact contactor solution, the WEG CWB range of devices offers a width space saving of up to 18%. Developed in two frame sizes, the contactors meet a range of industrial and domestic 
...
Read more...
---
RS Components expands current transformer range
January 2019, RS Components SA , Electrical Power & Protection
RS Components has announced availability of a range of RS Pro current transformers targeting a wide range of applications including process control, motor control, utility power monitoring, control panels, 
...
Read more...
---