printer friendly version
Power pack with industrial Ethernet and diagnostics
October 2018
Electrical Power & Protection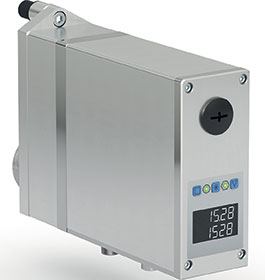 The motorised size changeover of machine spindles or machine axes is now being implemented in various ways. The solutions to this are often relatively rudimentary with no hand-wheel or crank being rotated, but one or more buttons are pressed instead. While this does not meet the requirements of an Industry 4.0 process chain, intelligent positioning drives can offer an efficient solution in such cases.
Intelligent networks such as industrial Ethernet provide a high degree of diagnostic capability for fault analysis, in addition to the efficient and fast exchange of process data. For a smart size changeover, actuating drives are therefore necessary. In addition to the purely motorised changeover, these drives permit a complex data exchange with control systems, reliably detect operating states outside the fixed range, and communicate status or error messages, for example. As a result, a constantly increasing load current could signal that the adjustment axis may be heavily contaminated by pollutants and has to be cleaned during the next maintenance service. This is precisely where the intelligent actuators from Siko add their value. In addition to the pure exchange of process data, these actuators also make all diagnostic values available in order to be able to prevent unplanned downtime from erroneous format setting.
The all-in-one drive
With the new AG24, Siko has now expanded its portfolio of positioning drives with intelligent RTE (real-time Ethernet). In addition to the tried and tested positioning drives AG25 and AG26, which are characterised by their ultra-compact design, the AG24 has been released to expand the portfolio of actuators. Despite the considerable output power and speed of the AG24, all the components are still integrated in a single housing. No external components or junction boxes are needed to connect to higher-level controllers. This means that the drive is connected only to the supply voltage and the port for data exchange has to be connected directly to the controller or the next drive in the network. A simpler network connection is hard to imagine.
Power pack in all situations
With a maximum rated torque of 14 Nm, the AG24 is a real power pack. The compact drive reaches its maximum changeover speed of 150 rpm at a nominal torque of 6 Nm and can fully automate virtually any manual adjustment effortlessly. Due to the hollow shaft with clamping ring and torque support, the drive is very simply adapted to the existing machine shaft without the basic construction of the adjustment unit having to be changed. Other shaft diameters or the force transmission via a feather key groove is available as an option. The robust metal housing is designed with a protection class of up to IP65.
With the integrated 2-line LCD and the keypad, not only can individual IP addresses be assigned, but the current actual value and the respective setpoint can also be directly monitored for diagnostics. Furthermore, via the display and the keyboard, it is possible to check each stored parameter and to adjust it if necessary. Possible operating data can be read out and errors can be diagnosed without an analysis via the fieldbus being necessary.
With the integrated position controller, the setpoints are approached accurately with up to 1024 steps per revolution. With an optional integrated electromechanical brake, the position is also held securely in the case of external mechanical loads. Even without a brake, though, users never lose control of the positions. The integrated absolute value sensor also detects motions in the no-current state, which is why the actual position of the drive can be read back at any time when the system is switched on again.
For more information contact Instrotech, +27 10 595 1831, sales@instrotech.co.za, www.instrotech.co.za
Credit(s)
Further reading:
Guaranteed power protection
July 2019, Schneider Electric South Africa , Electrical Power & Protection
During energy month, it may be time to assess what equipment in your office or data centre is critical to keep online. Adopting smart uninterruptible power supply (UPS) technology has become the preferred 
...
Read more...
---
Quick transformer turnaround for KZN mine
July 2019 , Electrical Power & Protection
When a mining company in KwaZulu-Natal experienced a transformer failure recently, it was hoping for a quick solution. The mine got one from dry-type transformer specialist Trafo Power Solutions. It took 
...
Read more...
---
UPS for industrial networks
July 2019, Phoenix Contact , Electrical Power & Protection
The new Quint DC UPS uninterruptible power supply can be integrated into established networks, and continues to supply systems without interruption even in the event of a mains failure. It can be integrated 
...
Read more...
---
Smart Grid solutions enhance utility revenue collection
July 2019, Schneider Electric South Africa , Electrical Power & Protection
At African Utility Week in Cape Town, Johan Pretorius, business development manager, Schneider Electric South Africa, presented a paper on 'The Impact of Revenue Collection on Non-Technical Losses'. "The 
...
Read more...
---
Leonardo fitted with backup power by Zest WEG Group
July 2019, Zest WEG Group , Electrical Power & Protection
As Sandton anticipates the completion this year of the Leonardo, the top end mixed-use skyscraper being constructed by Aveng-Grinaker LTA, Level 1 BBBEE-rated Zest WEG Group has supplied generator sets 
...
Read more...
---
Water regulation made easy
July 2019, Instrotech , Flow Measurement & Control
Kobold's REG mechanical flow restrictors and rate regulators, with their simple yet effective functionality, are ideally suited to consumer applications and uniform supply to multiple consumers. Once 
...
Read more...
---
UPS with integrated power supply and USB interface
June 2019, Phoenix Contact , Electrical Power & Protection
Supplying critical DC loads safely, increased system availability, confined spaces, and tough ambient conditions present system designers and operators with a variety of challenges.
Read more...
---
Power analysis and energy saving evolved
June 2019, HellermannTyton , Electrical Power & Protection
Advanced power and energy consumption analysis is now available using a smartphone or tablet. The TPQA820 is a true RMS, self-powered 3-phase power quality analyser used to analyse and record the most 
...
Read more...
---
Zest helps farmers find good 'ground'
June 2019, Zest WEG Group , Electrical Power & Protection
According to Zest WEG Group, there are misconceptions around what constitutes 'earth' and 'neutral' connections, and not understanding the differences can create serious problems when connections are 
...
Read more...
---
BMG enhances efficiency of solar tracking system
June 2019, Bearing Man Group t/a BMG , Electrical Power & Protection
BMG has extended the supply of Varvel gearboxes for small and medium power applications to include customised worm gearboxes for installation in photovoltaic solar tracking systems. "As part of BMG's 
...
Read more...
---