printer friendly version
Extensive electric motor range from Zest
October 2018
Electrical Power & Protection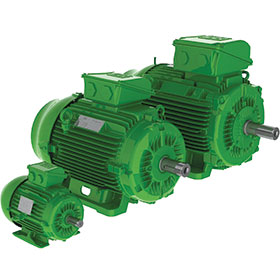 Electric motor applications require a reliable, robust fit-for-purpose product that gives the end user the requisite low total cost of ownership. Fanie Steyn, manager for rotating machines at Zest WEG Group, says it is encouraging that most industries in southern Africa have woken up to the fact that purchasing the standard efficiency motor is not always the best long-term option.
As a leading supplier of electric motors in southern Africa, the Zest WEG Group offers a comprehensive range. In previous years, all WEG low voltage electric motors were manufactured at WEG Brazil, but today this major group's manufacturing network extends to four continents. All facilities adhere to stringent quality control processes, are ISO 9001:2015 accredited and motors meet all the requisite international standards and regulations.
"The depth of the WEG low voltage range of electric motors allows us to offer customers the best fit for individual applications, and we are also able to draw from a line-up of motors that are engineered for specific application requirements," says Steyn.
The WEG range starts from 0,18 kW motors that would be used to drive small fans or used in exhaust applications and goes up to 1250 kW motors used to drive large pumps or ventilation fans. Electric motors for specialised applications would include slip ring motors, roller table motors, saw arbor motors, gas pump motors, pad mounted motors, smoke extraction motors, permanent magnet motors, cooling tower motors and wash down motors for hygienic applications.
"Another significant trend reaping benefits for customers is the move towards using premium efficiency electric motors, also known as IE3," explains Steyn. "While WEG electric motors are still available in standard efficiency, known as IE1, there is a remarkable increase in customers requesting IE3 motors because of the obvious energy savings that can be achieved."
Zest WEG Group operates an extensive distribution network ensuring easy access for customers across the sub-Saharan region. Steyn says customer demand is carefully monitored and stockholding is maintained accordingly to ensure the highest possible service levels at the group's nine strategically located regional branches.
Credit(s)
Further reading:
Guaranteed power protection
July 2019, Schneider Electric South Africa , Electrical Power & Protection
During energy month, it may be time to assess what equipment in your office or data centre is critical to keep online. Adopting smart uninterruptible power supply (UPS) technology has become the preferred 
...
Read more...
---
Quick transformer turnaround for KZN mine
July 2019 , Electrical Power & Protection
When a mining company in KwaZulu-Natal experienced a transformer failure recently, it was hoping for a quick solution. The mine got one from dry-type transformer specialist Trafo Power Solutions. It took 
...
Read more...
---
UPS for industrial networks
July 2019, Phoenix Contact , Electrical Power & Protection
The new Quint DC UPS uninterruptible power supply can be integrated into established networks, and continues to supply systems without interruption even in the event of a mains failure. It can be integrated 
...
Read more...
---
Smart Grid solutions enhance utility revenue collection
July 2019, Schneider Electric South Africa , Electrical Power & Protection
At African Utility Week in Cape Town, Johan Pretorius, business development manager, Schneider Electric South Africa, presented a paper on 'The Impact of Revenue Collection on Non-Technical Losses'. "The 
...
Read more...
---
Leonardo fitted with backup power by Zest WEG Group
July 2019, Zest WEG Group , Electrical Power & Protection
As Sandton anticipates the completion this year of the Leonardo, the top end mixed-use skyscraper being constructed by Aveng-Grinaker LTA, Level 1 BBBEE-rated Zest WEG Group has supplied generator sets 
...
Read more...
---
UPS with integrated power supply and USB interface
June 2019, Phoenix Contact , Electrical Power & Protection
Supplying critical DC loads safely, increased system availability, confined spaces, and tough ambient conditions present system designers and operators with a variety of challenges.
Read more...
---
Power analysis and energy saving evolved
June 2019, HellermannTyton , Electrical Power & Protection
Advanced power and energy consumption analysis is now available using a smartphone or tablet. The TPQA820 is a true RMS, self-powered 3-phase power quality analyser used to analyse and record the most 
...
Read more...
---
Zest helps farmers find good 'ground'
June 2019, Zest WEG Group , Electrical Power & Protection
According to Zest WEG Group, there are misconceptions around what constitutes 'earth' and 'neutral' connections, and not understanding the differences can create serious problems when connections are 
...
Read more...
---
BMG enhances efficiency of solar tracking system
June 2019, Bearing Man Group t/a BMG , Electrical Power & Protection
BMG has extended the supply of Varvel gearboxes for small and medium power applications to include customised worm gearboxes for installation in photovoltaic solar tracking systems. "As part of BMG's 
...
Read more...
---
RS Components introduces new Power over Ethernet injectors
June 2019, RS Components SA , Electrical Power & Protection
RS Components has announced availability of a new selection of Power over Ethernet (PoE) single-port mid-span power injectors manufactured by Phihong, a leader in advanced power solutions and a specialist 
...
Read more...
---