printer friendly version
Extensive electric motor range from Zest
October 2018
Electrical Power & Protection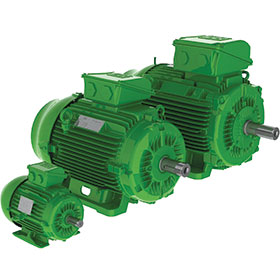 Electric motor applications require a reliable, robust fit-for-purpose product that gives the end user the requisite low total cost of ownership. Fanie Steyn, manager for rotating machines at Zest WEG Group, says it is encouraging that most industries in southern Africa have woken up to the fact that purchasing the standard efficiency motor is not always the best long-term option.
As a leading supplier of electric motors in southern Africa, the Zest WEG Group offers a comprehensive range. In previous years, all WEG low voltage electric motors were manufactured at WEG Brazil, but today this major group's manufacturing network extends to four continents. All facilities adhere to stringent quality control processes, are ISO 9001:2015 accredited and motors meet all the requisite international standards and regulations.
"The depth of the WEG low voltage range of electric motors allows us to offer customers the best fit for individual applications, and we are also able to draw from a line-up of motors that are engineered for specific application requirements," says Steyn.
The WEG range starts from 0,18 kW motors that would be used to drive small fans or used in exhaust applications and goes up to 1250 kW motors used to drive large pumps or ventilation fans. Electric motors for specialised applications would include slip ring motors, roller table motors, saw arbor motors, gas pump motors, pad mounted motors, smoke extraction motors, permanent magnet motors, cooling tower motors and wash down motors for hygienic applications.
"Another significant trend reaping benefits for customers is the move towards using premium efficiency electric motors, also known as IE3," explains Steyn. "While WEG electric motors are still available in standard efficiency, known as IE1, there is a remarkable increase in customers requesting IE3 motors because of the obvious energy savings that can be achieved."
Zest WEG Group operates an extensive distribution network ensuring easy access for customers across the sub-Saharan region. Steyn says customer demand is carefully monitored and stockholding is maintained accordingly to ensure the highest possible service levels at the group's nine strategically located regional branches.
Credit(s)
Further reading:
Zest adds geared motors to product range
May 2020, Zest WEG Group , Motion Control & Drives
A range of WEG geared motors with benefits including efficiency and reliability will soon be available to customers in South Africa and the rest of the continent from Zest WEG. According to national sales 
...
Read more...
---
Five tips to manage energy use while staying at home
May 2020 , Electrical Power & Protection
Covid-19 continues to impact many aspects of our lives. Many are now required to stay at home in an effort to curb the spread of the pandemic. One of the many implications of staying at home will be the 
...
Read more...
---
Holistic approach to energy security
April 2020 , Electrical Power & Protection
As South Africans settle into the routine and inconvenience of load shedding and planning their activities around shifting electricity supply, it is businesses that are taking the biggest hit through 
...
Read more...
---
Save energy costs with highly-efficient Delta VFDs
April 2020, ElectroMechanica , Electrical Power & Protection
Customers can realise significant savings on their total energy costs by replacing older motor starters with energy-efficient Delta variable frequency drives (VFDs), distributed locally by ElectroMechanica 
...
Read more...
---
Utility made easy
April 2020, Schneider Electric South Africa , Electrical Power & Protection
In recognition of the growing demand for reliable power provision, Schneider Electric strives to assist network operators to deliver electricity safely and efficiently. The company's Advanced Distribution 
...
Read more...
---
Specialised transformers for renewable energy projects
April 2020, Zest WEG Group , Electrical Power & Protection
Zest WEG's local transformer manufacturing facility has supplied 36 specialised photovoltaic (PV) transformers to a solar energy generation plant in the Northern Cape. According to sales team leader, 
...
Read more...
---
Meeting the needs of the mining industry
April 2020, Varispeed (Div of Hudaco Trading) , Electrical Power & Protection
Both above and below ground, Varispeed keeps the interests of its customers top of mind, all the time. The company was recently approached by a platinum mine in South Africa to assist with a robust application. 
...
Read more...
---
Game-changing electrical accessories
April 2020, Schneider Electric South Africa , Electrical Power & Protection
In a world where products are moving from standardised to customised, today's consumers want high quality products that meet their specific requirements. Electrical accessories are no exception and Schneider 
...
Read more...
---
Zest pioneers remote acceptance testing during lockdown
April 2020, Zest WEG Group , News
In an innovative step to keep a customer's mining project in the Democratic Republic of Congo (DRC) on schedule despite the impact of Covid-19, Zest WEG successfully conducted a remote witness test of 
...
Read more...
---
EnI Electrical delivers at the sharp end of African contracts
March 2020, Zest WEG Group , Electrical Power & Protection
Usually the last contractor on site, electrical instrumentation and control (EC&I) specialist EnI Electrical puts extra effort into helping clients around Africa meet their scheduled start-ups. With 
...
Read more...
---