Effective UPS monitoring
October 2018
Electrical Power & Protection

printer friendly version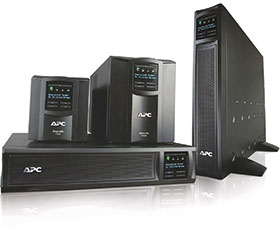 For more than three decades, the cornerstone of network reliability and availability – the uninterruptible power supply (UPS) – has ensured the protection of hardware, software and data for small, medium and large networks all around the globe.
While UPSs themselves are designed to be durable and dependable, maximising their potential requires that they are properly looked after. And, while most are aware that, even with care, parts such as batteries will eventually need replacement, many overlook the importance of the monitoring and regular maintenance of this vital piece of equipment.
Even with the inclusion of the self-monitoring software and auto-notification features incorporated into many of the latest models, regular inspections ensure that UPS systems are operating properly.
"The recent innovation of a cloud-enabled UPS, designed to protect smaller, distributed IT devices and networks has, however, provided a major step forward in the ease and convenience of maintaining UPSs," says Riaan de Leeuw, vice president, Schneider Electric ITD Anglophone Africa.
The APC by Schneider Electric Smart-UPS with SmartConnect combines ease of installation and use, together with monitoring and automated actionable alerts to propel a new generation of partner service provision.
"Monitoring is also a perfect platform for Managed Service Providers (MSPs) to deliver value to their customers because more than ever, almost every business is dependent on the availability of IT services for their daily operations," adds de Leeuw.
MSPs can install up to 25 APC SmartConnect compatible UPSs at any customer site and integration with APC SmartConnect eliminates the need for costly training, ensuring an easy workflow integration by removing the necessity to code or even install SNMP traps.
Cloud-enabled UPSs also allow MSPs to view the UPS status through the secure portal, as well as schedule firmware updates. Partners can use the information received from the cloud monitoring service to provide additional services to customers, schedule regular inspections and deliver proactive, timely maintenance that will avoid unnecessary downtime.
"Included in the benefits of cloud-enabled UPSs is peace of mind, where clients know their UPS system is being monitored and as a result, properly and proactively maintained for reliable performance in the event of an unplanned power outage," concludes de Leeuw. "No matter where IT services are located, customers can remain focused on their core competencies and business as usual, safe in the knowledge that this crucial part of their infrastructure is safely being managed."
For more information contact Prisca Mashanda, Schneider Electric SA, +27 11 254 6400, prisca.mashanda@schneider-electric.com, www.schneider-electric.co.za
Credit(s)
Further reading:
Compact soft starters for control of three-phase motors
February 2019, ElectroMechanica , Electrical Power & Protection
Soft starters limit the inrush current, improving overall stability of the power supply and reducing transient voltage drops, which may affect other loads in a network. They are ideal for applications 
...
Read more...
---
Forward-thinking municipality uses pumps to generate electricity
February 2019 , Electrical Power & Protection
A technical team serving the requirements of the Drakenstein municipality in the Western Cape has designed one of the country's largest pump and turbine stations to be used for water reticulation to the 
...
Read more...
---
How to optimise power quality in critical applications
February 2019, Schneider Electric South Africa , Electrical Power & Protection
As global energy consumption continues to rise, energy is becoming more decentralised and decarbonised. While demand is estimated to increase by 70% through 2040, 50% of new energy generation capacity 
...
Read more...
---
Compact DIN rail power supply
February 2019, Accutronics , Electrical Power & Protection
TDK Corporation has announced the introduction of the TDK-Lambda brand DRF960-24-1 DIN rail mount AC-DC power supply, rated at 24 V 40 A (960 W) with a 60 A (1440 W) peak for 4 seconds. The product has 
...
Read more...
---
Power supply protects against hour-long power failures
February 2019, Siemens Digital Factory & Process Indust. & Drives , Electrical Power & Protection
Siemens has upgraded its Sitop PSU8600 power supply system with the addition of new supplementary modules to transform it into an uninterruptible DC power supply. To achieve this, the new DC UPS module 
...
Read more...
---
Rockwell Automation expands power range
February 2019, Rockwell Automation , Electrical Power & Protection
Rockwell Automation has expanded the power ranges and capabilities of TotalForce technology for its Allen-Bradley PowerFlex 755T AC drives. The drives now offer an expanded power range, helping engineers 
...
Read more...
---
New app scans TeSys GV4 circuit breakers
February 2019, Schneider Electric South Africa , Maintenance, Test & Measurement, Calibration
Schneider Electric has released a TeSys GV4 multifunction mobile app that connects to its new TeSys GV4 motor circuit breaker to provide basic and advanced protection settings configuration, using a near 
...
Read more...
---
Flexible standardisation for data centres
January 2019, Schneider Electric South Africa , IT in Manufacturing
Schneider Electric has created flexible standardisation for data centre operators that allows the company to support the different sized deployments its customers require, while eliminating inconsistencies 
...
Read more...
---
Compact contactor solutions
January 2019, Zest WEG Group , Electrical Power & Protection
Engineered to provide a compact contactor solution, the WEG CWB range of devices offers a width space saving of up to 18%. Developed in two frame sizes, the contactors meet a range of industrial and domestic 
...
Read more...
---
RS Components expands current transformer range
January 2019, RS Components SA , Electrical Power & Protection
RS Components has announced availability of a range of RS Pro current transformers targeting a wide range of applications including process control, motor control, utility power monitoring, control panels, 
...
Read more...
---