printer friendly version
Effective UPS monitoring
October 2018
Electrical Power & Protection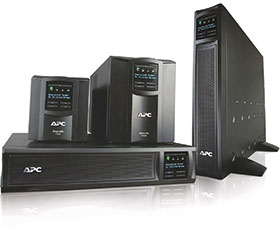 For more than three decades, the cornerstone of network reliability and availability – the uninterruptible power supply (UPS) – has ensured the protection of hardware, software and data for small, medium and large networks all around the globe.
While UPSs themselves are designed to be durable and dependable, maximising their potential requires that they are properly looked after. And, while most are aware that, even with care, parts such as batteries will eventually need replacement, many overlook the importance of the monitoring and regular maintenance of this vital piece of equipment.
Even with the inclusion of the self-monitoring software and auto-notification features incorporated into many of the latest models, regular inspections ensure that UPS systems are operating properly.
"The recent innovation of a cloud-enabled UPS, designed to protect smaller, distributed IT devices and networks has, however, provided a major step forward in the ease and convenience of maintaining UPSs," says Riaan de Leeuw, vice president, Schneider Electric ITD Anglophone Africa.
The APC by Schneider Electric Smart-UPS with SmartConnect combines ease of installation and use, together with monitoring and automated actionable alerts to propel a new generation of partner service provision.
"Monitoring is also a perfect platform for Managed Service Providers (MSPs) to deliver value to their customers because more than ever, almost every business is dependent on the availability of IT services for their daily operations," adds de Leeuw.
MSPs can install up to 25 APC SmartConnect compatible UPSs at any customer site and integration with APC SmartConnect eliminates the need for costly training, ensuring an easy workflow integration by removing the necessity to code or even install SNMP traps.
Cloud-enabled UPSs also allow MSPs to view the UPS status through the secure portal, as well as schedule firmware updates. Partners can use the information received from the cloud monitoring service to provide additional services to customers, schedule regular inspections and deliver proactive, timely maintenance that will avoid unnecessary downtime.
"Included in the benefits of cloud-enabled UPSs is peace of mind, where clients know their UPS system is being monitored and as a result, properly and proactively maintained for reliable performance in the event of an unplanned power outage," concludes de Leeuw. "No matter where IT services are located, customers can remain focused on their core competencies and business as usual, safe in the knowledge that this crucial part of their infrastructure is safely being managed."
For more information contact Prisca Mashanda, Schneider Electric SA, +27 11 254 6400, prisca.mashanda@schneider-electric.com, www.schneider-electric.co.za
Credit(s)
Further reading:
Five tips to manage energy use while staying at home
May 2020 , Electrical Power & Protection
Covid-19 continues to impact many aspects of our lives. Many are now required to stay at home in an effort to curb the spread of the pandemic. One of the many implications of staying at home will be the 
...
Read more...
---
Holistic approach to energy security
April 2020 , Electrical Power & Protection
As South Africans settle into the routine and inconvenience of load shedding and planning their activities around shifting electricity supply, it is businesses that are taking the biggest hit through 
...
Read more...
---
Save energy costs with highly-efficient Delta VFDs
April 2020, ElectroMechanica , Electrical Power & Protection
Customers can realise significant savings on their total energy costs by replacing older motor starters with energy-efficient Delta variable frequency drives (VFDs), distributed locally by ElectroMechanica 
...
Read more...
---
Utility made easy
April 2020, Schneider Electric South Africa , Electrical Power & Protection
In recognition of the growing demand for reliable power provision, Schneider Electric strives to assist network operators to deliver electricity safely and efficiently. The company's Advanced Distribution 
...
Read more...
---
Specialised transformers for renewable energy projects
April 2020, Zest WEG Group , Electrical Power & Protection
Zest WEG's local transformer manufacturing facility has supplied 36 specialised photovoltaic (PV) transformers to a solar energy generation plant in the Northern Cape. According to sales team leader, 
...
Read more...
---
Meeting the needs of the mining industry
April 2020, Varispeed (Div of Hudaco Trading) , Electrical Power & Protection
Both above and below ground, Varispeed keeps the interests of its customers top of mind, all the time. The company was recently approached by a platinum mine in South Africa to assist with a robust application. 
...
Read more...
---
Game-changing electrical accessories
April 2020, Schneider Electric South Africa , Electrical Power & Protection
In a world where products are moving from standardised to customised, today's consumers want high quality products that meet their specific requirements. Electrical accessories are no exception and Schneider 
...
Read more...
---
Schneider Electric introduces Asset Advisor for critical assets
Technews Industry Guide: Maintenance, Reliability & Asset Optimisation 2020, Schneider Electric South Africa , IT in Manufacturing
Schneider Electric has announced the availability of EcoStruxure Asset Advisor for electrical distribution and critical data centre assets, as part of the company's EcoStruxure IoT-enabled system architecture 
...
Read more...
---
EnI Electrical delivers at the sharp end of African contracts
March 2020, Zest WEG Group , Electrical Power & Protection
Usually the last contractor on site, electrical instrumentation and control (EC&I) specialist EnI Electrical puts extra effort into helping clients around Africa meet their scheduled start-ups. With 
...
Read more...
---
In-house testing of transformers
March 2020, Zest WEG Group , Electrical Power & Protection
The recent installation of an impulse voltage generator at Zest WEG's transformer manufacturing facility in Heidelberg will allow in-house testing of transformers, saving time and money for customers. According 
...
Read more...
---