printer friendly version
Enhanced IoT security technology for manufacturing site networks
October 2018
IT in Manufacturing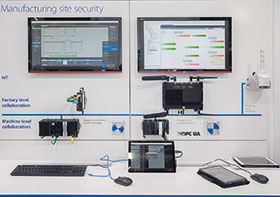 Omron Corporation and Cisco Systems have agreed to collaborate by integrating Cisco's leading networking and security technology into Omron PLCs, designed to deliver reliability under extreme conditions at manufacturing plants. Through this collaboration, the two companies will enhance the security of today's increasingly intelligent IIoT-enabled manufacturing sites by helping to ensure safe and secure production.
As the IIoT becomes increasingly widespread, the number of connected devices is expected to reach 50 billion by 2020. Moreover, manufacturers around the world are working to strengthen their global competitiveness and corporate value by improving their manufacturing capabilities. The industry is also rising to the challenge of making manufacturing sites intelligent through the active use of digital technologies. At the same time, manufacturing sites are facing more serious threats than ever before, as evidenced by reported cases of disrupted production due to ransomware and other malware attacks.
Furthermore, customers and the market are demanding higher levels of quality and safety through more stringent regulations on food and pharmaceutical products, as well as traceability to ensure the quality of individual components in the electronic parts industry. Manufacturers face significant challenges in continuing to improve their capabilities while addressing the above issues in the manufacturing environment and fulfilling their corporate social responsibility.
Omron and Cisco will work together to construct a secure environment where PLCs, as core automation components, provide security authentication for three discreet elements, namely people at manufacturing sites, devices connected to machinery and production lines, and data exchanged. By integrating Cisco's globally proven network and security expertise with Omron's controller technology, which brings together control and information, the companies will contribute to advances in manufacturing by enabling the safe and secure use of the IIoT at manufacturing sites.
Prior to forming this technological partnership, Omron developed the Machine Automation Controller NJ Series, the flagship PLC that comes standard with the OPC UA server and is compliant with the security enabled global communications standard. The new PLCs enable secure data communication with software and devices supporting OPC UA.
In addition, by combining Omron's PLCs with Cisco's network and security technology, the companies will expand the range of solutions available for the authentication of people and devices.
Credit(s)
Further reading:
Emerson's software secures health and safety
May 2020, Emerson Automation Solutions , IT in Manufacturing
Emerson's new DataManager software v8.2 helps refiners monitor corrosion of hydrofluoric (HF) acid alkylation units to prevent costly, unplanned shutdowns and maximise profits and productivity. DataManager 
...
Read more...
---
@Ease with Endress+Hauser
May 2020, Endress+Hauser South Africa , IT in Manufacturing
Focus on customer experience.
Read more...
---
Moxa's industrial cybersecurity solutions
May 2020, RJ Connect , IT in Manufacturing
Industrial networks today are no longer air-gapped and immune from cybersecurity threats. Although deploying a firewall and segmenting networks is a good first step, how are OT engineers, who primarily 
...
Read more...
---
New network management solution
May 2020, Siemens Digital Industries , IT in Manufacturing
Industrial networks are growing more and more complex. Powerful industrial networks are no longer defined by hardware alone – the right network management is essential. The Sinec software family offers 
...
Read more...
---
Robots are already replacing workers
May 2020 , IT in Manufacturing
Robotic process automation (RPA) is a technology that is disrupting the workplace. Using software 'robots' to mimic repetitive human interactions with computers, this technology can do these tasks much 
...
Read more...
---
A journey into the automation unknown
April 2020 , IT in Manufacturing
Jendamark's reinvention as an Industry 4.0 technology leader in the automotive industry.
Read more...
---
Implementing artificial intelligence in industrial manufacturing
April 2020, Omron Electronics , IT in Manufacturing
The introduction of AI solutions at the edge inside the machine now provides tools that enable you to look at that data and recognise patterns within it.
Read more...
---
More efficient engineering with automatically generated dashboard
April 2020, Beckhoff Automation , IT in Manufacturing
Engineering 4.0: One-Click Dashboard eliminates an entire work step.
Read more...
---
Engineering framework ready for continuous software development
April 2020, Siemens Digital Industries , IT in Manufacturing
With the new Totally Integrated Automation (TIA) Portal V16, Siemens has expanded its engineering framework with practical new functions for various phases from planning to engineering to commissioning. 
...
Read more...
---
How the IoT is affecting people
April 2020 , IT in Manufacturing
While the Internet of Things (IoT) may still be an emerging technology, it has become deeply entrenched in people's lives and its proliferation is likely to accelerate further in the next few years. The 
...
Read more...
---