printer friendly version
Enhanced IoT security technology for manufacturing site networks
October 2018
IT in Manufacturing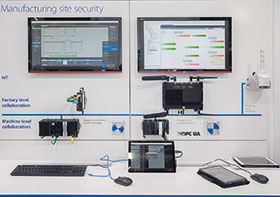 Omron Corporation and Cisco Systems have agreed to collaborate by integrating Cisco's leading networking and security technology into Omron PLCs, designed to deliver reliability under extreme conditions at manufacturing plants. Through this collaboration, the two companies will enhance the security of today's increasingly intelligent IIoT-enabled manufacturing sites by helping to ensure safe and secure production.
As the IIoT becomes increasingly widespread, the number of connected devices is expected to reach 50 billion by 2020. Moreover, manufacturers around the world are working to strengthen their global competitiveness and corporate value by improving their manufacturing capabilities. The industry is also rising to the challenge of making manufacturing sites intelligent through the active use of digital technologies. At the same time, manufacturing sites are facing more serious threats than ever before, as evidenced by reported cases of disrupted production due to ransomware and other malware attacks.
Furthermore, customers and the market are demanding higher levels of quality and safety through more stringent regulations on food and pharmaceutical products, as well as traceability to ensure the quality of individual components in the electronic parts industry. Manufacturers face significant challenges in continuing to improve their capabilities while addressing the above issues in the manufacturing environment and fulfilling their corporate social responsibility.
Omron and Cisco will work together to construct a secure environment where PLCs, as core automation components, provide security authentication for three discreet elements, namely people at manufacturing sites, devices connected to machinery and production lines, and data exchanged. By integrating Cisco's globally proven network and security expertise with Omron's controller technology, which brings together control and information, the companies will contribute to advances in manufacturing by enabling the safe and secure use of the IIoT at manufacturing sites.
Prior to forming this technological partnership, Omron developed the Machine Automation Controller NJ Series, the flagship PLC that comes standard with the OPC UA server and is compliant with the security enabled global communications standard. The new PLCs enable secure data communication with software and devices supporting OPC UA.
In addition, by combining Omron's PLCs with Cisco's network and security technology, the companies will expand the range of solutions available for the authentication of people and devices.
Credit(s)
Further reading:
Steierl-Pharma uses smart cameras to modernise its labelling processes
Omron Electronics Sensors & Transducers
Steierl-Pharma of Herrsching, Germany, relies on the support of Omron automation experts for state-of-the-art labelling technology. By using a new labelling system with smart camera technology, the company 
...
Read more...
---
What does digitalisation mean for food product safety?
Endress+Hauser South Africa IT in Manufacturing
Product safety remains a vital topic for achieving food security across the globe. To date, many manufacturers still question whether digitalisation can help reduce the effort involved in process optimisation, production monitoring and system installation.
Read more...
---
Digital twins enhance asset productivity in oil and gas applications
IT in Manufacturing
The ability to continue through various production cycles with zero unplanned downtime means that practical efficiencies using digitisation are essential.
Read more...
---
IaaS – paying for the experience but not the assets
Schneider Electric South Africa IT in Manufacturing
Infrastructure-as-a-Service has emerged as a feasible option that maintains crucial infrastructure such as IT, power consumption and business continuity while organisations focus on their core business.
Read more...
---
Siemens extends Xcelerator portfolio
Siemens South Africa IT in Manufacturing
Siemens Digital Industries has announced the release of NX Automation Designer software and NX Industrial Electrical Design software, a new suite of solutions that provide a central design application for industrial, electrical and automation design.
Read more...
---
Intelligent automation for Industry 4.0
IT in Manufacturing
Jumo smartWARE Evaluation is a software solution that allows browser-based process data analysis via customised dashboards.
Read more...
---
Omron's Sysmac Studio 3D Simulation Integrated Development Environment boosts productivity
Omron Electronics Motion Control & Drives
Logic, motion, robotics, HMI, vision, sensing, safety and 3D simulation are all integrated within a single platform.
Read more...
---
Simplifying the management of hybrid IT environments
Schneider Electric South Africa IT in Manufacturing
With the ongoing move towards hybrid cloud environments there comes an extra layer of complexity; nothing is ever as simple as it seems.
Read more...
---
Server engine for increasing machine learning requirements
Beckhoff Automation IT in Manufacturing
TwinCAT Machine Learning offers further inference engine.
Read more...
---
OPC Classic data connectivity notice
Moore Process Controls IT in Manufacturing
During June, Microsoft released a security update that changed how the Windows operating system enforces DCOM security. As a result, OPC communications relying on DCOM may stop working when the Windows changes start to be enforced in 2022.
Read more...
---