printer friendly version
Keller sensors for static and ­dynamic pressures
September 2018
Pressure Measurement & Control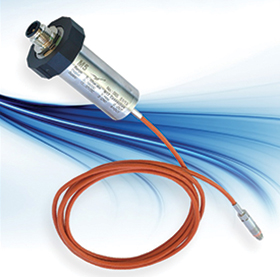 Keller's M5 series, the sensor for static and highly dynamic measurements (up to 50 kHz), represents something unique when considering the operating temperature range (up to 180°C), measurement accuracy (0,1% FS), installation size (M5 connection) and the remote, precise signal conditioning (0-10 V).
Ingenious design brings multiple benefits
The key to measuring highly dynamic pressure variance is to achieve, as far as possible, a direct connection between sensor element and medium. Keller's development team has come up with a micromechanical solution without media isolation diaphragm (with its damping effect), capillary tubing, sealants or adhesives. In the M5 series, the rear of the silicon sensor is soldered to a supporting element, designed for excellent fluid dynamics, which in turn is secured flush at the front of the pressure connection. This sophisticated design enables dynamic measurements with a bandwidth of 0 - 50 kHz and offers a number of additional benefits. These include excellent decoupling of mounting forces and structure-borne vibration, extensive media compatibility and the durability offered by the anti-oxidation coatings. Other impressive features of the M5 series are its overpressure protection of up to five times the measurement range and its pressure connection with an external thread of just 5 mm diameter for installation in space-limited locations.
Separation of sensor and signal converter
The pressure sensors in the M5 series are intended for operating temperatures between -40 and 180°C with a narrow total error band (i.e. including temperature errors) of 1%. Without the remote signal converter, they come with a typical output signal range of 80 mV (based on a 1 mA supply), and an individual calibration certificate. The 3 bar, 10 bar and 30 bar measurement ranges are available for absolute pressure measurements. Separating the pressure sensor and the signal converter enables measurements at close proximity, even in units installed in cramped conditions and exposed to high temperatures.
A top-class signal converter
To avoid any reduction in the piezoresistive pressure sensor's broad dynamic range of 50 kHz, the development team at Keller has opted not to digitise the measurement signal. Instead, the purely analog signal path is adjusted in real-time via the compensation electronics, which are fully controlled by a microprocessor. This ensures the output signal, amplified to 0-10 V, retains the full dynamic range of the sensor signal. The measurement system, consisting of the pressure sensor and signal converter, undergoes an end-to-end calibration at the factory once the customer-specific parameters have been determined. In addition, the operating temperature range of -40 to 125°C for the remote electronics satisfies the exceptional demands required by engine test benches, for instance.
Ideal for measurements at close proximity on engine test benches and wind tunnels, the thermally ultra-robust pressure transducers in the Keller M5 series support high precision static and dynamic measurements up to a bandwidth of 50 kHz and at working temperatures of up to 200°C at the pressure sensor. With its M5 connection thread, the remote pressure sensor – which contains no oil and associated isolation diaphragm and no sealant or adhesive in contact with the media – is ideal for taking highly-dynamic measurements at close proximity. It can even do this at the very thin pipes used in engine test benches, in wind tunnels or during turbine blade tests.
For more information contact Instrotech, +27 10 595 1831, sales@instrotech.co.za, www.instrotech.co.za
Credit(s)
Further reading:
Pressure sensors for Industry 4.0
Technews Industry Guide: Industrial Internet of Things & Industry 4.0, Turck Banner , Pressure Measurement & Control
Turck's new pressure sensors of the PS+ series offer complete access to sensor parameters via IO-Link.
Read more...
---
Water regulation made easy
July 2019, Instrotech , Flow Measurement & Control
Kobold's REG mechanical flow restrictors and rate regulators, with their simple yet effective functionality, are ideally suited to consumer applications and uniform supply to multiple consumers. Once 
...
Read more...
---
New monoflange design prevents fugitive emissions
July 2019, WIKA Instruments , Pressure Measurement & Control
The new WIKA model IVM monoflange for connecting pressure measuring instruments to the process is particularly suitable for applications involving critical liquids, gases and vapours. Special seals also 
...
Read more...
---
Pressure transmitters for mobile equipment
June 2019, Turck Banner , Pressure Measurement & Control
In order to provide solutions for use in mobile equipment, Turck has expanded its portfolio of pressure sensors with the introduction of the PT1100/2100 transmitters. This includes mining, forestry, agricultural 
...
Read more...
---
Understanding accuracy specifications
May 2019, EOH Process Automation Solutions , Pressure Measurement & Control
Pressure measurement device accuracies are commonly specified as percentage of full scale, or percentage of reading, and the difference is significant. If an accuracy statement simply names a percentage 
...
Read more...
---
Miniature IR thermometer for plastic film
May 2019, Instrotech , Pressure Measurement & Control
Temperature is a key physical variable for ensuring quality in the production of plastic film. The application of non-contact temperature measurement technology poses the challenge that films with a thickness 
...
Read more...
---
Pressure sensor with IO-Link
May 2019, WIKA Instruments , Pressure Measurement & Control
WIKA has a new, flexible pressure sensor with IO-Link in its portfolio. The model A-1200 is used for pressure monitoring or as a PNP/NPN switch, especially in intelligent machines. The new pressure sensor 
...
Read more...
---
Leak detection in coal-fired power stations
Africa Automation Fair 2019 Preview, Instrotech , Sensors & Transducers
Instrotech's advanced acoustic leak detection system, Inspecta FFT, can detect boiler tube leaks in coal-fired utilities and in oxygen plants and gasifiers. The technology and equipment is in use in power 
...
Read more...
---
Miniature multi-turn encoder
May 2019, Instrotech , News
Modern industrial applications demand innovative designs featuring high performance, precise information and smaller component footprints. To this end, Instrotech now offers the Scancon miniature absolute 
...
Read more...
---
Pyrometer with automatic spot finder
Africa Automation Fair 2019 Preview, Instrotech , Temperature Measurement
The Optris infrared Xi series is a fusion between a robust, compact pyrometer and an advanced IR camera. The integrated spot finder function enables accurate temperature measurements in moving objects 
...
Read more...
---