Keller sensors for static and ­dynamic pressures
September 2018
Pressure Measurement & Control

printer friendly version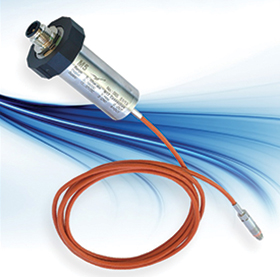 Keller's M5 series, the sensor for static and highly dynamic measurements (up to 50 kHz), represents something unique when considering the operating temperature range (up to 180°C), measurement accuracy (0,1% FS), installation size (M5 connection) and the remote, precise signal conditioning (0-10 V).
Ingenious design brings multiple benefits
The key to measuring highly dynamic pressure variance is to achieve, as far as possible, a direct connection between sensor element and medium. Keller's development team has come up with a micromechanical solution without media isolation diaphragm (with its damping effect), capillary tubing, sealants or adhesives. In the M5 series, the rear of the silicon sensor is soldered to a supporting element, designed for excellent fluid dynamics, which in turn is secured flush at the front of the pressure connection. This sophisticated design enables dynamic measurements with a bandwidth of 0 - 50 kHz and offers a number of additional benefits. These include excellent decoupling of mounting forces and structure-borne vibration, extensive media compatibility and the durability offered by the anti-oxidation coatings. Other impressive features of the M5 series are its overpressure protection of up to five times the measurement range and its pressure connection with an external thread of just 5 mm diameter for installation in space-limited locations.
Separation of sensor and signal converter
The pressure sensors in the M5 series are intended for operating temperatures between -40 and 180°C with a narrow total error band (i.e. including temperature errors) of 1%. Without the remote signal converter, they come with a typical output signal range of 80 mV (based on a 1 mA supply), and an individual calibration certificate. The 3 bar, 10 bar and 30 bar measurement ranges are available for absolute pressure measurements. Separating the pressure sensor and the signal converter enables measurements at close proximity, even in units installed in cramped conditions and exposed to high temperatures.
A top-class signal converter
To avoid any reduction in the piezoresistive pressure sensor's broad dynamic range of 50 kHz, the development team at Keller has opted not to digitise the measurement signal. Instead, the purely analog signal path is adjusted in real-time via the compensation electronics, which are fully controlled by a microprocessor. This ensures the output signal, amplified to 0-10 V, retains the full dynamic range of the sensor signal. The measurement system, consisting of the pressure sensor and signal converter, undergoes an end-to-end calibration at the factory once the customer-specific parameters have been determined. In addition, the operating temperature range of -40 to 125°C for the remote electronics satisfies the exceptional demands required by engine test benches, for instance.
Ideal for measurements at close proximity on engine test benches and wind tunnels, the thermally ultra-robust pressure transducers in the Keller M5 series support high precision static and dynamic measurements up to a bandwidth of 50 kHz and at working temperatures of up to 200°C at the pressure sensor. With its M5 connection thread, the remote pressure sensor – which contains no oil and associated isolation diaphragm and no sealant or adhesive in contact with the media – is ideal for taking highly-dynamic measurements at close proximity. It can even do this at the very thin pipes used in engine test benches, in wind tunnels or during turbine blade tests.
For more information contact Instrotech, +27 10 595 1831, sales@instrotech.co.za, www.instrotech.co.za
Credit(s)
Further reading:
Battery powered digital temperature gauges
February 2019, Instrotech , Temperature Measurement
Kobold's DTE series of digital temperature gauges offers a wide range of industrial and analytical possibilities in applications where high accuracy and clear indication is required, and where alarm control 
...
Read more...
---
Dosage and fluid media monitoring
January 2019, Instrotech , Analytical Instrumentation & Environmental Monitoring
Kobold's ZED-D electronic dosage devices are ideally suited for dosing and monitoring fluid media. They process the signals from separately-installed flow sensors and are mostly freely configurable. The 
...
Read more...
---
Compact differential pressure transmitter
January 2019, Vepac Electronics , Pressure Measurement & Control
The Halstrup Walcher P 34 series differential pressure transmitter is designed for pressure monitoring applications in cleanrooms, laboratories, pharmaceutical plants and operating theatres as well as 
...
Read more...
---
Humidity measurement in poultry farms
December 2018, Instrotech , Sensors & Transducers
Methods of farming chickens vary from country to country, however the general temperature and humidity conditions required for the three stages of chicken lifecycle are always similar. Temperature and 
...
Read more...
---
Temperature measurement within the plastics industry
December 2018, Instrotech , Temperature Measurement
Temperature is an important measurement parameter for many process techniques used in the plastics industry. Non-contact temperature measurement using an infrared sensor system is therefore an effective 
...
Read more...
---
Hygienic diaphragm pressure gauges
December 2018, WIKA Instruments , Pressure Measurement & Control
WIKA has expanded the application range of its hygienic diaphragm pressure gauges with the model PG43SA-S, which is now also available in a version with ATEX approval. The pressure gauge can thus be used 
...
Read more...
---
Torque transducers for powertrains
December 2018, Instrotech , Sensors & Transducers
Climate change, urban air quality and the rising cost of energy have become the defining issues of the 21st century. With energy consumption and exhaust emissions from vehicles being significant contributors 
...
Read more...
---
Clearly visible flow measurement
November 2018, Instrotech , Flow Measurement & Control
To check the flow processes in pipeline systems and for insight into the interior of process pipes, many flow indicators are used in which the flowing medium sets a rotor turning and thus, to a large 
...
Read more...
---
Analysing pressure peaks
November 2018, Instrotech , Pressure Measurement & Control
Keller's Leo 5 high-resolution digital manometer features precise sensor technology, fast signal processing, peak recording and data storage with a time stamp. Designed for deployment in hostile environments, 
...
Read more...
---
Mass flow measurement of gases
November 2018, Instrotech , Mass Measurement
The Kobold MAS mass flowmeter works according to the calorimetric method and was conceived for gas flow measurement. Since gases can be compressed, the volume changes with pressure and temperature. In 
...
Read more...
---