printer friendly version
Neural Compute Stick for deep-learning projects
Technews Industry Guide: Industrial Internet of Things & Industry 4.0
IT in Manufacturing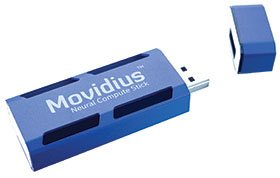 RS Components has introduced the Intel Movidius Neural Compute Stick (NCS), the newest development tool for ultra-low-power deep-learning inference. The tool enables developers to develop and prototype artificial intelligence (AI) applications to a broad range of devices at the edge in a convenient USB form factor.
Targeting developers, corporate R&D and academic researchers working in machine-learning and data-science applications, the NCS integrates the Movidius Vision Processing Unit (VPU), which offers best-in-class power efficiency and is capable of running high-performance floating-point convolutional neural networks (CNNs).
Supporting the popular deep neural network (DNN) framework, the stick is ideal for use as a development tool for neural network prototyping and acceleration. The USB-form-factor inference engine enables developers and researchers to free their projects from the cloud and allow them to learn quickly about the performance and accuracy of their neural network applications running in the real world. Neural network projects can be quickly ported via the Movidius Neural Compute Compiler to run real-time deep-learning inference on the compact USB stick.
Enabling the acceleration of existing compute-constrained platforms, the NCS enables deep-learning R&D and prototyping on a Linux laptop or any x86-based host device. In addition, the Neural Compute Platform API allows user applications to run on an embedded host, which can initialise the target platform, load a graph file and offload inferences. Support for the NCS will also be extended in the future to include other platforms, such as the Raspberry Pi.
The complete list of software tools available in the Movidius Neural Compute Software Development Kit includes the Movidius Neural Compute toolkit and the Movidius Neural Compute API. These tools are available online on the developer.movidius.com website.
For more information contact RS Components SA, +27 (0)11 691 9300, sales.za@rs-components.com, www.rsonline.co.za
Credit(s)
Further reading:
Data, light and the smart factory
May 2019 , IT in Manufacturing
The role of lasers in the Fourth Industrial Revolution.
Read more...
---
Planning for digital transformation
May 2019 , IT in Manufacturing
As we've learned, digital transformation can be a challenging, if necessary, journey. At each year's Forum, we learn more about how pioneering companies are overcoming these challenges and the associated 
...
Read more...
---
Cathay Industrial Biotech benefits from Siemens technology
May 2019, Siemens Digital Industries , IT in Manufacturing
Cathay Industrial Biotech (Cathay) is China's leader in the field of bio-manufacturing. Its areas of expertise include producing polyamide from biomass, which takes place in a totally digital plant using 
...
Read more...
---
Monitoring the health of your asset
May 2019, Automation & Control Solutions , IT in Manufacturing
In an ever-changing world where digital transformation coupled with optimised computerisation and interconnectivity is prevalent, the need to remain knowledgeable about asset health in manufacturing is 
...
Read more...
---
Simulated flexible production environment
May 2019, Omron Electronics , IT in Manufacturing
Omron South Africa is showcasing its fully simulated flexible production environments at Africa Automation Fair. Visit Stands C03 and D07 to see the integrated automation solutions designed to help turn 
...
Read more...
---
Broadband power line modem
May 2019, SSE , IT in Manufacturing
The e-terrapowercom is a broadband power line modem with integrated switch designed for communications on medium and low voltage grids. Installation is easy and fast using existing power cables. It extends 
...
Read more...
---
Reduce the risks associated with automation solutions
May 2019, Adroitly Africa , IT in Manufacturing
Adroitly Africa's Version Control and Backup software offering can assist in proactively reducing the risks associated with PLC, scada and HMI automation solutions that control a process.    Pay a visit 
...
Read more...
---
Complete range of industrial cables
May 2019, Helukabel , IT in Manufacturing
Helukabel is showcasing its range of data, network and bus (DNB) products. On display at Stand B01 is a complete range of industrial cables as well as the related connecting equipment consisting of connectors, 
...
Read more...
---
Digital automation technologies
May 2019, Yokogawa South Africa , IT in Manufacturing
Yokogawa is showcasing the Synaptic Business Automation solution, which can transform business processes by optimisation of supply chains and operations and maximisation of asset performance. This is 
...
Read more...
---
Edge-to-cloud cybersecurity
May 2019, RJ Connect , IT in Manufacturing
RJ Connect provides industrial networking and automation solutions for enabling IIoT.    However, industrial automation and control systems need to ensure facilities and services are safe and secure, 
...
Read more...
---