printer friendly version
Siemens IoT2040 industrial intelligent gateway
Technews Industry Guide: Industrial Internet of Things & Industry 4.0
IT in Manufacturing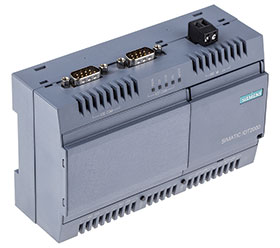 The Simatic IOT2040 is a first 'open' intelligent gateway that standardises communication between various data sources and then analyses and forwards it to the corresponding recipients. It is a solution that can be easily integrated into existing machines or control systems which use legacy fieldbuses to communicate, thus enabling vital process performance data to be unlocked, shared and used to improve and optimise production.
The device is able to support industrial engineers, machine builders and designers. It is ideally suited as a gateway between the cloud, or the company IT level, and production.
The Simatic IOT2040 is designed for 24/7 operation and is the link between production and cloud-based data analysis. It combines the tasks of interfacing to the ERP system and the corresponding communication of automation components, which therefore minimises errors and increases the efficiency of production process. The role as an intelligent gateway interface can be used in both directions i.e. transferring analysed data from the cloud to the production control.
This continuous data communication closes the control loop for optimal of production.
This intelligent gateway for industrial IoT solutions has an Intel Quark x1020 (+Secure Boot), 1 GB RAM, microSD Card slot, 2 Ethernet Interfaces, and 2 x RS-232/485 interfaces. The IOT2040 supports Yocto Linux and comes with a battery buffered RTC and watchdog. This device is compatible with mPCLe cards, Arduino shields and Siemens IoT development kits.
For more information contact RS Components SA, +27 (0)11 691 9300, sales.za@rs-components.com, www.rsonline.co.za
Credit(s)
Further reading:
Data, light and the smart factory
May 2019 , IT in Manufacturing
The role of lasers in the Fourth Industrial Revolution.
Read more...
---
Planning for digital transformation
May 2019 , IT in Manufacturing
As we've learned, digital transformation can be a challenging, if necessary, journey. At each year's Forum, we learn more about how pioneering companies are overcoming these challenges and the associated 
...
Read more...
---
Cathay Industrial Biotech benefits from Siemens technology
May 2019, Siemens Digital Industries , IT in Manufacturing
Cathay Industrial Biotech (Cathay) is China's leader in the field of bio-manufacturing. Its areas of expertise include producing polyamide from biomass, which takes place in a totally digital plant using 
...
Read more...
---
Monitoring the health of your asset
May 2019, Automation & Control Solutions , IT in Manufacturing
In an ever-changing world where digital transformation coupled with optimised computerisation and interconnectivity is prevalent, the need to remain knowledgeable about asset health in manufacturing is 
...
Read more...
---
Simulated flexible production environment
May 2019, Omron Electronics , IT in Manufacturing
Omron South Africa is showcasing its fully simulated flexible production environments at Africa Automation Fair. Visit Stands C03 and D07 to see the integrated automation solutions designed to help turn 
...
Read more...
---
Broadband power line modem
May 2019, SSE , IT in Manufacturing
The e-terrapowercom is a broadband power line modem with integrated switch designed for communications on medium and low voltage grids. Installation is easy and fast using existing power cables. It extends 
...
Read more...
---
Reduce the risks associated with automation solutions
May 2019, Adroitly Africa , IT in Manufacturing
Adroitly Africa's Version Control and Backup software offering can assist in proactively reducing the risks associated with PLC, scada and HMI automation solutions that control a process.    Pay a visit 
...
Read more...
---
Complete range of industrial cables
May 2019, Helukabel , IT in Manufacturing
Helukabel is showcasing its range of data, network and bus (DNB) products. On display at Stand B01 is a complete range of industrial cables as well as the related connecting equipment consisting of connectors, 
...
Read more...
---
Digital automation technologies
May 2019, Yokogawa South Africa , IT in Manufacturing
Yokogawa is showcasing the Synaptic Business Automation solution, which can transform business processes by optimisation of supply chains and operations and maximisation of asset performance. This is 
...
Read more...
---
Edge-to-cloud cybersecurity
May 2019, RJ Connect , IT in Manufacturing
RJ Connect provides industrial networking and automation solutions for enabling IIoT.    However, industrial automation and control systems need to ensure facilities and services are safe and secure, 
...
Read more...
---