Heavy-duty pressure switch
July 2018
Pressure Measurement & Control

printer friendly version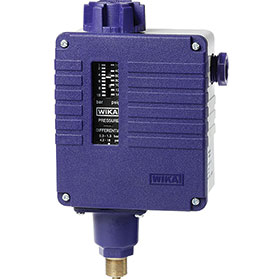 From pumps through hydraulic systems to autoclaves, WIKA's new model PSM-550 heavy-duty pressure switch has been designed for superior industrial applications.
The new instrument switches electrical loads up to AC 230 V/10 A with a non-repeatability of the switch point of 1%. The high accuracy ensures that the machine operates optimally and hence safeguards the quality of the manufactured products.
The pressure switch can be delivered both with setting ranges for gauge pressure (0 … 300 mbar to 10 … 30 bar) and with vacuum setting ranges (-1 … 0 bar and -0,8 … 5 bar). It is thus also suitable for monitoring vacuum circuits, such as with cleaning processes. The robust instrument has an ingress protection of IP67. Furthermore, the PSM-550 comes in a version for medium temperatures up to 170°C, which has wetted parts from stainless steel.
Credit(s)
Further reading:
Digital float switch
February 2019, WIKA Instruments , Level Measurement & Control
As its first instrument of this kind, WIKA has launched a float switch with a PNP/NPN output signal. The model GLS-1000 detects the level of liquids with an accuracy of 1 mm or less. The digitised float 
...
Read more...
---
Compact differential pressure transmitter
January 2019, Vepac Electronics , Pressure Measurement & Control
The Halstrup Walcher P 34 series differential pressure transmitter is designed for pressure monitoring applications in cleanrooms, laboratories, pharmaceutical plants and operating theatres as well as 
...
Read more...
---
Pressure calibrator with electric pump
January 2019, WIKA Instruments , Maintenance, Test & Measurement, Calibration
WIKA has expanded its range of portable calibrators to include an instrument with integrated electric pressure pump. The new model CPH7650 pressure calibrator – supplied in a robust case – is multi-functional 
...
Read more...
---
Hygienic diaphragm pressure gauges
December 2018, WIKA Instruments , Pressure Measurement & Control
WIKA has expanded the application range of its hygienic diaphragm pressure gauges with the model PG43SA-S, which is now also available in a version with ATEX approval. The pressure gauge can thus be used 
...
Read more...
---
Steam turbine control
November 2018, WIKA Instruments , Sensors & Transducers
In coal-fired power plants, steam is produced by pumping highly purified water through boiler tubes. The water is heated to a high temperature and pressure, and then flows through several orifices into 
...
Read more...
---
Analysing pressure peaks
November 2018, Instrotech , Pressure Measurement & Control
Keller's Leo 5 high-resolution digital manometer features precise sensor technology, fast signal processing, peak recording and data storage with a time stamp. Designed for deployment in hostile environments, 
...
Read more...
---
Open channel flow
October 2018, WIKA Instruments , Flow Measurement & Control
WIKA constructs a Parshall flume for local effluent application.
Read more...
---
Pressure measurement with dual display
October 2018 , Pressure Measurement & Control
The PSQ series dual digital display pressure sensors from Autonics allow users to monitor both PV and SV readings. The 12-segment LCD display is capable of displaying various alphanumeric characters for 
...
Read more...
---
Flush-mount pressure transmitter
October 2018, ASSTech Process Electronics + Instrumentation , Pressure Measurement & Control
Specifically developed for the supervision of clean rooms, the Kimo CPE 300 transmitter is dedicated to the measurement of low pressure or depression of air or neutral gasses from 0/10 Pa to -1000/ 1000 
...
Read more...
---
Innovative compact orifice plate
October 2018, WIKA Instruments , Pressure Measurement & Control
Compact orifice plates can be used without difficulty for the measurement of liquids, gases and vapours. WIKA's new compact orifice plate Model FLC-CO enables direct mounting of differential transmitters. Differential 
...
Read more...
---